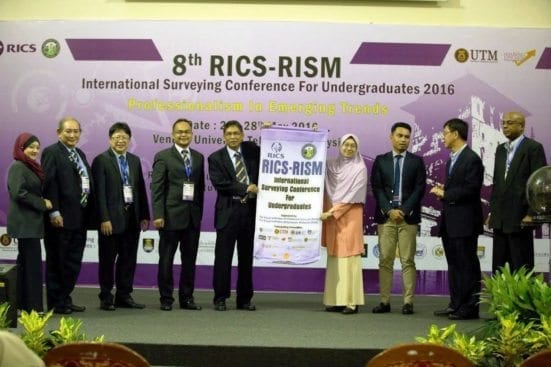 JOHOR BAHRU, 26 May 2016 – A numbers of quantity surveying and construction students from the Department of Quantity Surveys, Faculty of Built Environment, Universiti Teknologi Malaysia (UTM) proved their forte again bagging 6 awards at the 8th RICS-RISM International Conference for Undergraduates 2016 held on May 27th to 28th at the UTM Johor Bahru campus.
The conference is an annual event jointly organized by the Institution of Chartered Surveyors (RICS) and Royal Institution of Surveyors Malaysia (RISM), hosted by participating universities on a rotational basis.
Programme Director, Sr. Dr. Sarajul Fikri Mohamed said that 2016 is the second time that UTM was given the honour to host the event. This year's participating universities include Universiti Malaya (UM, Universiti Sains Malaysia (USM), Universiti Teknologi MARA (UiTM), Universiti Tunku Abdul Rahman (UTAR), Taylor's University, International Islamic University Malaysia, University of Reading Malaysia, INTI International University and Assumption University of Thailand.
"The conference provides a platform for undergraduates from the various RICS accredited programmes conducted by universities in Malaysia as well as in the Asia Pacific Region, to come together to share ideas and insights on current issues.
"The conference also aimed to provide a forum for undergraduate students to present academic work, receive feedback from academics and practitioners on their research, debate and network with fellow students. For this year's conference, 29 student presenters representing their respective universities presented their dissertations", he said.
Each of the participants was required to send a 4,000 to 5,000 – word paper three weeks in advance of the conference to be reviewed and vetted by a panel of prominent academics from various universities and esteemed practitioners where 3 Special Mention Papers and the Best Overall Paper were identified.
All the 29 papers were presented during the conference in 7 parallel sessions of 4¬5 speakers each. Each parallel session is separately judged by a panel of adjudicators in selecting the best presenter of each session.
Seven prizes were awarded for best presentations where 3 of the winners were from UTM. They were Intan Fatin Syazwani Aimi Sara Ismail from the Quantity Surveying programme and Ong Chee Chai from the Construction programme.
The other winners were Faten Athirah Osman (UiTM), Anoma Sunthonyonki (Assumption University of Thailand), Ngoi Eva (UM) and Khai Yuean Chia (Taylor's University).
UTM's Anis Maisarah binti Ahmad Fuzir and Ong Chee Chai, both from the Construction programme bagged 2 of the 3 Special Mention Paper Awards with their papers entitled "Mobile Applications: A Review on the Availability for Construction Process" and "Affordability of First Time House Buyers" respectively.
"The other Special Mention Paper Award went to Lee Wai Jian from UTAR while Intan Fatin Syazwani Azinal Abidin notched another amazing win for UTM when she won the most prestigious award, the Best Paper Award Items: Estimate or Guestimate". The awards were presented by Sr Kwan Hock Hai, Chairman of the RICS Malaysia Board," said Dr. Sarajul.
The conference was officiated by Prof. Dato' Dr. Mohd Ismail bin Abd Aziz, Deputy Vice Chancellor (Students Affairs and Alumni) and the Keynote Address was delivered by Prof. Geroge Ofori from the National University of Singapore.
Four speakers were invited for the Plenary Session, Mr. Ishmael Ho (Ho Chin Soon Research Sdn. Bhd), Brigadier General Sr. Haji Mohd Amin bin Mohd Din (R), Sr. Ezam Ariffin (Ezam Associates) and Sr Dr. Mazlan Che Mat (MCM Value Sdn. Bhd).
Their interventions were meant to address the conference theme, "Professionalism in Emerging Trends" from the 4 different divisions of surveying, as well as different theoretical and practice perspectives.