JOHOR BAHRU, 12 May 2016 – Her Royal Highness Queen Johor, Raja Zarith Sofia Sultan Idris Shah attended the Canting programme that was organized by the Faculty of Built Environment, Universiti Teknologi Malaysia (UTM), today.
Raja Zarith Sofia who is also Chancellor of UTM was accompanied by the wife of Menteri Besar of Johor, Datin Seri Rosni Omar in the programme.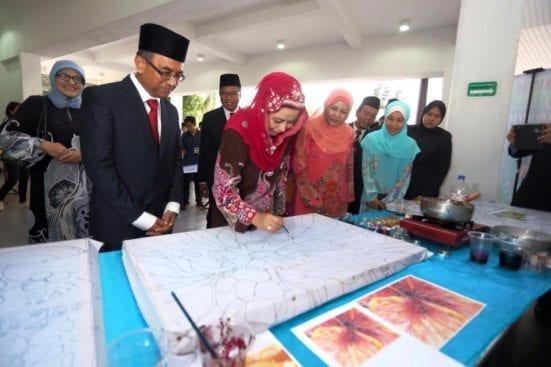 A total of 40 batik canting works of art produced by 55 undergraduate and postgraduate architecture students were also exhibited in the programme.
UTM Vice-Chancellor, Prof. Datuk Dr. Ir. Wahid Omar said that batik work was carried out since the start of last month and the workshop participants were exposed to the basic theory and canting techniques.
He said the programme aims to inform young people about the art of batik cantingan which is the pride of the Malay cultural heritage so that it continues to expand the tradition.
"The exhibition and such programs could also serve as a stimulus to students to contribute their fine work.
"I'm proud of the UTM students interested in trying to produce batik canting and believe they are among the younger generation who will continue the legacy of batik canting in this country," he said.
Meanwhile Bachelor of Architecture student, Ho Wen Han, 21, said she was excited about the opportunity to produce batik through the programme.
"This is my first experience of painting and batik. I also did not expect to successfully produce my own batik canting floral prints.
"Although a bit difficult, I feel very excited because this new experience I learn other people's cultural heritage," she said.
Wen Han said she voluntarily participated in the program with classmate, Lee Siew Jing, 21, and both were interested in participating to gain new knowledge.