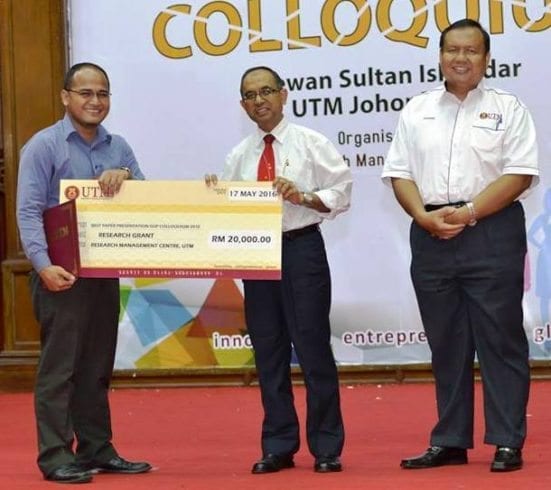 JOHOR BAHRU, 17 May 2016 – A total of 108 research projects and researchers of Tier 1 and 2 have participated in the Colloquium Research University Grant (GUP) Phase 2012.
The Colloquium organized by the Research Management Centre (RMC) was held at Dewan Sultan Iskandar (DSI), UTM Johor Bahru.
GUP Colloquium 2012 was implemented as a platform for UTM researchers involved in the research project GUP Tier 1 and Tier 2 to share research results developed in addition promoting their research projects.
There were two categories contested, namely Poster and Oral Presentations. The projects were selected based on several criteria established by the Committee GUP Colloquium 2012, including projects that have expired research, have sent a final report; have been fully implemented, and those that have shown encouraging results.
By these criteria, a total of 50 projects participated in the Oral Presentation category and 58 projects participated in the Poster Presentation category.
Judging results confirmed a total of 10 researchers winning the Poster Presentation category , and five winners for the Oral Presentation category.
As many as five winners were being selected for the Oral Presentation category that brought home RM 20,000.00 in the form of research grants while the Poster Presentation winners received trophies.
The Prize Giving Ceremony and Closing GUP Colloquium 2012 was officiated by the Vice Chancellor, Datuk Prof. Ir. Dr. Wahid bin Omar and escorted by the Deputy Vice-Chancellor (Research and Innovation), Prof. Dr. Ahmad Fauzi bin Ismail.