KUALA LUMPUR, 6th May 2015 – Following the recent earthquake disaster that hit Nepal, all 5 climbers from the Misi Perdana UTM Everest 2015 have safely returned home today. They arrived with an Air Asia flight that landed at the KLIA2 at 11.45PM.
The expedition team consist of 3 UTM students namely Jamhuri Bin Jumari (21), Farul Aidib Bin Mahamad Yusoff (21), and Azham Afzanizam Bin Hamzah (27). Along with 2 UTM alumni, Azim Afif Bin Ishak (27) who acts as the main instructor and Anis Zulaikha Binti Zabani as the assistant instructor for the mission.
Earlier, they have been carried down from the Everest Base Camp by helicopter on May 1st 2015. Their return from the mission were welcome with gratitude by the Pro-Chancellor Tan Sri Dr. Salleh Mohd Nor, Deputy Vice Chancellor (HEMA) Prof. Dr. Mohd Ismail Abdul Aziz, senior officers, staffs and all UTM students.
According to the Vice Chancellor, Professor Datuk Dr Wahid Bin Omar, UTM are really proud with the determination, bravery, discipline and commitment shown by all climbers in the mission to conquer the world's highest mountain. Consequently, putting the name and reputation of UTM and the country high in the eyes of the world.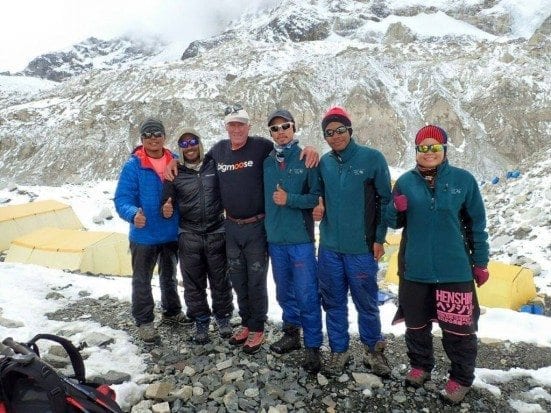 Despite all that, as humans we can only plan but ultimately Allah SWT decides everything. We need to accept the unfavorable circumstances and conditions. UTM are delighted with the fighting spirit shown by all of the climbers.
Eventhough the goal to reach the peak of Everest have not been materialize, for us, all of them are heroes and symbolised the high-determination and perseverance characterised by all UTM students.
UTM would like to express the utmost appreciation to all party involved in the Misi Perdana UTM Everest 2015 especially the Malaysian Government, sponsors, Malaysian Embassy in Nepal, the Nepal authorities and all groups that have assisted on the mission.
Not forgetting the family members of all the climbers that have waited patiently for their loved ones to return and consistently praying for their safety.