JOHOR BAHRU, 13 March 2015 – Muhammad Faizul M. Nasir and Sazatul Nadhirah Zakaria have been announced as the Sportsman and Sportswoman of Universiti Teknologi Malaysia (UTM) for the year 2014.
The announcement was made at the 2014 UTM Sports Award Ceremony held at the Swimming Pool Complex.
Muhammad Faizul excelled in Pencak Silat at national and international levels throughout 2014 including the success of obtaining the Gold Medal in the event of Pencak Silat Category B at Sukan Institusi Pengajian Tinggi (SUKIPT) 2014 Phase 1 which was held at Universiti Teknologi MARA (UiTM ) Shah Alam on February 3 to 12, 2014.
At the international level, Muhammad Faizul also has earned Gold Medals at the 19th Belgian Open Pencak Silat Championship in 2014.
Sazatul Nadhirah also created a record by winning the Gold Medal in Archery in the category of Compound, winning two Bronze medals in the 2014 SUKIPT phase 1. At the same tournament, Sazatul also successfully secured another Bronze medal in the Individual Compound category.
She also contributed a Silver Medal through her participation in Archery at the World University Championships (WUC) in Poland from 2 to 5 July 2014.
The winners of the Sportsman and Sportswoman category each received a cash prize of RM1,000.00, a Blazer and also a Certificate of Appreciation.
Muhammad Faizul however was not able to receive his award in person due to his participation in the Belgium International competition in Pencak Silat.
The event also saw two athletes selected for the 2014 Most Promising Athlete Award, namely, Low Kar Seng (2014 Most Promising Male Athlete) and Nurfariha Abdul Razak (2014 Most Promising Female Athlete).
The winner of this category each received a cash prize of RM500.00 and a Certificate of Appreciation.
All prizes were presented by the UTM Vice-Chancellor, Prof. Datuk Ir Dr. Wahid Omar. Also present were Deputy Vice-Chancellor (Development), Prof. Dr. Azlan Abdul Rahman and UTM Sports Excellence Director, Tuan Hj Abdul Malek Abdul Ghani.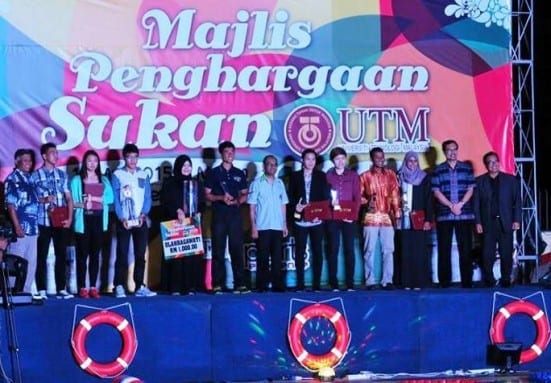 Vice Chancellor (Green Shirt) taking a photo group with 2014 UTM Best Athletes after the prize giving ceremony held at UTM Johor Bahru.