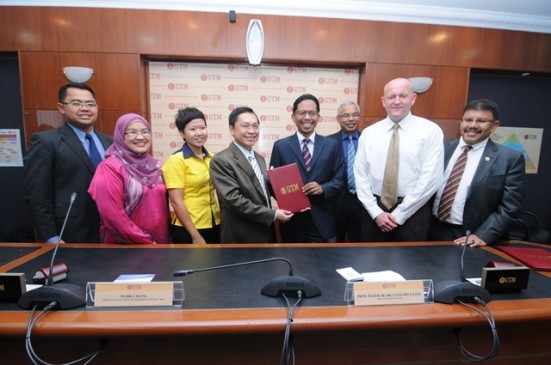 Johor Bahru, July 6, 2012:  UTM signs a Memorandum of Understanding with JobStreet.com today, a strategic collaboration, among others, to help ensure the validity of resumes posted by applicants claiming to be graduates of UTM.
Currently, JobStreet.com provides the best avenue for Malaysian graduates to be employed by reputable employers in Malaysia.JobStreet.com is a public listed job website company with operations and services in countries like Malaysia, Singapore, Philippines, Indonesia, India, Vietnam, Japan and Thailand. JobStreet.com is the largest job website in Malaysia with more than 2 million Malaysian registered jobseekers. Forbes Asia selected JobStreet.com as Asia 200 Best under a Billion company for 2007 and 2008.
"There are over 60,000 jobseekers in the JobStreet database who indicated that they graduated from UTM. More than 30,000 companies in Malaysia posted over 250,000 jobs on JobStreet.com, over the past year.
JobStreet.com and UTM will work together to validate all these 60,000 resumes of UTM graduates in batches to validate the authenticity of the applicants' claims.
In this way, companies in Malaysia have the assurance that the degree from UTM is valid and companies can hire them with confidence," said Mark Chang, Chief Executive Officer and founder of JobStreet.
With the latest case of fake university degrees, companies have concerns about the validity of the students' degrees.
As with other Universities in Malaysia, UTM has been observing a few security features on the certificates that it issued. According to UTM Vice Chancellor, Prof. Datuk Zaini Ujang, "We use only paper produced by licensed supplier bearing security features such as coloured fibres, chemical watermark, invisible ultra-violet prints, low ink watermark, unique guilloche and aura, microtext and security fonts, besides the serial numbers that correspond to the numbers in the University database."
Both UTM and JobStreet.com hope that the collaboration between the two prominent organizations will result in beneficial outcomes not only to the future graduates of UTM but also to the potential employers.