SHIGA, Sept. 6th – In a thrilling showcase of robotics and artificial intelligence, the Airost Team from Universiti Teknologi Malaysia (UTM) secured a remarkable achievement by claiming third place in the RoboCup @HomeJP (Japan) competition's Simulation League (also known as RoboCup Japan Open 2023 @Home Simulation League).
The competition, which took place in Shiga, Japan, brought together talented teams from around the world to showcase their innovative autonomous robot systems.
RoboCup @HomeJP is an international competition that focuses on developing autonomous robotic systems to address practical tasks in domestic settings. Teams from various academic and research institutions gather to compete and push the boundaries of robotics in a simulated home environment.
The competition consists of three tasks: Handyman, Interactive Cleanup, and Human Navigation. Each task tests the team's ability to develop various types of features like navigation, machine vision, robotic arm manipulation, and more. At the finals, there is an open challenge in which every team presents an innovative robotic solution that contributes to the field of robotics research.
The Airost Team consists of Dr. Jeffrey Tan, Mohammed Saeed, Loke Rui Kee, Chai Han Qing, and Chan Si Yuan, who embarked on an ambitious journey to develop a Robot Operating System (ROS)-powered robot that could efficiently navigate a domestic setting and perform various tasks, including navigation, natural language interaction, and intelligent decision-making.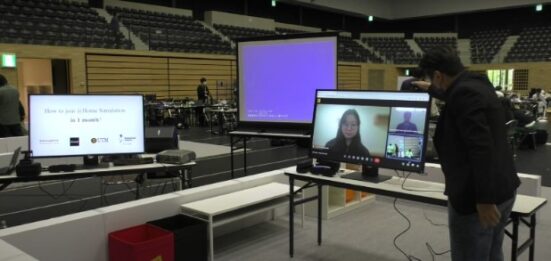 The team comprises talented students and mentors with diverse expertise in robotics, computer vision, and machine learning.
In one of the team's interview sessions, the organizers were shocked to learn that the team was formed just one month before the competition.
With most of the members having little-to-no prior knowledge of ROS, Sigverse, Unity, Virtual Reality, and the competition itself, the team managed to achieve this extent.
It is said that normally at least five months are needed for novice teams to learn and develop until they can compete in the competition.
The Airost Team's third-place win at RoboCup @Home Japan in the Simulation League is a testament to their dedication and innovation.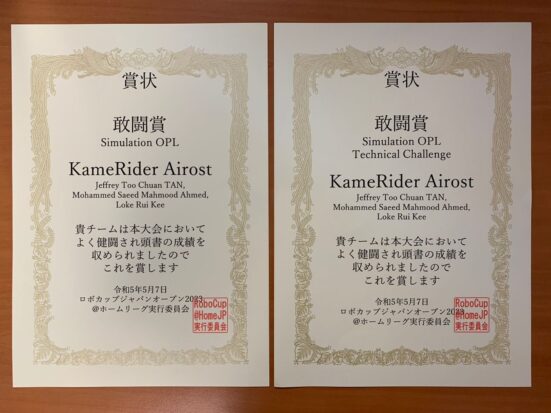 Their achievement exemplifies the potential of ROS-driven robotics in addressing real-world challenges and providing solutions that can significantly impact society.
As the world witnesses the ever-accelerating growth of AI and robotics, teams like Airost continue to inspire the next generation of researchers and engineers.
Their relentless pursuit of excellence pushes the boundaries of technology and serves as a shining example of what can be achieved through collaboration, ingenuity, and a passion for innovation.
Learn more details about the team and the competition here:
KameRider Airost Team's competition day video playlist:
https://www.youtube.com/playlist?list=PLWu5D3G0khYHXvhLAIJ6xAHeFHmXsy6HH
Official competition playlist: 
https://www.youtube.com/playlist?list=PLDV30G7_zpYJHpA60e2uY_EoPXjUwvwZt
@Home Simulation official page: 
https://www.facebook.com/RoboCupatHomeSim
UTM Airost Team: