KUALA LUMPUR, 25 Aug – Universiti Teknologi Malaysia's (UTM) PhD candidate from the School of Education, Faculty of Social Sciences and Humanities, Syaza Soraya binti Sauli, made history today as the first recipient from the university awarded with the prestigious Merdeka Grant for International Attachment.
The award was presented by His Royal Highness Sultan Nazrin Muizzuddin Shah, the Sultan of Perak Darul Ridzuan, who is the Royal Patron and Chairman of the Award, at a ceremony held at the Malaysian Petroleum Club (MPC), PETRONAS Twin Towers.
The grant is poised to enable Syaza Soraya to revolutionize early childhood environmental education in Malaysia, bridging a crucial gap in the curriculum and fostering a generation that values sustainability through her research entitled "Empowering Environmental Sustainability Values in Preschool Children In Malaysia Through Comprehensive Nature-Based Learning Module Institutions of Choice."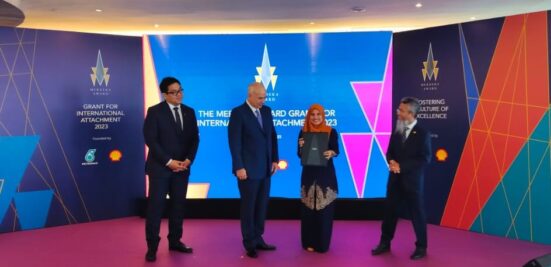 Hailing from Pasir Puteh, Kelantan, she wears multiple hats – a devoted mother, a curious researcher, and a passionate educator. She chanced  upon the Merdeka Award Grant for International Attachment while researching international grants on Facebook and  was deeply inspired by the Merdeka Award's significance, especially as her university's Vice-Chancellor, Prof Datuk Dr Ahmad Fauzi Ismail, was a former recipient. Fuelled  by this inspiration, she decided to apply and was shortlisted, ultimately securing the grant.
"When I saw the 'Mowgli Malaysia' photo, I realized that our youth's connection with nature was fading. It shocked me to see students indifferent to environmental issues," she passionately explained. This realization drove her to pick early childhood environmental education as her field of study, focusing on nature-based learning. She believes that instilling these values from an early age is vital to cultivating a generation that actively cares for the environment.
Her unique project has garnered international attention, leading her to choose the Center for Environmental Education at the University of Minnesota, USA for her research attachment. Her research spans Early Childhood Education, Nature Education, and Psychological Effects, creating a holistic approach expected to be the first of its kind in Malaysia.
The Merdeka Award Grant offers her a unique opportunity to engage with experts directly in the field, enhancing her expertise and bridging the gap between her novel approach and Malaysian education. Her goal is to create accessible, nature-centric curriculum modules that empower teachers to instil values of environmental sustainability in preschool children.
"I believe in nurturing environmental sustainability values among our younger generation. Children are 100% of our future. If we fail to instil a sense of responsibility for the environment in these young leaders, it could have far-reaching consequences," she asserted.
Her three-month attachment aims to absorb expert insights, learn effective strategies, and initiate significant progress. While her work may extend beyond the initial period, she's confident these months will lay a strong foundation for her endeavour.
Upon her return, she envisions establishing the "National Center for Children's Research and Development for the Sustainable World" (SDGCRC) in Malaysia. This centre would serve as a hub for advancing research and development efforts that foster sustainable practices and values among young children. Her influence as a member of Dewan Muda Johor (DMJ) and her position in the Jawatankuasa Pendidikan (Education Committee) will enable her to advocate for these matters among policymakers, furthering the impact of her study.
The Merdeka Award was founded by PETRONAS and Shell in 2007 to reward citizens and organisations who have made outstanding contributions in their respective fields to the people of Malaysia.
It is named the Merdeka Award to commemorate the true spirit of independence which transcends the conventional definition of national sovereignty. It explores the liberation of the mind and spirit, the strength of character and integrity that underpins meaningful achievement and the creativity and vision that enables greatness.
The primary objective of the Merdeka Award is to stimulate thought leadership and innovation, cultivate a culture of exceptional achievement, inspire a global perspective, and ultimately elevate Malaysia's position as a dynamic and competitive player on the worldwide stage across diverse sectors, spanning from science, technology, and the arts.
For the record, past UTM  recipients for the Merdeka Award were current Vice-Chancellor, Professor. Datuk. Ir. Ts Dr Ahmad Fauzi bin Ismail (2014), Professor Dr Halimaton Hamdan (2009) and Dato' Seri Ir Dr Zaini Ujang (2009). While Syaza Soraya binti Sauli is the first recipient from UTM awarded under the International Attachment Grant Category.