KUALA LUMPUR, July 22 – Universiti Teknologi Malaysia partnered with Lotuss Stores (Malaysia) Sdn Bhd (Lotus's Malaysia) to establish the first National Sustainability Innovation Challenge 2023 (NaSIC'23) through Malaysia-Japan International Institute of Technology (MJIIT).
Aligned with the new UTM tagline, "innovating solutions", the competition aimed to be a platform for incubating the younger generation to find solutions for the retail industries creatively.
The program is a successful outcome of the Public-Private partnership between UTM and Lotus's Malaysia. From the program launching in early April 2023, the program attracted more than 390 students (130 teams) in Form 4-6 from 77 schools across the country to participate in the first round of infographic design competition on "Single-Used Plastics in Malaysia" students.
Fifty teams were selected to attend online workshops by UTM lecturers in May 2023 to spread sustainability knowledge and awareness. Besides that, UTM transfers knowledge on problem-solving, design thinking, and elevator pitch methods to selected participants.
On 17 Jun 2023, 44 teams successfully pitched their innovative solutions on single-use plastics in the fresh area in the retail industry during the virtual pitching competition (semi-final), in which seven made it to the final pitching competition today.
Seven innovative ideas were selected to pitch physically in the Grand Finale at Lotus's Selayang today.
Judges present were Sushmita Paul, Chief Operating Officer of Lotus's Malaysia, Azliza Azmel, Corporate Services Executive Director of Lotus's Malaysia, Professor Dr. Masafumi Goto, Deputy Dean of Liaison and Internationalisation, MJIIT-UTM Kuala Lumpur and Associate Professor Dr. Roshafima Rasit Ali, Postgraduate Academic manager of MJIIT-UTM Kuala Lumpur.
Also present at the closing and award ceremony was Professor Ts. Dr. Abd Latif Bin Saleh, Pro-Vice Chancellor, UTM Kuala Lumpur Campus and Professor Ts. Dr. Ali Bin Selamat, Dean, MJIIT-UTM.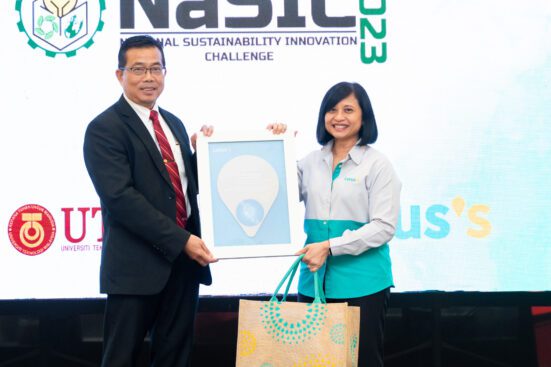 "NaSIC'23 is excellent in providing a platform for the youngers to develop and showcase their brilliant idea to the leading retailer in Malaysia. With this, the key market player hears your sound, especially to promote sustainability in the community," said Professor Ts. Dr. Abdul Latif Bin Saleh, Pro-Vice Chancellor, UTM Kuala Lumpur Campus.
"As a university, It is our responsibility as a society to create an environment that offers them the resources, support, and platforms they require to succeed. Especially for our junior innovators we celebrate today. I hope all students participating in NaSIC'23 can keep developing their creativity in the future and not stop until here," he added in his speech.
At the award ceremony, the top three teams were awarded cash vouchers worth RM1200, RM900 and RM600, respectively. The winning teams for NaSIC'23 are Team BLITZ – Maktab Rendah Sains MARA (MRSM) Kubang Pasu, Kedah (champion), Team A-RICE – Vision Secondary School Tawau, Sabah (first runner-up) and Team The Earth Warrior – Sekolah Menengah Sains Seri Puteri, Kuala Lumpur (second runner-up).
Another four teams; Team Eco-lution – Sekolah Menengah Kebangsaan (SMK) Agama Putrajaya, Team ReWale – MRSM Langkawi, Team Masterminds – SMK Bandar Seri Putra, Kajang and Team Mission Impossible – SMK Bandar Putra, Kulai were awarded consolation prizes.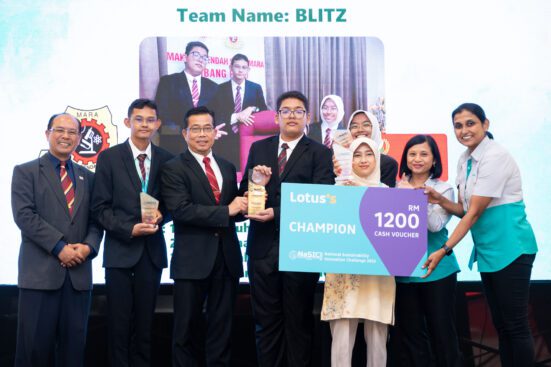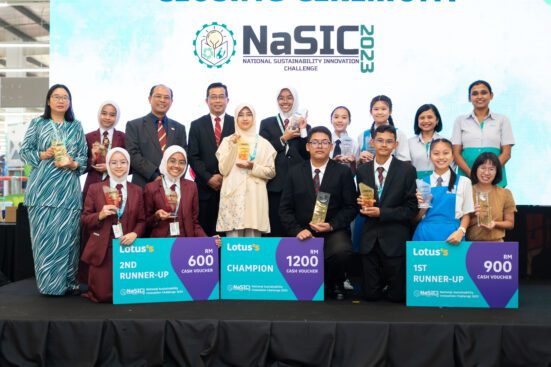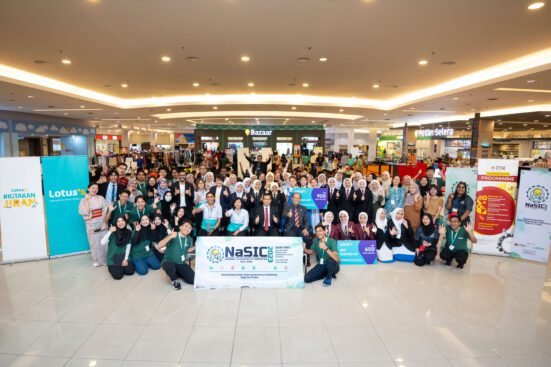 Corporate Services Executive Director of Lotus's Malaysia, Azliza Azmel said, "This is our first collaboration with MJIIT-UTM to gather brilliant schools to explore and express their innovative ideas, to address real challenges in the retail industry, with the potential to become workable solutions fit not only for Lotus's but for other retailers in Malaysia".
"We hope that with NaSIC'23, this will in many ways help to integrate sustainability into all aspects of education in Malaysia and empower Malaysian youth to create a sustainable future".
The seven finalists visited MJIIT-UTM on 21 July 2023 for expert coaching, cultural activities, laboratory visits and student activities.
Professor Ts. Dr. Ali Bin Selamat said, "NaSIC'23 is a path to encourage students to improve their professionalism and excellence, to enhance their awareness of sustainability issues in daily life and to strengthen their interest in Science, Technology, Engineering and Mathematics (STEM)".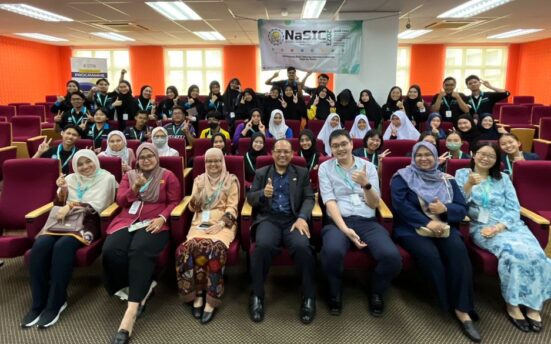 The NaSIC'23 is powered by the Chemical Process Engineering Students Society, led by Lakshman Rao A/L Sathiya Narayana and Muhammad Hadif bin Haidir, and advised by Assoc. Prof. Ir. Ts. Dr Liew Peng Yen and Ts. Dr. Khairunnisa Binti Mohd. Pa'ad.
Besides MJIIT and Lotus's Malaysia, the event received committee members' financial and transportation support from the UTM Office of Students Affairs and participants' accommodation sponsorship for UTM Hotel and Residence by UTM Holding Sdn. Bhd.