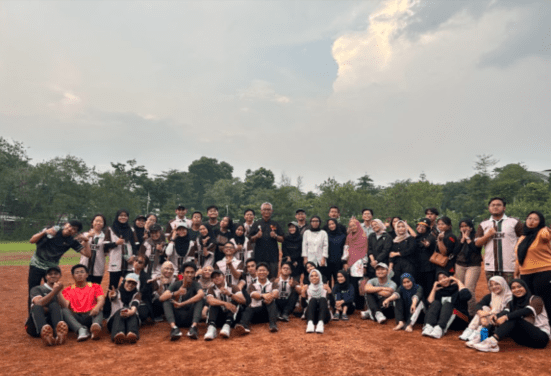 Photo session after "Sukan Rakyat: Olahraga Senja"
YOGYAKARTA, 2 May – "Sukan Rakyat: Olahraga Senja"  represents one of the primary activities carried out during the visit to Universitas Gadjah Mada under UTM: Abroad At Java (AJ '23) program that was held by Jawatankuasa Kolej Mahasiswa (JKM) from Kolej Tun Dr. Ismail (KTDI) 2022/2023 session on 2 May 2023. This sports activity aimed to promote cultural exchange between Malaysia and Indonesia through traditional sports and enhance unity and camaraderie despite diverse nationalities. BEM KM UGM approved the theme of traditional sports, and eight types of traditional games were introduced. Malaysia presented four types of traditional games, namely "Tuju Selipar," "Tengteng," "Galah Panjang," and "Sepak Bulu Ayam," which were inspired by the popular animated series from Malaysia, "Upin & Ipin." Meanwhile, Indonesia introduced four types of traditional games, namely "Engklek," "Bentengan," "Lompat Tali," and "Ular Naga."
.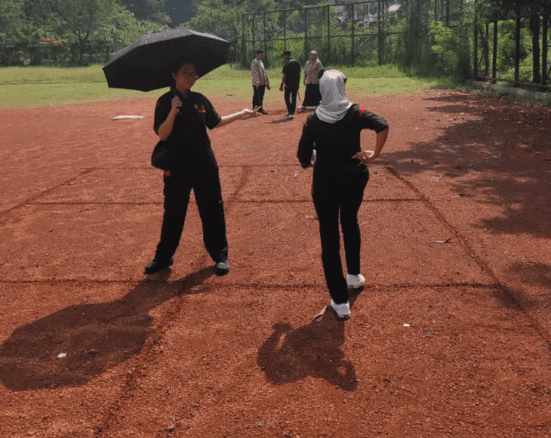 Wong Li Jie, Husna Hazwan and Azmi set up for                            Wong Li Jie and Puteri Eleeya testing for 
              "Tuju Selipar" station (from left to right).                                  "Galah Panjang" station (from left to right).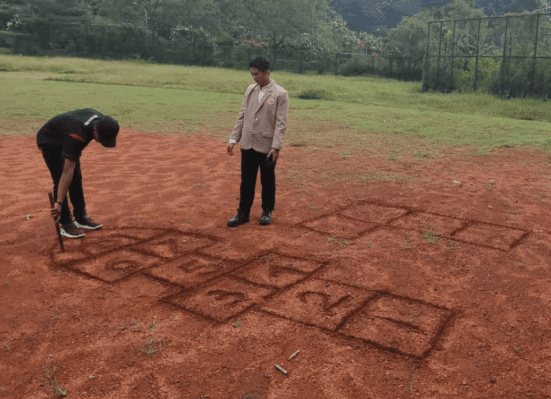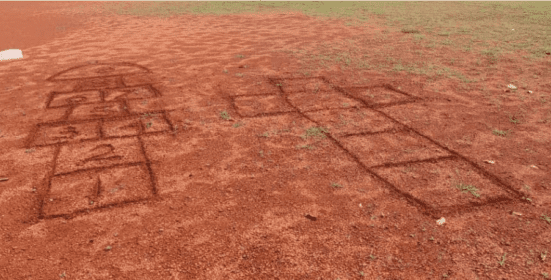 The person in charge set up for                                               "Tenteng" and "Engklek"stationsn.
        "Tenteng" and "Engklek" station.
"Sukan Rakyat: Olahraga Senja" took place at Wisdom Park UGM, perfectly capturing the essence of its name with an evening schedule from 3:30 pm to 5:00 pm (WIB), spanning an exciting 1 hour and 30 minutes. Each traditional game had a knowledgeable person in charge to introduce and explain the rules to the enthusiastic participants, including both JKM KTDI and UGM students. The event commenced with a brief but impactful address from one of the program executives, Azmi, setting the stage for an incredible gaming experience. The traditional games were thoughtfully divided into sessions to ensure balanced and engaging programs. The first session,n from 3:45 pm to 4:15 pm, showcased two Malaysian games and one Indonesian gam,e while the second session,n from 4:15 pm to 4:45 pm, featured two Malaysian games and two Indonesian games.
In the captivating first session, three exhilarating games took the stage: "Galah Panjan,", "Sepak Bulu Aya,m" and "Lompat Tali". A sense of adventure filled the air as all participants eagerly selected their preferred game and formed groups, uniting UGM students and JKM KTDI members in the pursuit of fun. As the second session unfolded, the atmosphere brimmed with anticipation as the games  "Engklek,", "Ular Naga,", "Tuju Selipar" and "Tengteng" captivated the crowd, injecting an extra dose of excitement into the festivities.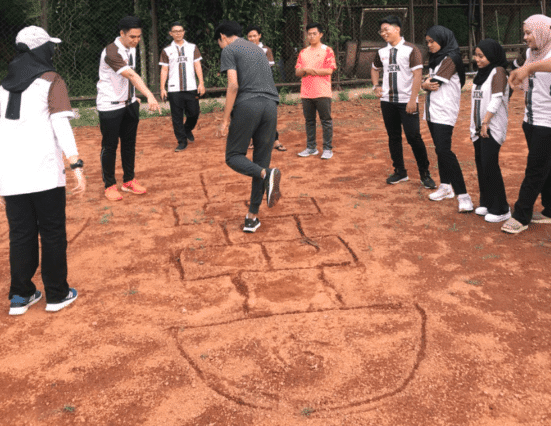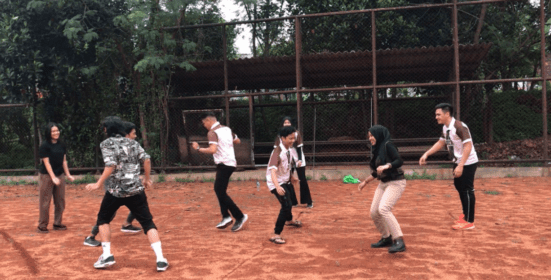 A group of JKM KTDI and UGM             UGM students with JKM KTDI playing "Galah Panjang"
                               students play at "Tenteng" and
                                          "Engklek" station.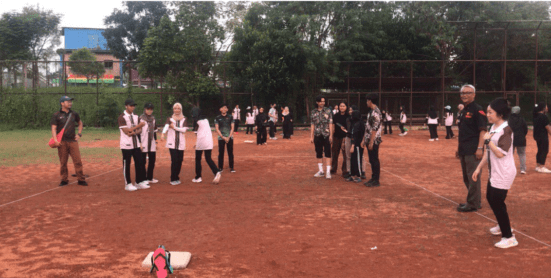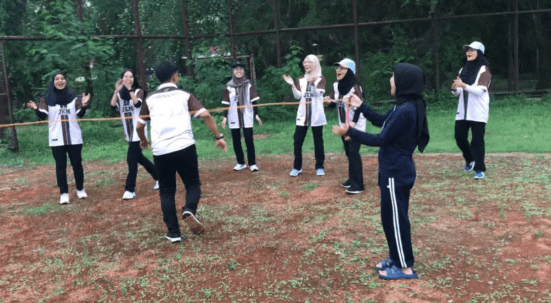 UGM students with JKM KTDI playing                                              Members of  JKM KTDI playing 
                                           "Tuju Kasut"                                                                                 "Lompat Tali"
A group of UGM students playing "Sepak Bulu Ayam"
Here's a fascinating tidbit: "Engklek" and  "Tengteng" are traditional games with similar gameplay, yet each has its own distinct rules and pattern. Furthermore, the traditional Indonesian game  "Lompat Tali" is widely played in Malaysia as well, but it is referred to as "Lompat Getah" or more commonly known as "Zero Point.". It is truly captivating to witness how these games traverse borders, adapting and flourishing with unique variations across diverse cultures.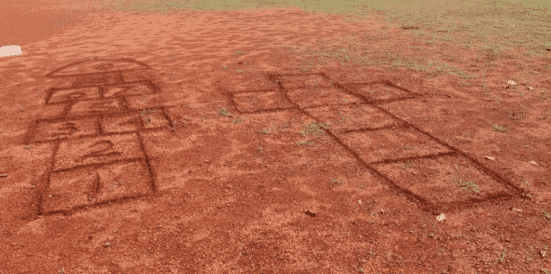 "Tenteng" and "Engklek" station.
In the climatic ending of "Sukan Rakyat: Olahraga Senja," the final 15 minutes were passionately devoted to the riveting traditional Indonesian game known as "Bentenga", pitting UGM against JKM KTDI in an epic showdown The game aimed to launch daring assaults and seize control of the opponent's formidable "fortress". With 30 participants, Group 1 represented UGM with its 15 players,s while Group 2 consisted of an equally formidable team of 15 participants hailing from JKM KTDI. UGM initially took the lead during the game,d but JKM KTDI managed to emerge victorious despite it being their first time playing and showcasing their remarkable skills. As JKM KTDI emerged as the ultimate victors, the grand finale of "Sukan Rakyat: Olahraga Senja" at Wisdom Park UGM came to an exhilarating end.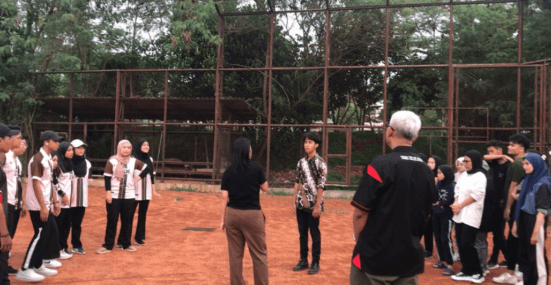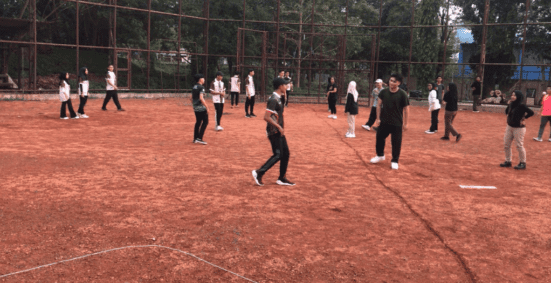 The person in charge explains "Bentengan" game start
                            about "Bentengan"
The traditional sports event was a platform for cultural exchange and knowledge sharing between the two countries. It deepened our understanding of the games and forged lasting connections among students from different backgrounds. Even today, we maintain strong ties with our counterparts from Universitas Gadjah Mada, cherishing the friendships we formed during this meaningful experience.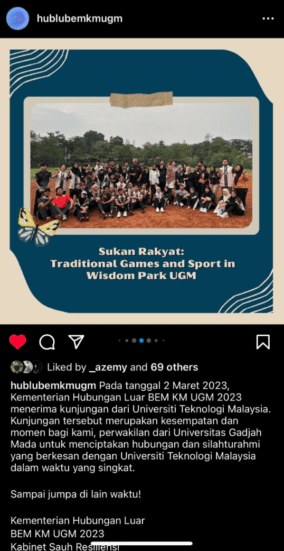 Posts from Universitas GadjahMada'sa official Instagram account