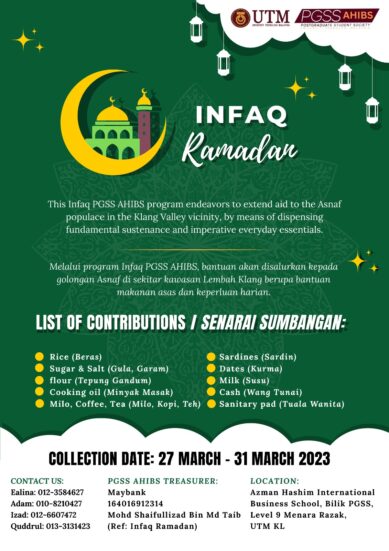 Kuala Lumpur, 10 April – At AHIBS, we believe that sometimes it takes only one act of kindness and caring to change a person's life.  Therefore, Azman Hashim International Business School of Universiti Teknologi Malaysia Kuala Lumpur (AHIBS) organized the Infaq PGSS AHIBS program to help assist the Asnaf Community in the Klang Valley area.
Through the generosities of AHIBS staff and lecturers, students and the public, we were able to receive RM3,220.00 that has benefited 3 Asnaf, namely Pusat Jagaan Kasih Murni, Jalan Sri Keramat, Rumah Amal Asnaf Al-Barakh AU3 and Rumah Kebajikan Anak Yatim dan Afnaf An-Naafi.
The contribution was collected between 27 March to 31 March 2023 at AHIBS PGSS Level 9 room collection center in Menara Razak UTM Kuala Lumpur. Furthermore, PGSS AHIBS also received monetary contributions that have made a positive difference in the lives of the underprivileged.
This initiative aimed to distribute essential food and necessities to provide relief to the needy and general urgency use. Furthermore, each Asnaf shared their own required list to guide PGSS AHIBS when buying and obtaining the goods during the shopping trip at the local store on the 4th of April, 2023. Additionally, the team contacted Koperasi Masjid Assobirin Ampang Berhad to buy some of the products, which were readily packed for easy arrangement.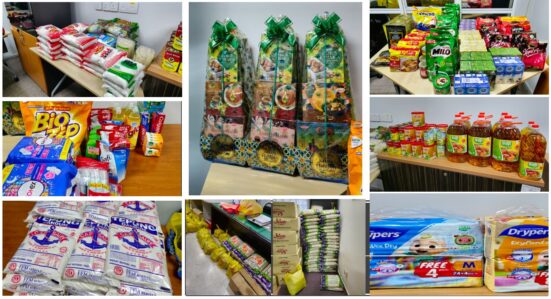 On the 9th of April 2023, the journey to the selected Asnaf started at UTM AHIBS, accompanied by three UTM AHIBS lecturers and six PGSS AHIBS committee members. The first stop was at Pusat Jagaan Kasih Murni, where Puan Rohana and 25 children greeted the team. The team continued with Rumah Amal Asnaf Al Barakh AU3, where Puan Rohaya and 42 children accepted the contributions. Rumah Kebajikan Anak Yatim dan Afnaf An-Naafi was distributed the next day to Puan Aisyah with 31 children from the Asnaf.
During the holy month of Ramadan, the UTM AHIBS community has joined hands to ease other people's burdens. PGSS AHIBS would like to express their gratitude for the willingness to support the program.
"If you disclose acts of charity, even so, it is well, but if you conceal them and make them reach those really in need, that is best for you. It will remove from you some of your (stains of) evil".
Surah Al-Baqarah: 271.
BY PGSS AHIBS