LONDON, 1Oth May –  Senior officials from Universiti Teknologi Malaysia (UTM) visited President Brady's office to discuss potential research collaborations today. The visit was led by Prof Datuk Ir Ts Dr Ahmad Fauzi, the UTM Vice-Chancellor, who also took the opportunity to extend an invitation to President Brady to visit UTM and participate in the University Presidents Forum in 2024.
During the meeting, Prof Datuk Ir Ts Dr Ahmad Fauzi highlighted UTM's successful collaborations with Imperial College London, including their joint research through the Centre for Low Carbon Transport (LoCARtic) and the Department of Mechanical Engineering. Prof Brady was also informed of UTM's cooperative program with the Centre of Oxford and Islamic Studies on a Science Roundtable titled "Imagining the Future: Climate Change, Public Health, and Food Security in Muslim Societies."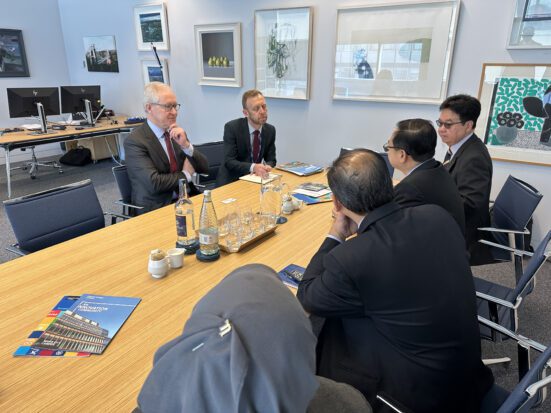 Discussions represented  and led by heads of Imperial College London and Universiti Teknologi Malaysia
For the record, thirty of UTM academics are also alums of Imperial College London. They continue to strengthen their relationship with their prestigious alma mater through joint conferences, staff mobility, and student programmes.
The senior officials from UTM present at the meeting included Prof Sr. Dr Hishamuddin bin Mohd Ali, Deputy Vice-Chancellor (Academic and International); Prof Dr Rosli bin Md Illias, Deputy Vice-Chancellor (Research and Innovation); and Prof. Ts. Dr Intan Zaurah Binti Mat Darus, Director (Centre for Academic and Experiential Learning).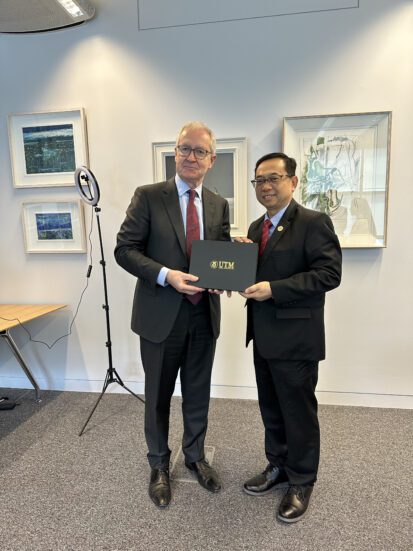 Prof Hugh Brady and Prof Datuk Ir Ts Dr Ahmad Fauzi, the UTM Vice-Chancellor
UTM senior officials were taken on a lab tour in preparation for the UTM industrial training for undergraduate students expected to begin later this year. The lab tour showcased the latest research projects and facilities available at the university. The tour aimed to provide UTM senior officials with a firsthand look at the state-of-the-art equipment and technologies available for industrial training, which will help UTM students gain hands-on experience and industry exposure.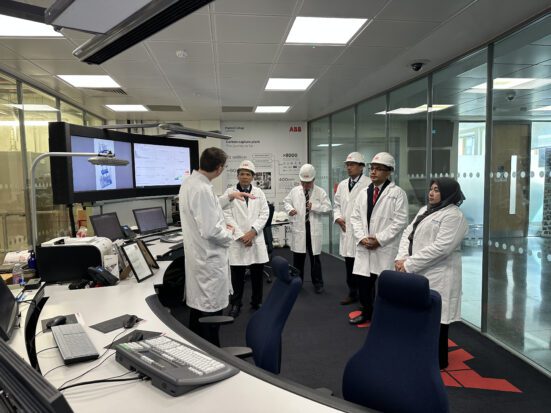 Visit to a Pilot Plant and briefing on UTM students involvement in the International Industrial Training Programme
The meeting is part of UTM's efforts to strengthen its global partnerships as outlined in its enVision UTM 2025 program. By establishing and expanding its research collaborations with other universities, UTM aims to develop impactful and tangible programs that benefit society.
Overall, the visit by UTM's senior officials to President Brady's office signals a promising start to expanding potential collaborations between UTM and Imperial College London.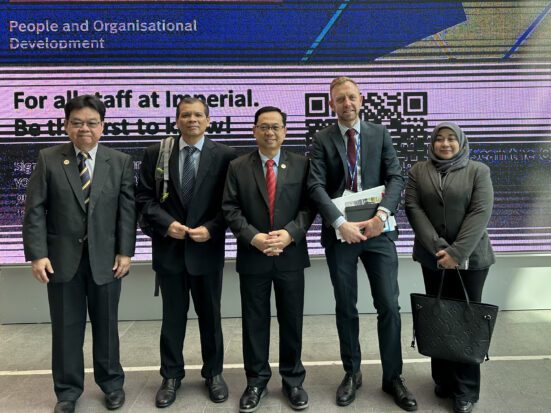 UTM Vice-Chancellor and Senior Officials with  ICL's Senior International Relations Officer (Asia), Alex Page