JOHOR BAHRU, May 5th – AIESEC in Johor Bahru successfully conducted its first physical Annual General Meeting for the year 2022 after the pandemic. This meeting served as a gathering for all members and alumni to bid farewell to the fulfilling year and welcome the new term in 2023.
The meeting was attended by the advisor of the Student Chapter AIESEC, Assoc. Prof. Dr. Ramesh Zaidi Rozan, the director of the UTM Centre for Student Innovation and Technology Entrepreneurship (UTM XCITE), Assoc. Prof. Dr. Abdul Rashid Bin Husain, 3 alumni, 89 members, and 41 new members.
The primary goal of this Annual General Meeting was to present an annual report to the membership of AIESEC in Johor Bahru regarding year-round activities, performance evaluations, and financial reporting for the entire organization. Furthermore, a certificate-giving ceremony was conducted to show appreciation for the members' contributions throughout the year.
"As someone who has had the privilege of working closely with AIESEC, I have seen firsthand the incredible impact this organization has had on the lives of young people," said Assoc. Prof. Dr. Ramesh Zaidi Rozan.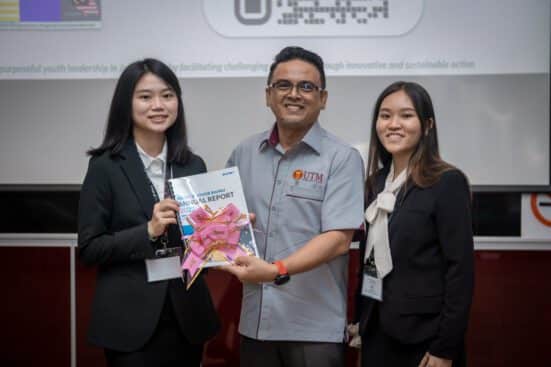 To better document the achievements of the 2022/2023 term, AIESEC in Johor Bahru proudly presents its first annual report for 2022. The report showcases the initiatives undertaken by the organization to empower youth to take leadership actions and create an impact on their community and nation.
AIESEC in Johor Bahru would like to take this opportunity to appreciate the kind support and assistance from all the partners with whom we have collaborated before. AIESEC in Johor Bahru is committed to "Activating purposeful youth leadership in Johor Bahru by facilitating challenging experiences through innovative and sustainable action," with the belief that youth leadership development is fundamental to driving national development.
AIESEC in Johor Bahru will continue striving for improvement by engaging and empowering more youth to take leadership actions to make our community, nation, and world a better place.
Check out AIESEC in Johor Bahru Annual Report 2022:
https://drive.google.com/file/d/1ToiT7j66gyYybQa780l8ghAL2Vzt5Hbx/view
Stay connected with AIESEC in Johor Bahru for more updates:
Instagram Account: https://instagram.com/ajb.tofuhouse?igshid=MzRlODBiNWFlZA==
Telegram Channel: https://t.me/developwithAJB