Kuala Lumpur – March 07, – Universiti Teknologi Malaysia (UTM) and Mastercard entered a Memorandum of Understanding (MoU) to partner and collaborate on establishing a Cyber Innovation Hub today. The UTM-Mastercard Cyber Innovation Hub aims to establish a cyber-ready workforce, broaden industry expertise, and increase the country's cyber resilience skills to future-proof its digital economy.
Under the cooperation, the UTM-Mastercard Cyber Innovation Hub will leverage both UTM and Mastercard's cybersecurity expertise and UTM's education infrastructure to provide students and mid-career professionals with skills training and courses in cybersecurity-related sectors. Mastercard and UTM will also collaborate on cybersecurity-related research and proof-of-concept initiatives that will allow Malaysia to discover emerging cybersecurity threats, develop innovative solutions, and accelerate the implementation of privacy-enhancing technology for financial services. In addition, the cooperation will facilitate the development of combined R&D capabilities in certain areas of cybersecurity and analytics to foster innovation.
UTM Vice-Chancellor, Prof Datuk Ir Ts Dr Ahmad Fauzi and Executive Vice President – Services, Mastercard, Matthew Driver, signed the MoU, witnessed by Minister of Higher Education Malaysia, YB Dato' Seri Mohamad Khaled Nordin and Mr Safdar Khan, Division President, South East Asia, Mastercard.
Also in attendance were Dato' Seri Abdul Razak Jaafar, Secretary General, Ministry of Higher Education, Dato' Dr Haji Megat Sany Megat Ahmad Supian, Deputy Secretary General (Policy), Ministry of Higher Education and Prof. Dato' Dr Husaini Omar, Director-General of Higher Education, Malaysia.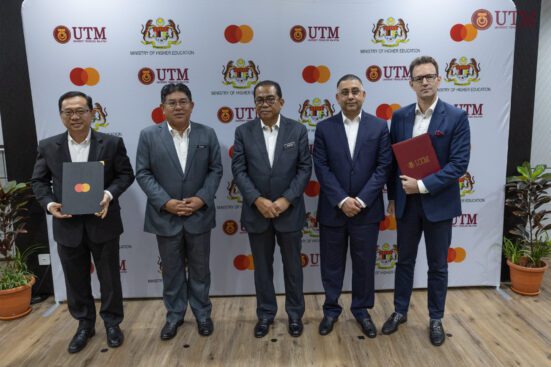 (From Left-Right)  Prof. Datuk Ir. Ts. Dr. Ahmad Fauzi Ismail,Dato' Seri Abdul Razak Jaafar, Dato' Seri Mohamed Khaled Nordin, Mr. Safdar Khan, Mr. Matthew Driver
In his speech, YB Dato' Seri Mohamad Khaled Nordin said, "Our educational institutions must be able to provide high-quality, industry-relevant training in cybersecurity as its importance continues to rise. This collaboration between UTM and Mastercard will be a significant step towards increasing the number of Malaysian cybersecurity professionals."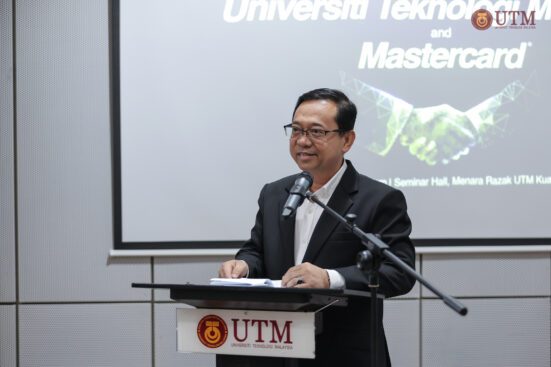 Vice-Chancellor Universiti Teknologi Malaysia Welcoming Speech
"UTM is one of Malaysia's leading higher institutions in engineering and technology, thus we are pleased to be partnering with Mastercard, a company for whom cybersecurity is paramount, to offer a specialized course that will benefit the academic staff,  students, and to Malaysian society as a whole.  This will also generate opportunities for mid-career workers to acquire new skills, as it will provide them with a competitive advantage." said Prof.  Fauzi.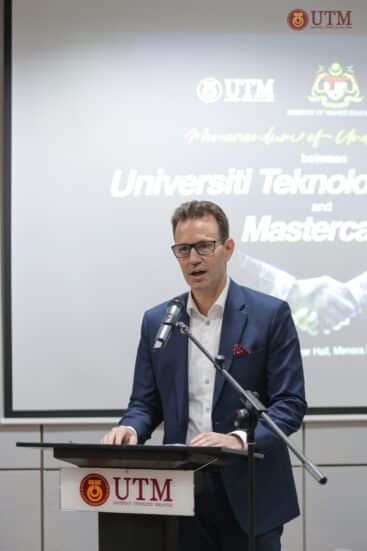 Mr. Matthew Driver, Executive Vice President – Services, Mastercard
"The partnership with UTM is a great example of how stakeholders from the private and academia may collaborate to create initiatives that foster a pipeline of cybersecurity specialists for the nation's digital economy. Mastercard looks forward to working with the university and the government to address the existing scarcity of cybersecurity talent and generate job opportunities for Malaysians." said Matthew Driver, Executive Vice President – Services, Mastercard. 
The initiative is a part of Mastercard's commitment to strengthening and expanding the cybersecurity ecosystem through academic partnerships. Collaborations of this nature contribute to the regionalization of expertise by bringing together security and intelligence professionals in Malaysia to jointly monitor, detect, and respond to cyber threats while simultaneously developing technological capabilities that can be used to manage future crises.
Cybersecurity and digital trust have become increasingly crucial in Malaysia in line with myDigital, a national initiative which symbolizes the aspirations of the Government to successfully transform Malaysia into a digitally-driven, high-income nation and a regional leader in the digital economy.
The skills training and courses offered at the UTM-Mastercard Cyber Innovation Hub  located at at Anjung Menara Razak, UTM Kuala Lumpur will provide a unique blend of practical cybersecurity training, knowledge, and industry insights. Upon completion, a joint Mastercard-UTM cybersecurity certificate will be issued. A specific training programme will initially be offered to academics, creating a pool of cybersecurity professionals. This collaboration between UTM and Mastercard is thus timely to ensure that digital technologies and solutions can be made secure and trustworthy. UTM will bring our solid interdisciplinary approaches to research and address some of the most pressing and complex challenges facing the FinTech industry.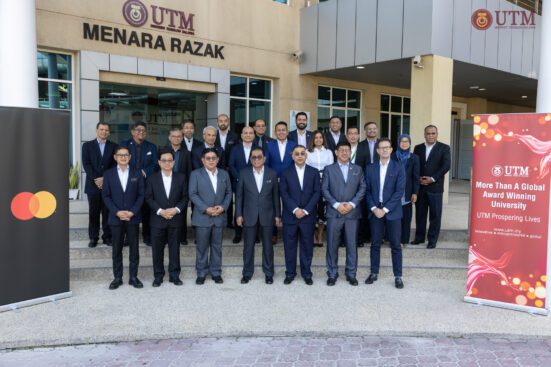 Members of Ministry of Higher Education, Member of Mastercard an Members of UTM Executive Committee