JOHOR BAHRU, 2 Mac – For 2023, the International Student Society (ISS) Management Camp 2022/2023 was organised by the Student Experience Unit, Universiti Teknologi Malaysia (UTM) International on 23rd – 25th February 2023 at Bayu Balau Beach Resort, Bandar Penawar, Johor. About 62 ISS top 4 committees joined this camp, including two facilitators from the Security Department, eight UTM International staff from UTM Johor Bahru, one UTM International staff from UTM Kuala Lumpur and two members from Global Buddies.
Every year, the ISS Management Camp is mainly organised for ISS Top 4 Committee members, comprising the President, Vice President, General Secretary and Treasurer. It was also joined by two Global Buddies representatives. Apart from ISS Central committees from a non-ISS country (Maldives), the ISS Country Chapters include Afghanistan, Algeria, Bangladesh, China, Egypt, India, Indonesia, Iraq, Libya, Nigeria, Pakistan, Palestine, Somalia, Sudan, Syria and Yemen.
The objective of this three days and two nights programme is to update the management and administration system of UTM International and ISS Country Chapter with current news and changes in line with the goals and vision of the university. Next, it also aims to motivate the ISS to improve the quality of services and workmanship, to provide a platform where exchanging ideas among UTM International staff, Global Buddies and ISS Country Chapter could be done to strengthen the international student development management system with the locals.
Furthermore, this programme also aims to create understanding. It strengthens the relationship between UTM International staff, ISS Country Chapter and local students, specifically with Student Representative Council, by applying elements of cooperation and trust in carrying out their respective responsibilities. Lastly, another objective of this program is to produce and present programs and activities that will be carried out in 2023 according to the ISS Country Chapter and ISS Central, especially in Internationalisation at Home agenda and Sustainable Development Goals (SDG) elements.
The programme began with the programme schedule briefing and the assignment assigned throughout the programme.  After dinner, the welcoming speech was given by the Acting Associate Director of Global Education and Experience (GEE) of UTM International, Dr Ahmad Fadhil bin Yusof. Next, the UTM International Director, Assoc. Prof. Dr Mohd Ariffin bin Abu Hassan delivered the Opening Ceremony speech and distributed ISS official jackets, T-shirts and appointment letters.
The participants were assigned into eight groups. The activities were organised to instil leadership skills and qualities and improve teamwork among and within the country chapters and the ISS Central members.  The activities include ice-breaking, presentation on each ISS Country Chapters' yearly events plan, Explorace, cultural performances, Telematch and beach sports.
The programme ended with a closing speech by the Director of UTM International and a prize-giving ceremony to the overall best group, best cultural performance and consolation prizes to the rest of the groups.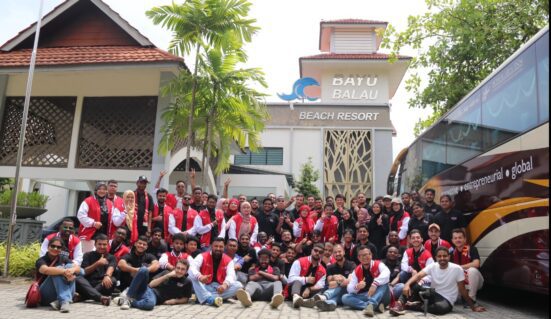 / UTM International