Surabaya, 8 February –  Institut Teknologi Sepuluh Nopember (ITS), Indonesia, named Universiti Teknologi Malaysia (UTM) as the winner of ITS "The Most Collaborative Partner in Joint Publication" Award. The award was presented virtually on February 7, 2023 (Tuesday), during the 2023 International Partnership Day (APAC), which was hosted by the ITS Global Engagement Office.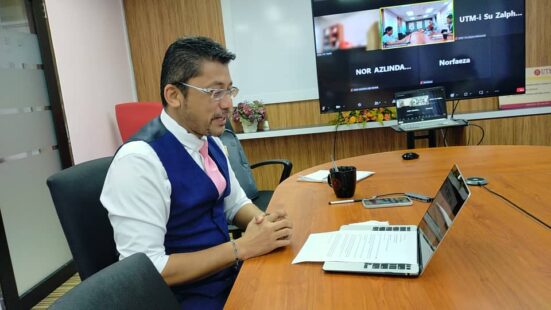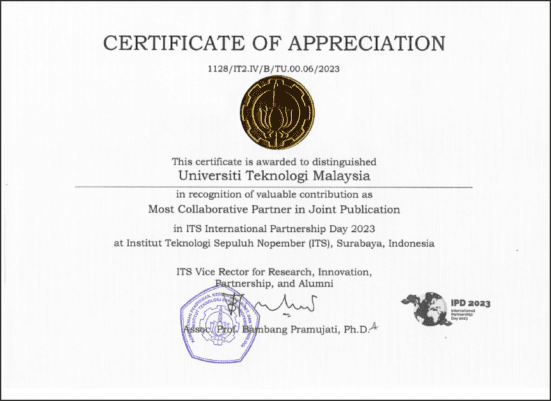 The Director of UTM International, Assoc. Prof. Dr Mohd Ariffin Abu Hassan accepted the award on behalf of UTM at the APAC 2023. In his acceptance speech, he expressed his gratitude to the entire ITS community for the honour and recognition of UTM. He also expressed the excitement and happiness of the UTM community as being recognized as the most collaborative partner in a joint publication. For the record, ITS has become one of UTM's strongest Indonesian research collaborators in various fields. As a premier Malaysian public research-intensive university, UTM has made joint publication one of its top priorities, as construed in UTM's Envision 2025.
ITS and UTM have worked together across several collaborative activities for over ten years. These include academic and research collaboration and alliance linkages, especially via the Asian Technological University Network (ATU-Net), where UTM serves as the chair and secretariat. In 2022, both The Vice-Chancellor of UTM and The Rector of ITS paid one another a reciprocal visit. This recognition shows how passionately UTM looks forward to continuing its relationships and collaboration with ITS, in particular, as well as universities and institutions from all around the world.
Prepared by:
Mrs Norhaiza Daud
Mr Ahmad Hilman Borhan
Prof. Madya Dr Mohd Ariffin Abu Hassan
/ UTM International