The Cadastre and Land Administration Thesaurus (CaLAThe) project is a partnership project between Universiti Teknologi Malaysia, Aalborg University Denmark and Yildiz University Turkey concerning the further development of a multi-lingual glossary of terms. This project started on January 1st 2022, until December 31st 2022.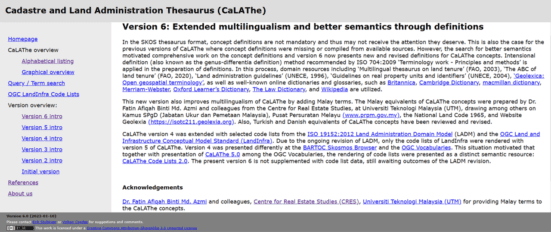 The 6th version of CaLAThe was released on January 30th 2023, with the development of Malay terms and revised Turkish and Danish words to the CaLAThe concepts. The Malay terms were provided by 16 researchers from the Centre for Real Estate Studies and the Faculty of Built Environment and Surveying at Universiti Teknologi Malaysia. It took 1 year and 1 month to be successfully published online, and it is open access.
This project was led by Dr Fatin Afiqah binti Md Azmi and assisted by Sr. Dr Nurul Hana Adi Maimun, Prof. Sr. Dr Hishamuddin Mohd Ali, Prof. Sr Dr Maimunah Sapri, Prof. Dr Ibrahim Sipan, Sr Dr Ezdihar Hamzah, Ts Umussaa'dah Adam, Dr Ainur Zaireen Zainudin, Sr Gs. Dr Mohammad Zakri Tarmidi, Assoc. Prof. Ts. Sr Dr Noorsidi Aizuddin Mohd Noor, Dr Mustafa Omar, Dr Siti Radiaton Adawiyah Zakaria, Dr Salfarina Samsudin, Gs. Dr Abd. Halim Hamzah, and Dr Norhadija Darwin.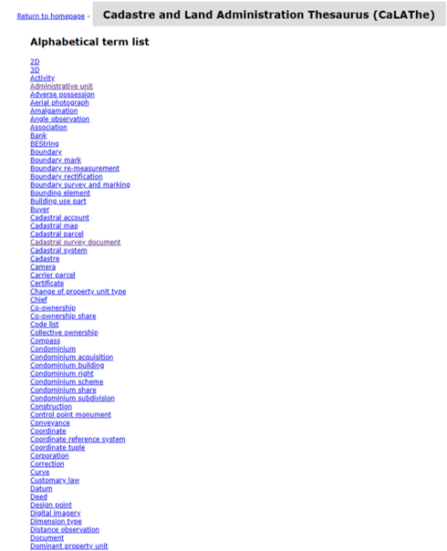 CaLAThe is a controlled vocabulary for cadastre and land administration domains that contains 251 terms. The Malay equivalences of CaLAThe concepts were based on Kamus SPgD (Jabatan Ukur dan Pemetaan Malaysia), Pusat Persuratan Melayu (www.prpm.gov.my), Website Geolexia (https://isotc211.geolexia.org), National Land Code 1965, Multi-Lingual Glossary of Term (Geographic Information Land Administration Domain Model ISO 19152) and consulted by a credible Malaysian lawyer.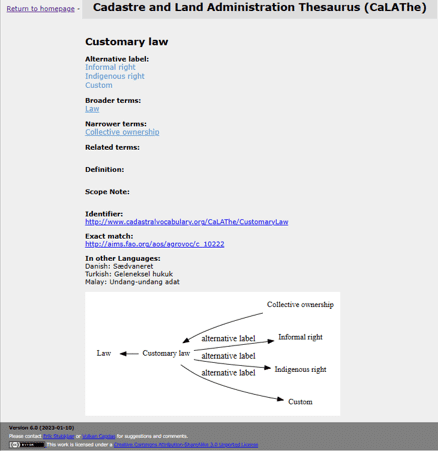 CaLAThe is available at a dedicated website: http://cadastralvocabulary.org, as well as through the Definitions Server of the OGC, and from 2020, linked with the LandVoc thesaurus. Version 6 presents new and revised definitions for CaLAThe concepts whereby the intensional definition method, also known as the genus-differentia definition, recommended by ISO 704:2009 'Terminology work – Principles and methods', is applied as far as possible.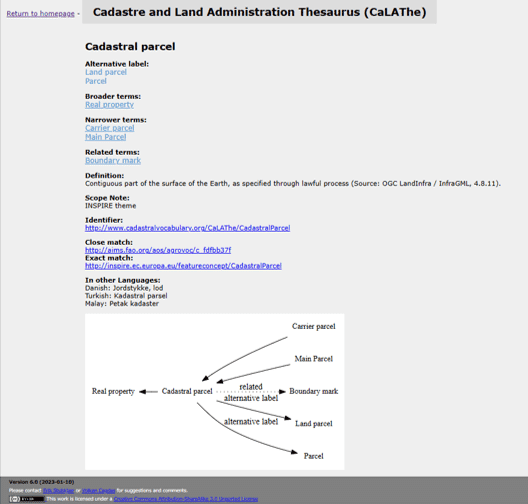 Our team would like to express our sincerest gratitude and thanks to Emer. Prof. Dr Erik Stubkjær and Prof. Dr Volkan Cagdas for the opportunity offered to UTM in completing CaLAThe Version 6.
We strongly believe that CaLAThe will contribute to a meaningful paradigm shift in the cadastre and land administration field, in particular, and may the website be well utilised for the betterment of society's knowledge.