JOHOR BAHRU, 8th Feb. – Since the outbreak of Covid-19, online meeting platforms have become more popular globally among organizations and learning institutions. These online meeting apps (e.g. Webex, Google Meet and Zoom) enable us to communicate by chatting, showing reactions and sharing screens.
How about allowing us to interact in a more lively and interactive way without the need to do pre-recording preparation and with no limitation on remote audiences in real-time with a low-cost setup?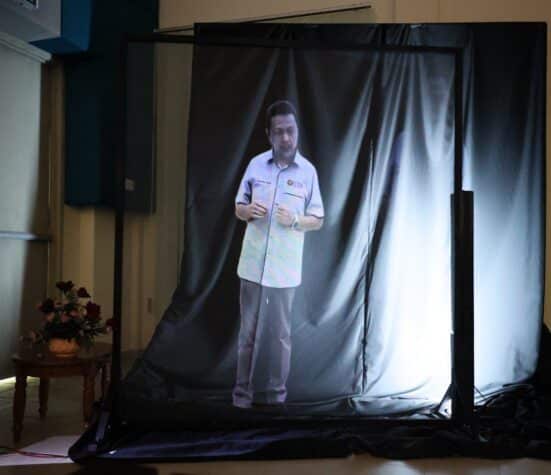 'Holo Professor' – a live and real-time holographic telepresence technology successfully developed by an expert in Augmented and Virtual Reality, Dr Ajune Wanis Ismail, with her technical team from Mixed and Virtual Environment Research Lab (mivielab), subsets in UTM ViCubeLab Research Group at the Faculty of Computing (FC), Universiti Teknologi Malaysia (UTM).
For the first time ever in UTM, 'Holo Professor' is presented and displayed during the briefing of enVision 2025-Action Plan 2023 for FC's lecturers and staff.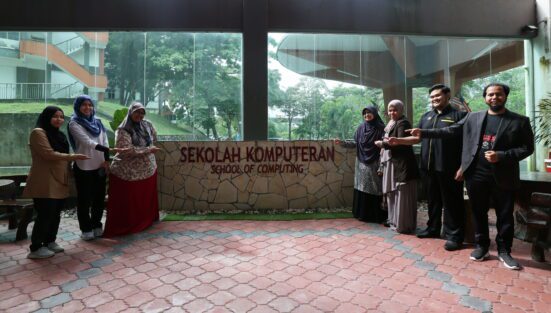 "This is our very own UTM's first home-grown 3D holographic telepresence technology. Our 'Holo Professor' is not a pre-recorded video but a real-time and live speech.
"With 'Holo Professor', our FC's Dean, Prof. Ts. Dr Wan Mohd Nasir Wan Kadir, is delivering his speech, giving a live presentation and having a live meeting with all FC's lecturers and staff while he is in a different location,"  Dr Ajune said.
"We did not use a green screen or heavy infrastructure to capture the local user, and we can display a remote user smoothly without lag. With this innovation, our professors and lecturers could be present in their classes without the need to be there physically," added Dr Ajune.
Meanwhile, the FC's Deputy Dean (Research, Innovation & Development), Assoc. Prof. Dr Siti Zaiton Mohd Hashim said 'Holo Professor' innovation can be portrayed as one of the UTM 'Innovating Solutions' to achieve enVision Moonshot, making UTM one of the nation's leading universities in Artificial Intelligence (AI), Augmented Reality (AR) and Virtual Reality (VR).