Johor Bahru, 17 January – Ten students from the Bachelor of Geomatics Engineering with Honors, Universiti Teknologi Malaysia (UTM) course have conducted a University Social Responsibility (USR) program at Sultan Ibrahim Girls School (SIGS).
This program aims to create a good collaboration with the school, especially when they serve as the leading provider of the student intake to the UTM, and it is a good marketing technique to introduce the Geomatic Engineering course as well as UTM to the society. The program delegation was led by Sr Dr Muhammad Hafiz Mohd Yatim, senior lecturer of the course, and assisted by Mr Lee Hong Sheng, a post-graduate student of Geomatic Engineering. The delegation was welcomed by the principal of the school, Puan Sharifah Junaidah binti Syed Abd Rahman and Puan Molina Binti Mohamed(Penolong Kanan Pentadbiran of SIGS).
The program started with a sharing session about UTM facilities. It continued with the introduction of Geomatics Engineering, giving the students a brief explanation of the course and its career prospect. Moreover, the program was initiated to provide insight into the commonly known Global Positioning System (GPS) technology and its function in positioning activities.
Furthermore, the program provides a platform to better understand the SIGS students on differences between Global Navigation Satellite System (GNSS) and Global Positioning System (GPS), commonly used terms by society.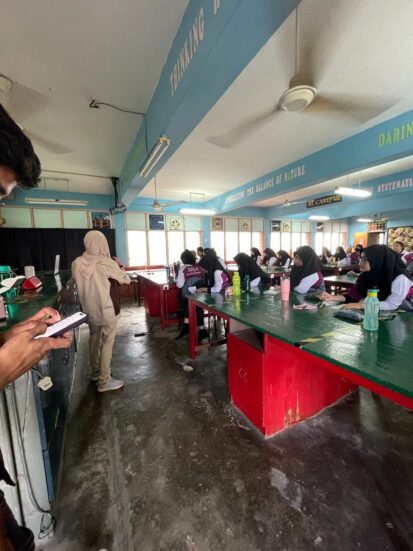 The program's main activity is Treasure Hunt, known as 'Geocaching', where the students are tasked to find the hidden treasures buried underground based on the coordinates using GNSS technology and mobile phones. As a result
, most of the 'hidden treasures' were successfully found by using the GNSS technology compared to the usage of mobile phones.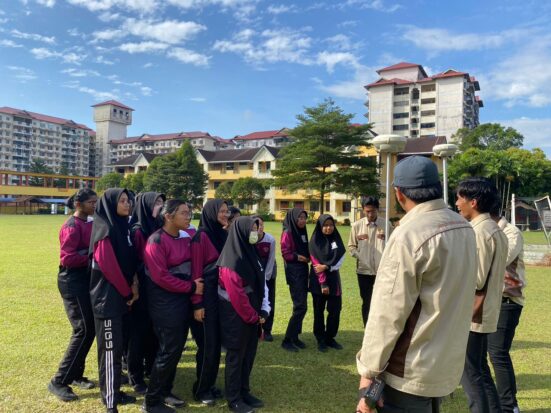 This program has received positive feedback from the SIGS principal, teachers and students, and they are also welcome to conduct similar programs in the future with SIGS. Overall, running this program has allowed the Geomatic Engineering students to sharpen their leadership as well as communication skills parallel to the UTM ambition for the student to excel in their graduate attributes.