Azman Hashim International Business School of Universiti Teknologi Malaysia Kuala Lumpur (AHIBS) organized Action Research Challenge presentations for 99 locals and international, AHIBS Master in Business Administration (MBA) students.
There are a total of 81 students from Malaysia, 9 students from the People's Republic of China, 4 students from Saudi Arabia, and 1 student each from Cuba, Iran, Libya and Nigeria who presented their Action Research Project.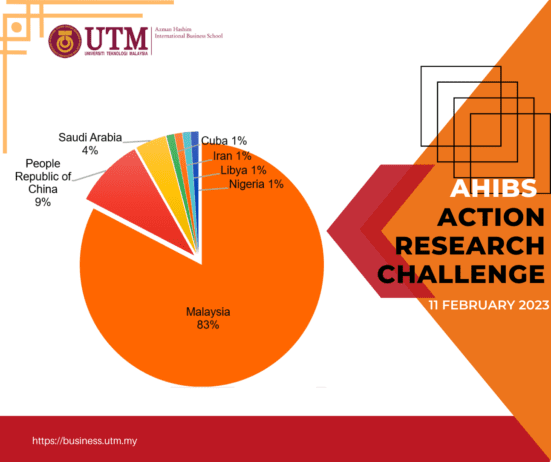 AARC's objectives are to culminate into a modern mini-conference to enhance cooperation between AHIBS UTM and industry partners through joined-research activities. AHIBS Dean, Assoc. Prof. Dr Rosmini Omar shared that AARC is supporting the UTM's KPI Stakeholder Perspective (P3: Transformative Student Experience – first-class human capital) and the Sustainable Development Goal (SDG 8) to have a "Decent Growth and Economic Growth".
AHIBS AARC had the privilege involvement of AHIBS Adjunct Professors and practitioners among the industry panels and fellow academics that shared their inputs and comments during the event.
AHIBS Action Research Challenge (AARC) empowers students by respecting and appreciating what makes them different. Embracing Diversity allows a supportive, encouraging, and safe atmosphere. It entails going beyond simple tolerance to guarantee that individuals value one another's diversity. This enables us to value diversity in the community while also embracing and celebrating the rich diversity that everyone possesses.
Prepared by: PGSS AHIBS