JOHOR BAHRU, 2 Jan. – Satu program University Service Learning and Responsibility (USLR) yang diberi nama 'Astronomy Xplorace' anjuran Program Geoinformasi, Fakulti Alam Bina dan Ukur (FABU), Universiti Teknologi Malaysia (UTM) telah diadakan bersama-sama warga Sekolah Kebangsaan Taman Mutiara Rini (SKTMR) sebagai satu inisiatif pemindahan ilmu berkaitan bidang astronomi.
Program ini melibatkan pelajar Tahun 3 Kursus Kejuruteraan Geomatik, UTM dengan kerjasama Persatuan Mahasiswa Ukur Tanah (PEMETA) dan Sekolah Pendidikan (SOE) dari Fakulti Sains Sosial dan Kemanusiaan  (FSSH) serta melibatkan murid-murid Tahun 6 SKTMR, Johor Bahru.
Seramai 50 orang pelajar sekolah SKTMR terlibat dengan program ini dan dibantu oleh seramai sebelas (11) orang fasilitator daripada pelajar Tahun 3 Kejuruteraan Geomatik, UTM.
Program yang bertemakan 'Ilmu Astronomi Untuk Semua Ke Arah Masyarakat Berkemajuan' ini dimulakan dengan sesi syarahan bertajuk 'Ilmu Astronomi untuk Semua' selain tayangan video berkenaan Kursus Geomatik. Mini pameran berserta sesi permainan explorace turut dijalankan bagi merancakkan sesi pemindahan ilmu ini.
Terdapat 5 stesen permainan yang merangkumi bidang astronomi seperti buruj, alam semesta, juga pendedahan perisian yang diberi nama 'Augmented Reality' oleh pelajar FSSH UTM.
Bertepatan dengan peribahasa; badan sihat, minda cerdas, program Astronomy Xplorace turut menerapkan unsur ketiga Sustainable Development Goals (SDGs) iaitu good health and well-being yang bertujuan untuk menyuntik rasa cinta yang tinggi akan bidang astronomi dalam diri generasi muda, lebih-lebih lagi pada edaran kemajuan teknologi, bidang astronomi umpama lapuk dek ditelan zaman.
Program ini sedikit sebanyak telah memberikan pendedahan kepada generasi muda akan keunikan bidang astronomi. Hal ini bagi memupuk rasa minat yang tinggi terhadap bidang astronomi seiring peredaran kemajuan teknologi yang kian pesat umpama cendawan tumbuh selepas hujan.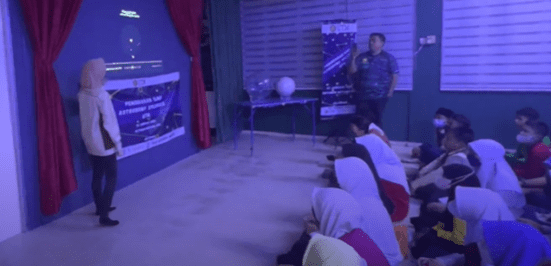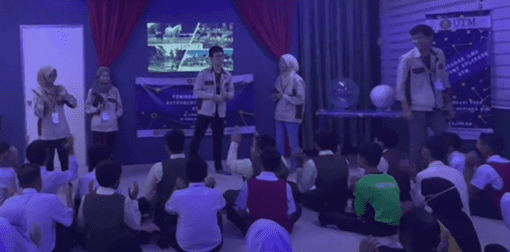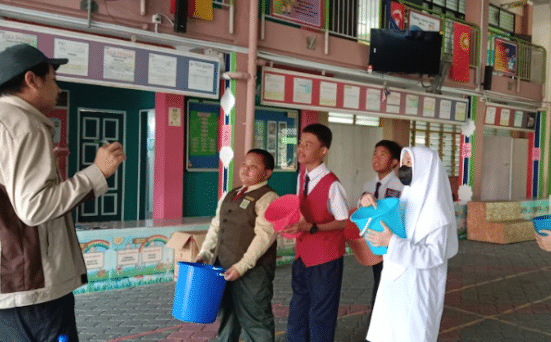 Penganjuran program ini telah mendapat sambutan yang meriah serta maklum balas yang baik daripada murid-murid dan guru-guru SKTMR. Pelaksanaan program seperti ini mampu untuk mengukuhkan lagi hubungan antara UTM dengan SKTMR, sekaligus mempromosikan UTM kepada bakal mahasiswa dari SKTMR kelak.
Di samping itu, program ini juga dapat melahirkan pelajar-pelajar Geoinformasi UTM yang berbakat, berkemahiran, berkebolehan dan berkeupayaan tinggi dalam bidang astronomi, serta mampu meningkatkan lagi kemahiran komunikasi professional dan kepimpinan selaras dengan atribut graduan UTM.