In conjunction with International Student Orientation Program (ISOP) semester 1, 2022/2023, Universiti Teknologi Malaysia (UTM) International organized a welcoming trip for the new international students of UTM on 27th and 28th January 2023 where participations are from the new intake of international and exchange students currently at UTM.
This programme was named as Amazing Malaysia Journey which include visit in Melaka, Putrajaya & Kuala Lumpur. A total of 90 students including Global Buddies and ISOP Crew together with 9 staffs joined the program, from as early as 8.00 a.m. 27th Jan until 6.00 p.m. 28th of Jan 2023.
The main goal of this event was to introduce the Malaysian heritage, cultures & interesting places to the new international and exchange students of UTM, which was reflected greatly during and after the event. It is also the first welcoming trip in 2023 organized by UTM-i in the endemic phase of COVID-19.
The program started with the participants and committees visiting the UTM Kuala Lumpur campus trip by 4 buses, which is around 4 hours journey from UTM Johor Bahru. As soon as we arrived, committees set up and briefed at the Seminar Hall, Menara Razak to divide the participants into 5 groups.
Then, the participants were brought to the UTMKL campus. Among the places that we visited are Robotic Lab (CAIRO) Centre for Artificial Intelligence & Robotics, UTM Kuala Lumpur Library, Algae Lab, MJIIT Precision Lab and Cultural Language Centre.
Around 3.00 p.m., participants check in at UTM Residence to have some rest before continuing the next program at night. At 7.30 p.m.,  all participant gathered at the previous point and departed to KLCC shopping centre to have dinner & window shopping. All of us went back to UTM Residence at 11 p.m. and the activities end here.
Our second and last day of the trip started with the buffet breakfast served at the residence. Then, we packed our luggage and get in to the bus again around 8 a.m. and headed to Putrajaya. All participants walked around the Putrajaya area that includes Putrajaya Mosque, Perdana Putra Building and Putra Square until 11 a.m. and captured some group photos.
After that, we headed toward Melaka Historical City and arrived there at around 1 p.m. of noon. Our first pit stop was to hop on to the river boat cruise to explore the Historical City of Melaka by gliding along Sungai Melaka with an awe-inspiring 45-minute cruise. We really enjoyed the cruise as we can saw the nice riverwalk, traditional office buildings & shops and restaurants along the river.
We had our traditional lunch at 2 p.m. at cafes around Banda Hilir area. After that, we visited the Sultan Melaka Museum, Samudera Museum and Dunia Melayu Dunia Islam Museum. At 6 p.m. we departed back to the UTM and our Amazing Malaysia Journey trip ends here.
The Amazing Malaysia Journey trip was indeed a successful and engagement event for the new international students of UTM. The main outcome of the event was that the international students could engaged with the heritages, cultures, food and language of the Malaysia. They had the opportunity to learnt and knew about the original lifestyle of the Malaysians.
In addition, our participants had an opportunity of spending some quality time in a foreign country and received an amazing opportunity of ice breaking among them. We are really thankful and honoured to UTM international for arranging such an amazing and nice trip where we could get to know each other, cultures, histories and the heritages of Malaysia.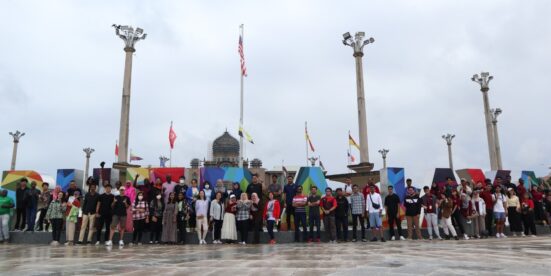 Corresponding Author: Norfaeza binti Ali
Co-Author: PM Dr. Mohd Ariffin bin Abu Hassan