By Chai Han Qing
Team Airost from Universiti Teknologi Malaysia (UTM) was declared as the Champion in National Instruments Autonomous Robotics Competition 2022 (NIARC 2022) held at Universiti Sains Malaysia (USM) Engineering Campus, Nibong Tebal on 26th November 2022.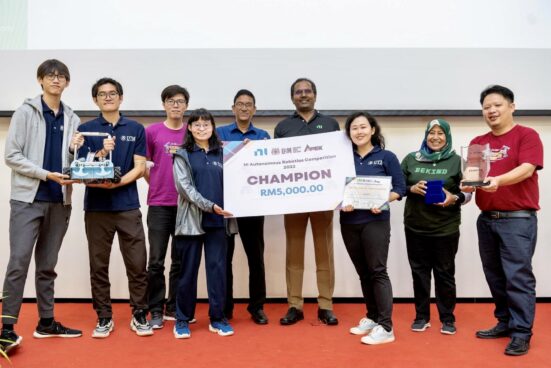 NIARC 2022, with the theme of "Robots in Medical Industry: The Next-Generation Saviors", is a student robotics competition sponsored by NI Malaysia, in partnership with USM for the 4th year running to continue its effort in encouraging learning, development and innovation among university students in the field of robotics.
The competition which began in May 2022 was concluded in late-November. It managed to attract a total of 13 qualifying teams from eight local institutions of higher learning (IHL), which are UTM, USM, Universiti Tunku Abdul Rahman (UTAR), Universiti Kebangsaan Malaysia (UKM), Universiti Putra Malaysia (UPM), Universiti Malaysia Perlis (UniMAP), Penang Skills Development Centre (PSDC) and Kolej Poly-Tech MARA (KPTMara).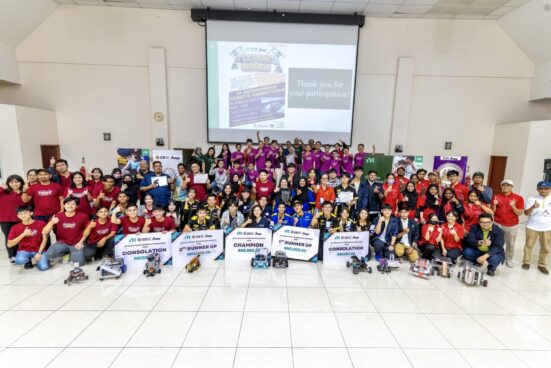 Team Airost from UTM became the Champion and managed to take home RM 5,000 after the stiff competition. The team had to undergo two Qualifying Rounds (Round-Robin), followed by three Championship Rounds (Knockout), in which Team Airost advanced, towards the Finals and defeated the opponent team.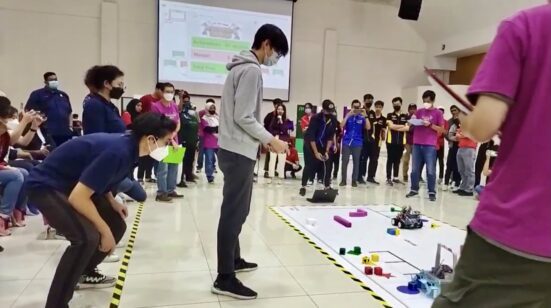 NIARC 2022 features two teams from UTM, namely Team Airost and Team Bridger which are supervised by Assoc. Prof. Dr. Yeong Che Fai and Ir. Dr. Fauzan Khairi bin Che Harun respectively. The students were from the School of Electrical Engineering, School of Mechanical Engineering and School of Computing.
Team Airost (Champion)
1) Chai Han Qing (Electrical Engineering 4th Year)
2) Chan Jing Yik (Mechanical Engineering 3rd Year)
3) Tan Hon Teck (Mechatronics Engineering 3rd Year)
4) Loke Rui Kee (Bioinformatics 2nd Year)
Team Bridger
1) Melanie Pai Yi Xuan (Electronics Engineering 4th Year)
2) Chung Hui Qi (Electronics Engineering 4th Year)
3) Ivyn Tan Shi Han (Electronics Engineering 4th Year)
4) Denson Pau Jiong Han (Electronics Engineering 4th Year)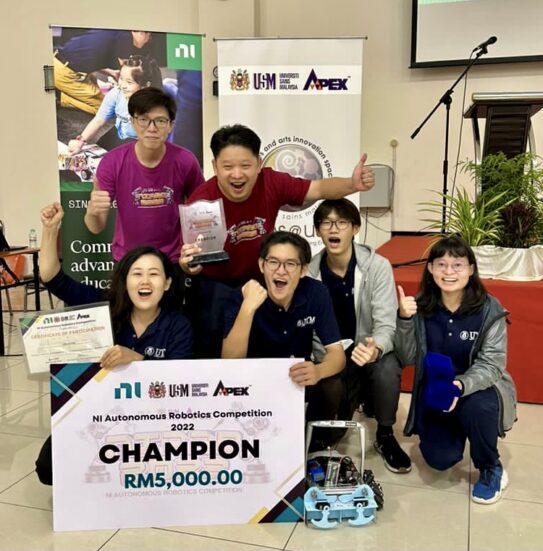 An opportunity to learn 
Under NIARC 2022 theme, students are required to design and program mechanical wheeled robots with industry leading tools for the benefits and improvements in the development and preservation of human life, both autonomously and manually, within a specific duration based on requirements.
"All teams must complete six Milestones, which includes documentation of work and  video(s) to the mentors, in order to qualify for the live competition. A fund of RM 1,000 and a unit of myRIO 1900 was provided by NI as the funding for the competition", said Dr. Yeong.
Partnerships with industry 
DF Automation & Robotics Sdn. Bhd. as the key partner of Team Airost plays an important role in the team's success. Having interest in developing a Mecanum-based product, DF saw an opportunity in Team Airost and decided to fund the team a total of RM 7,000 to build the robot. With the funding, Team Airost is able to acquire better technologies and components. 
Three members of Team Airost had undergone a one month period internship program (Voluntary Industry Experiential Programme) organized by UTM at DF Automation & Robotics Sdn. Bhd. Within a month, the members are provided with industrial training and advice from its CTO and R&D Director, Mr. Tan Ping Hua, in regards to the technical aspects of building a mecanum-based robot.  
Teamwork is fundamental but instrumental
Chai Han Qing, the representative of UTM Team Airost, stresses the importance of teamwork in NIARC 2022. According to her, the team consists of Airost club members from different academic backgrounds, each with different skill sets and working styles. But with a common mindset, everyone collectively contributed their talents and showed relentless effort in team cooperation while being able to work independently on assigned tasks. 
"I deeply appreciate every member of my team. We always have mutual respect for each other, and constantly motivate ourselves in times of difficulties when pushing past new limits. With a support system like this at the back, everything seems effortless. They set a phenomenal example of good teamwork and team spirit", said Han Qing.
She added, the team was very grateful to have Associate Professor Dr. Yeong Che Fai from the School of Electrical Engineering, Faculty of Engineering, UTM to supervise, provide internship opportunities and to guide them.
Participation is its own reward
Team Airost and Team Bridger have each received various support from different sources, including National Instruments (NI), UTM, Center of Artificial Intelligence (CAIRO) and UTMXcite.
"On behalf of both teams, I would like to extend my utmost gratitude to NI and USM for organizing such a wonderful competition that allows university students to get exposure in the field of robotics. The past 30 weeks have been interesting and full of new challenges that require full dedication to push on.
It has been a pleasure to cordially cooperate with the mentors and staff from National Instruments (NI) and become acquainted with robotics enthusiasts from different universities. The experience that we gained is truly invaluable", said Han Qing and Melanie Pai.
The event wrapped up with remarks from the managing director of NI and USM Deputy Vice-Chancellor, followed by a prize giving ceremony. 
Congratulations once again to our students and their teams!