The premiere of the Final FIFA World Cup Qatar 2022 Argentina versus France was streamed at Dewan Sri Resak, Kolej Tun Dr. Ismail. It was organized by the Student Residential College Committee (JKM) 2022/2023 session and was aimed to bond the relationship between the Principal and fellow students of Kolej Tun Dr. Ismail.
Aside from that, this premiere was also organized for the students to feel the sensation of FIFA World Cup which was held once every four years. The premiere started at 11.00 p.m. and ended at 1.30 a.m. as the match between the two countries was tied for the first one and a half hours.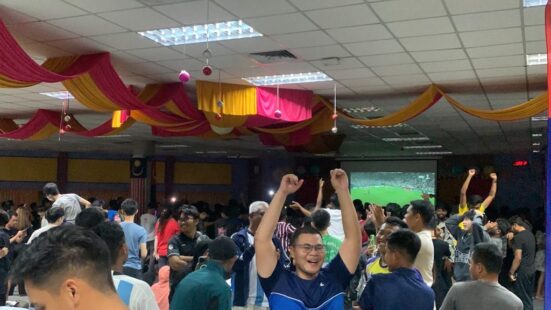 At the moment of premiere, the Principal of Kolej Tun Dr. Ismail, Lt. Kol Prof. Madya Dr. Mohd Noor Azli bin Haji Ali Khan sat together with the audience to match their energy. All the tensed, thrilled, and sorrowful faces were shown as they were cheering for Argentina or France . The Student Residential College Committee (JKM) also sold some snacks such as marshmallow chocolate, and some drinks for the audience to watch the premiere with. 
To end, the premiere ended with the winning of Argentina, 4-2 against France. The joy in the audience's faces were clearly shown as they departed to their rooms to rest. The FIFA World Cup has always been the match that the global waited quadrennially.