Universiti Teknologi Malaysia (UTM) researchers, led by postgraduate student, Ms. Koh Fung Chieng and supervised by Assoc. Prof. Ir. Dr. William Chong Woei Fong, secured a Silver Medal at the recently concluded 8th China International College Students' "Internet+" Innovation and Entrepreneurship Competition. This competition was organized by Chongqing University, China. It is a global event for college students worldwide to pursue dreams in innovation and entrepreneurship.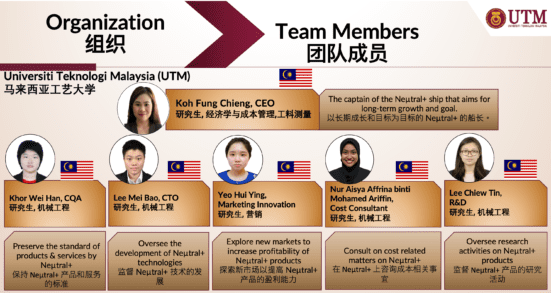 A total of 8000+ participants submitted their business model for the event, with only 150 submissions invited for the Finals (International Category). The UTM team was shortlisted in the Top 150 and presented in the Finals on the 10th November 2022. The teams in the finals were from prestigious and renowned universities, namely Nanyang Technological University (Singapore), Yale University (USA) and the University of Oxford (UK).
Shanghai Jiao Tong University, China, supported UTM team's participation. The team was also co-supervised by Assoc. Prof. Dr. Chong Cheng Tung (Shanghai Jiao Tong University, China), Assoc. Prof. Dr. Ong Choon Hee (UTM) and Dr. Stewart Chidlow (Liverpool John Moores University, UK).
The team presented a business model entitled "Net Zero Bio-based Lµbricant from Microwave-Assisted Transesterification Technology Towards Climate Positive," in short Neutral+. NeutraL+ valorizes used cooking oil to serve as a bio-base oil for hydraulic oil in promoting net-zero lubricants for climate positive. The technology is optimized for a wide range of used cooking oil, providing high conversion rates into bio-base oil.
The business model follows the priority principles of the Paris Convention, allowing it to be more efficient and 73% greener than existing mineral-based hydraulic oil production processes. Apart from that, it was previously shortlisted as one of the Top 10 Finalists of the Omnipreneurship Awards 2021. For future plans, the team intends to improve the technology of Neutral+, hoping to one day bring the idea to fruition, because the team truly believes in Net Zero Lube towards Climate Positive.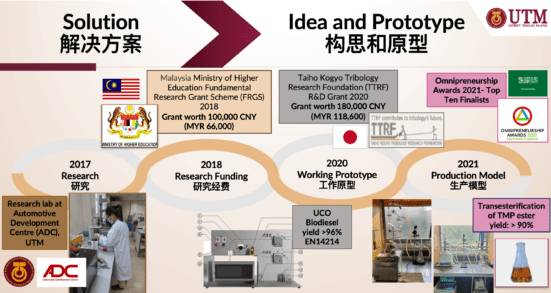 / Faculty of Mechanical Engineering