Universiti Teknologi Malaysia (UTM), as one of the founding members of the World Technology Universities Network (WTUN) since its establishment in 2016, has recently taken part in the 7th World Technology Universities Congress 2022 (WTUC 2022) from 22nd to 24th November 2022. Hosted by Suranaree University of Technology (SUT), Thailand, in hybrid mode both on campus in Nakhon Ratchasima and online, WTUC 2022 welcomed 52 delegates from 18 institutions and 15 countries, involving the University Presidents, members of staff of the international offices, prominent guest speakers and winning students.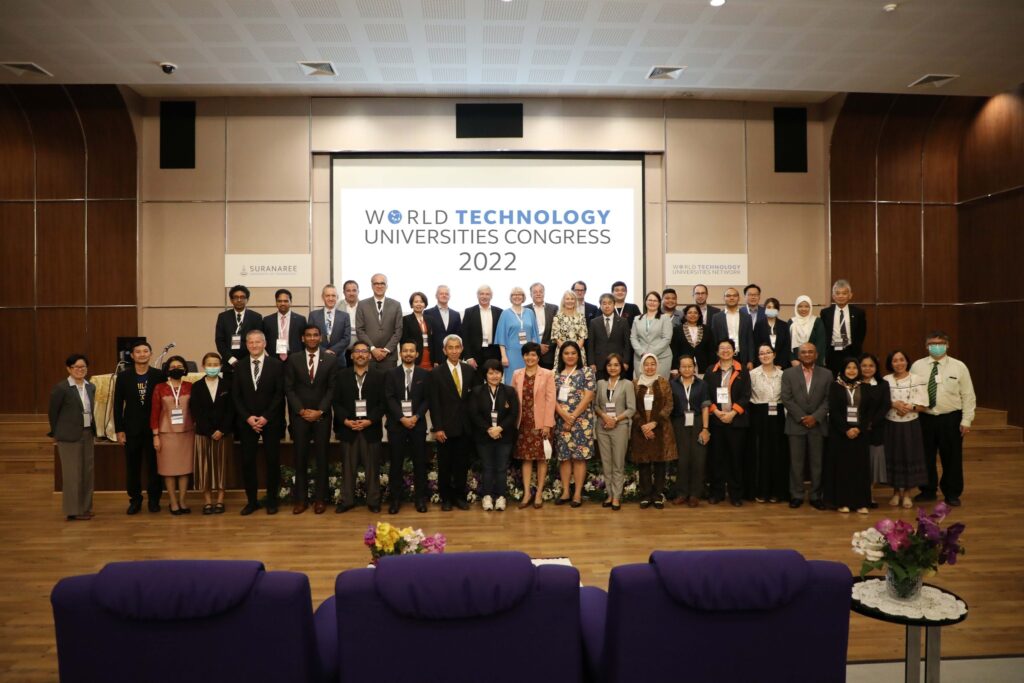 Delegates of the World Technology Universities Congress 2022 (WTUC2022) at Suranaree University of Technology, Nakhon Ratchasima, Thailand
WTUC 2022 was officiated during the Opening Session by the Chair of WTUN, Professor Peter Scharff, who is also the former President of Technische Universität Ilmenau, Germany. The session was followed by the Operational Board Meeting and WTUN Network Development Session, coordinated by the WTUN secretariat for yearly reporting and discussing the future development of the Network.
Carrying the theme "The Future of Higher Education Under the New Norm", WTUC 2022 began with the Opening Plenary, in which four distinguished speakers delivered by the member universities each from SUT, Thailand; Ahlia University, Bahrain; Hindustan Institute of Technology, India and Coventry University, United Kingdom. One of the key points addressed in the conversation was exchanging perspectives and broadening the horizon in visualising the challenges and solutions underlining the future trends of higher education in the post- pandemic era.
UTM has also successfully been approved by the WTUN General Board to be the congress host in 2024, which was agreed upon in the General Board Meeting. On the other hand, WTUC 2023 will be held at Technische Universität Ilmenau in Germany next October.
Mdm. Punithavalli during the announcement of UTM as the congress host for 2024
Being an active member of WTUN, the staff and students of UTM have benefited from all the programmes especially the staff exchange programme and the student competition. Also, participation in the Network has contributed to extending bilateral partnerships between UTM and other member universities of WTUN worldwide.
UTM has actively participated as a member of 24 international alliances. For more information about international partnerships, please visit our website at https://www.utm.my/international/alliances/.
Prepared by:
Amni Mohammad Zahar & Dr. Ain Naadia Mazlan