The Laser Center, Ibnu Sina Institute for Scientific and Industrial Research (ISI-SIR), Universiti Teknologi Malaysia (UTM) held a laser safety workshop on Tuesday, 29th November 2022. The workshop aims to provide knowledge on current laser technology and laser safety, awareness of hazards from various laser sources, and practical guidelines for laser safety precautions in the laboratory and industrial research activities.
The workshop is beneficial for individuals with interest and laser safety concerns in academic and research settings who are willing to expand their knowledge and skills. Besides young researchers from undergraduate to post-doc programs, research officers and assistant engineers also actively participated in the workshop.
The workshop was divided into two sessions. The first session was a lecture with experts who shared their knowledge and engaged the audience in a lively discussion. The second was a demonstration session to train the participants' skills in working with lasers, most importantly high-power lasers like CO2 and fiber lasers.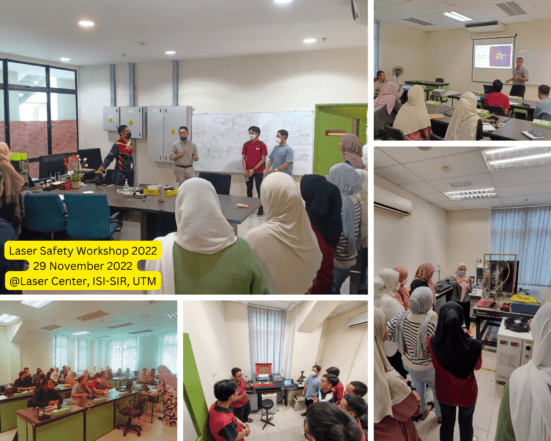 The speakers during the lecture session were Dr. Maisarah binti Duralim and Dr. Ganesan Krishnan. They are both research fellows at Laser Center, ISI-SIR, UTM. Dr. Maisarah shared her expert opinion on the fundamentals of laser technology and Dr. Ganesan introduced the guidelines for laser use and safety in laboratories.
The participants were trained by two Laser Center doctoral students, namely Abdul Rahman Johari and Aneez Syuhada, to operate CO2 and fiber lasers during the demonstration session. The participants were grouped into two to ensure that everyone could follow the laser safety procedures.
The Director of Laser Center, Ts. Dr. Muhammad Safwan Abd Aziz hoped that the workshop will benefit the participants with better safety knowledge and awareness when dealing with lasers. "Laser technology and research have made tremendous progress; they have attracted increasing attention because of their wide applications. For anyone who works with lasers, please put safety first," highlighted Dr. Safwan.