Prepared by: Ms. Fong Li Yee, Assoc. Prof. ChM. Dr. Mohd Bakri Bakar (Department of Chemistry, Faculty of Science); ChM. Dr. Mohd Firdaus Abdul Wahab (Department of Biosciences, Faculty of Science)
Ms. Fong Li Yee, an undergraduate student from the Department of Chemistry, Faculty of Science, Universiti Teknologi Malaysia (UTM), has received a travel award to attend the American Chemical Society (ACS) Research Conference and ACS Student Leadership Summit in Doha, Qatar.
Ms. Fong is currently the Committee Member for the ACS UTM International Student Chapter. She is one of only four other students from other universities in Malaysia selected to receive the award.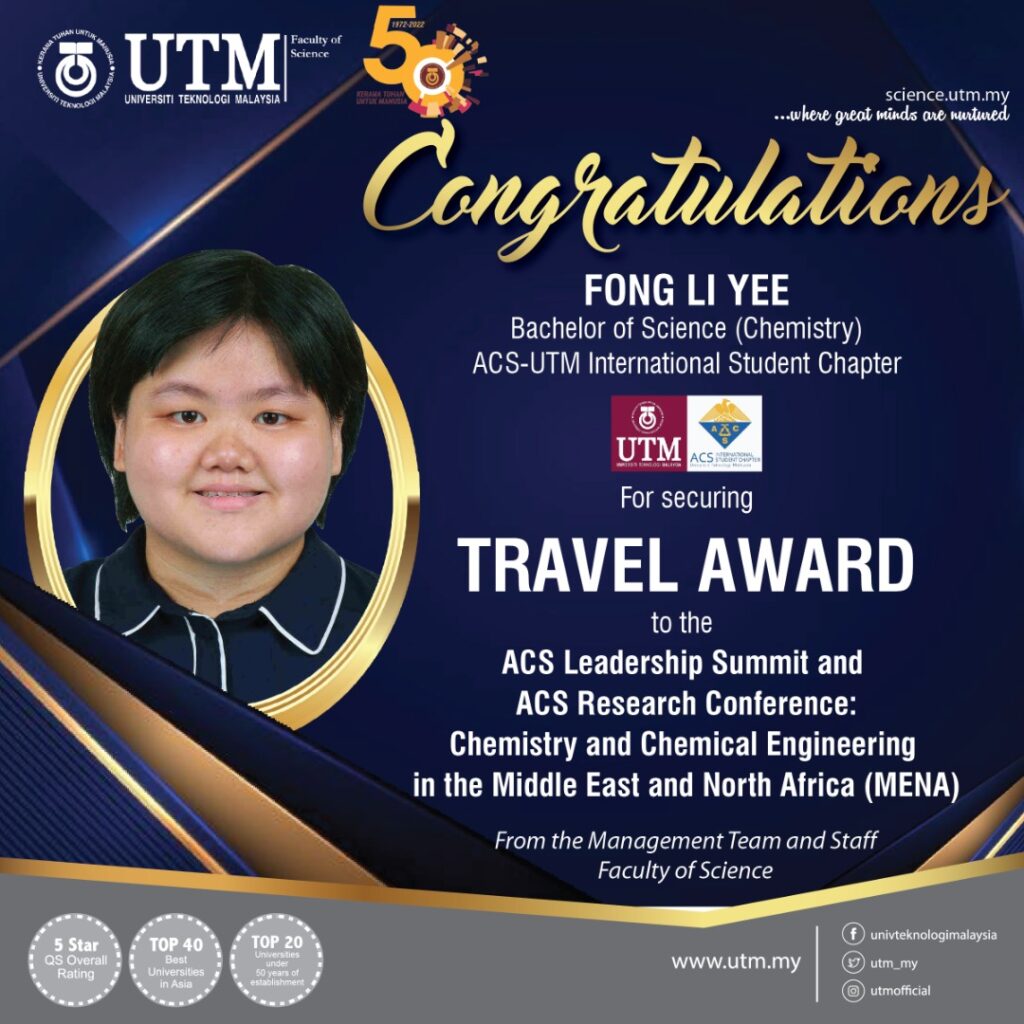 The ACS Middle East, Africa, and Europe International Leadership Summit kicked off the event at the Ritz-Carlton Doha on 8th May 2022, hosted by ACS.
During the Summit, leaders from various ACS International Chapters and Student Chapters convened to discuss and share ideas regarding managing a chapter's strategic direction and leadership succession planning.
The Summit also covered how ACS Student Chapter leaders can inspire and motivate others in the chapter to synergize and bring their chapters to greater heights. Ms. Fong also represented the ACS Malaysia Chapter at the Summit.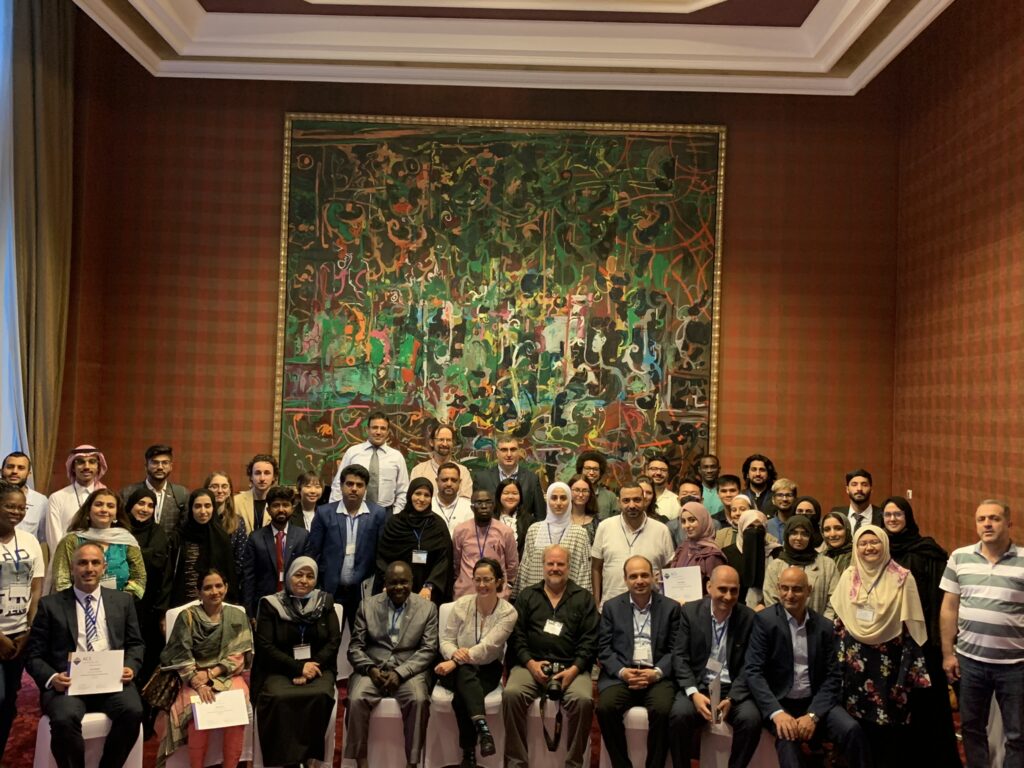 The Summit was then followed by the ACS Research Conference: Chemistry and Chemical Engineering in the Middle East and North Africa (MENA) event.
The main purpose of this regional Research Conference was to highlight recent research, educational, and industrial advances in Chemistry and Chemical Engineering, especially in the MENA region.
Leading scientists, engineers, and business leaders also discussed current innovations in research and higher education. The Conference was organized and hosted by the ACS Qatar Chapter.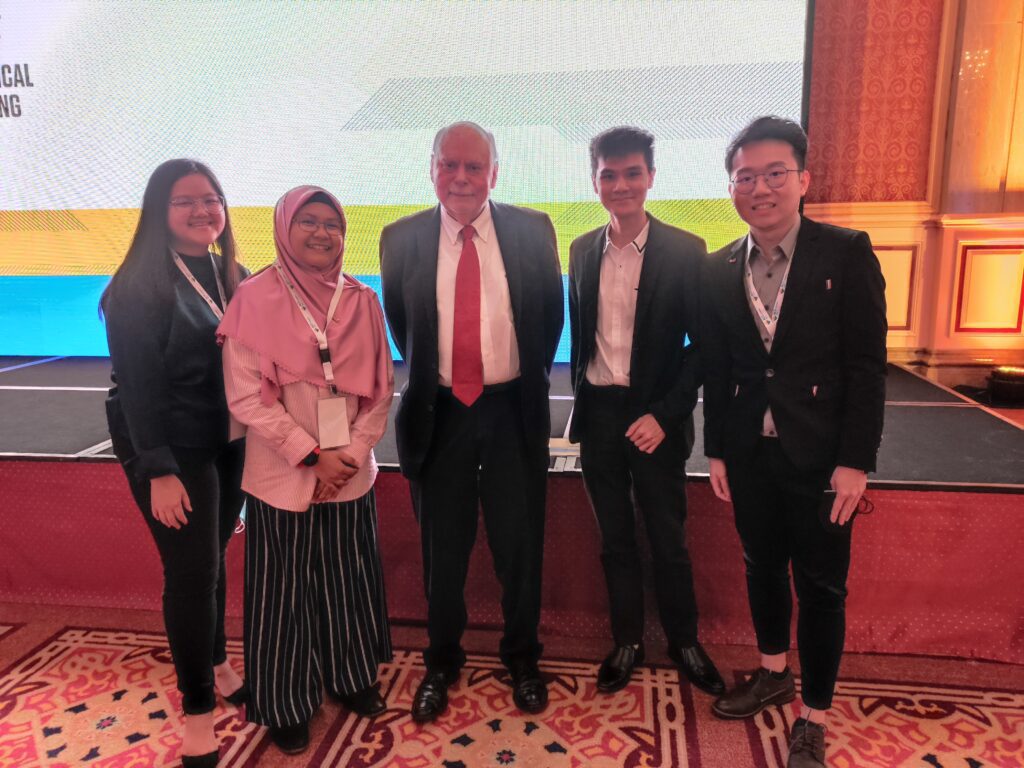 This Conference has provided the students with a great opportunity to exchange ideas and interact with eminent scientists and engineers worldwide.
The rare opportunity to meet two Nobel Laureates in Chemistry, Sir Fraser Stoddart and Ben L. Feringa, who were the plenary speakers at the Conference, was also an experience of a lifetime.
Ms. Fong also participated in a research poster presentation, which allowed her to share her research findings with the conference attendees.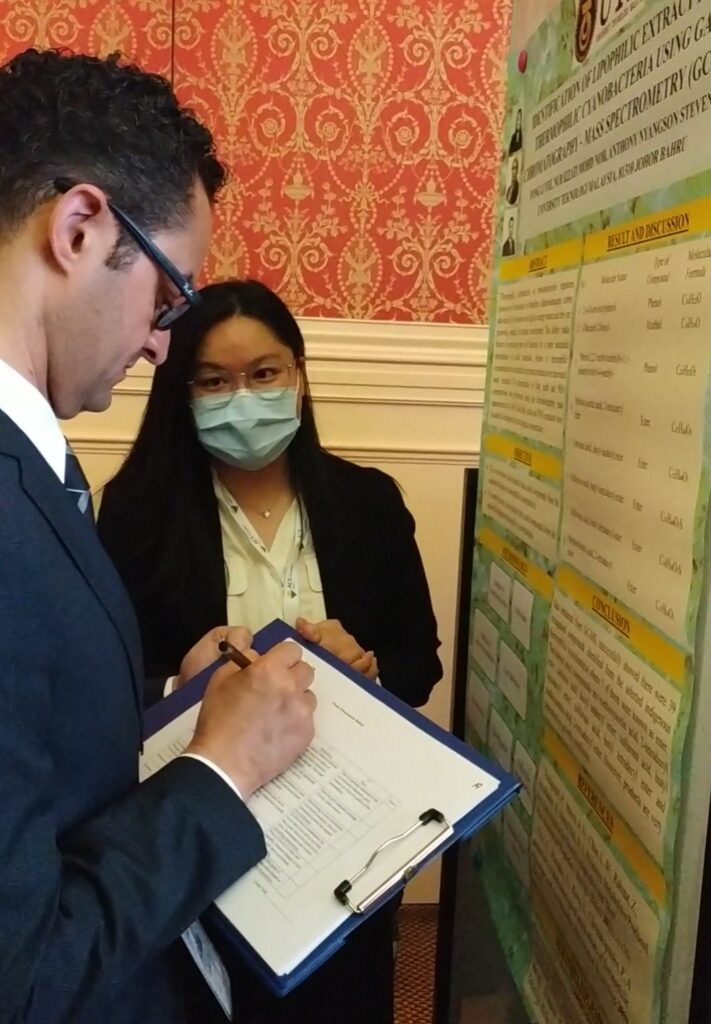 Ms. Fong expressed her sincerest gratitude to ACS, ACS Malaysia Chapter, ACS UTM International Student Chapter, and the Faculty of Science UTM for giving her the opportunity to immerse herself in the international world of science and research.
All the knowledge gained from the program will be used to benefit all. It is hoped that in the future, UTM students will have similar opportunities again.