Prepared by: Norhayati Abdullah & Nor Haniza Sarmin
Kuala Lumpur, 6 Apr – As Muslims worldwide welcomes the holy month of Ramadan dedicated to soul searching and self-sustenance, Universiti Teknologi Malaysia (UTM) delegation led by Pro-Vice Chancellor, UTM Kuala Lumpur, Professor Ts. Dr. Abd Latif Saleh, paid a courtesy visit to the Embassy of the Republic of Azerbaijan.
The visit was received by His Excellency Mr. Irfan Davudov, Ambassador of the Republic of Azerbaijan to Malaysia and his First Secretary, Dr. Elsevar Salmanov.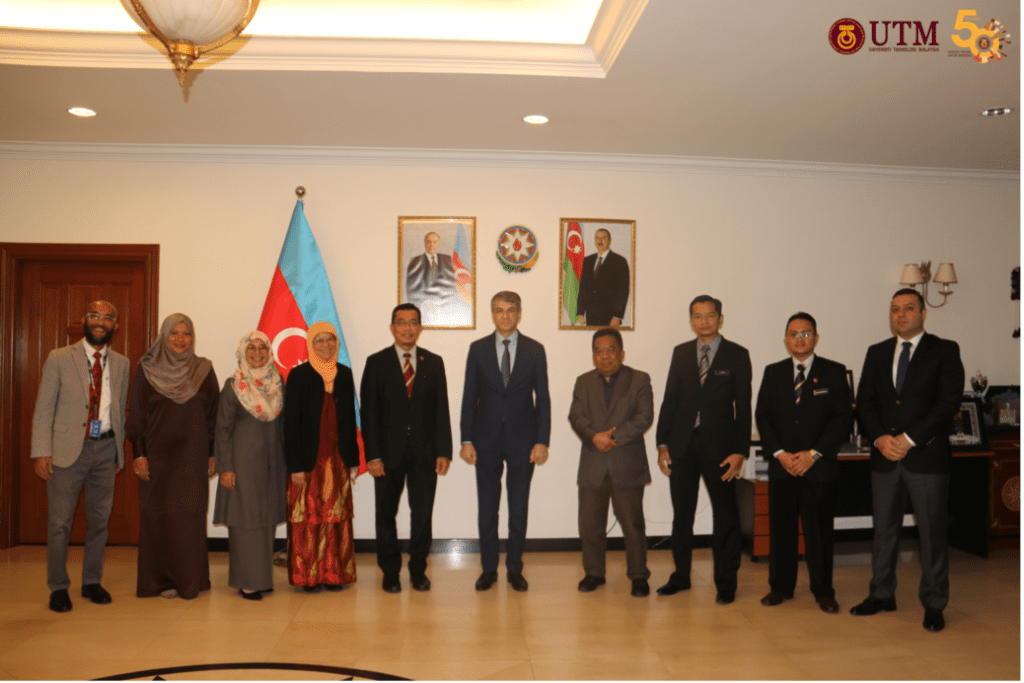 UTM Pro-Vice Chancellor (International), Assoc. Professor Dr. Mohd Ismid Md Said announced that the visit today highlighted several bilateral collaborations with higher education institutions in Azerbaijan which were halted resulting from the global impact of the pandemic, during which they discussed future partnership endeavors such as agreements for inbound and outbound mobilities, academic visits and joint programs.
The visit also highlighted several active engagements between UTM and Universities in Azerbaijan including the involvement of the Rector of Azerbaijan State University of Economics in UTM University Presidents Forum 2017, one of the signature programs uniquely designed by UTM for enhancing global prominence.
Despite the pandemic, UTM has successfully organized Virtual International Engagement (VIE) sessions with Azerbaijan State Oil and Industry University, as well as Western Caspian University.
Matters of mutual interest and post-pandemic global challenges were discussed, including promoting opportunities for transnational programs between business entities and respective Ministries in Azerbaijan with UTM School of Professional and Continuing Education (UTMSPACE), a School that acts as a specialised centre for the implementation of lifelong learning programmes at the university level.
UTMSPACE, which was represented by Director, Business Development, Puan Zareena and Manager, International Affairs Division, Mr. Ashraf Zainal Mokhtar, appreciated the insights given by His Excellency on various opportunities for collaborations beyond the academic measures allowing UTMSPACE to venture into impactful possibilities as a highly ranked training provider.
UTMSPACE is also responsible to implement UTM academic programs through franchise approach, offshore, or hybrid mode.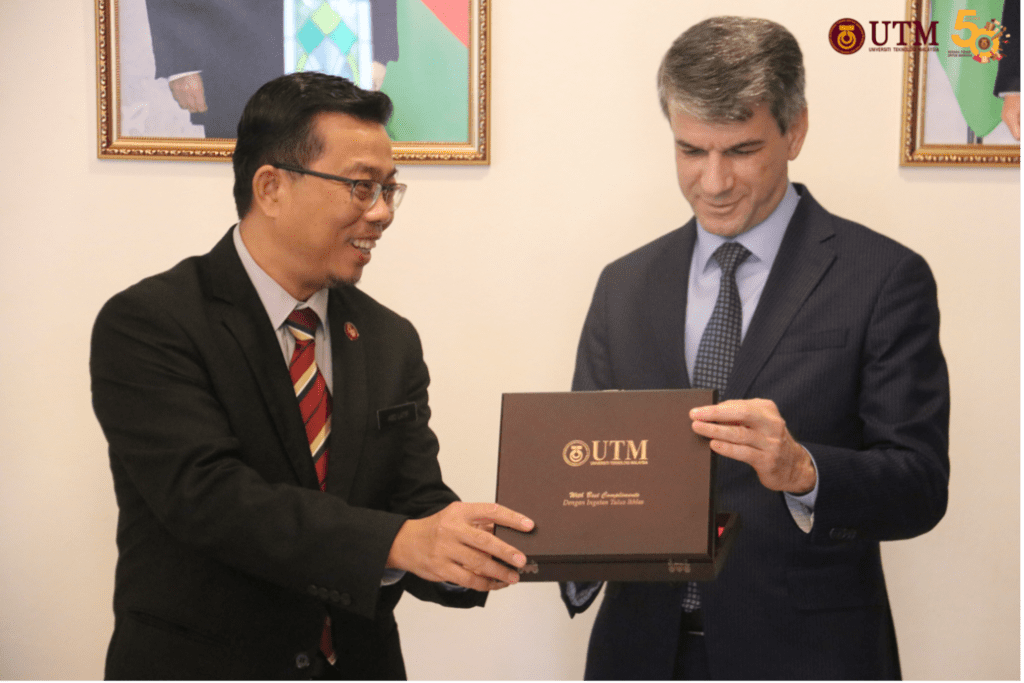 During the visit, UTM International extended the invitation to His Excellency as distinguished speaker for the prestigious Ambassador GlobaLecture (AGL) program which highlights important perspectives, collegial cooperation and potential opportunities for collaboration in the field of higher education.
The AGL program denotes prospering a closer rapport between the University international community with respective Embassy through the presence of their eminent Ambassador at UTM.
Other areas of discussion include enhancing cooperation on increasing the number of students from Azerbaijan in UTM, global education exhibition in Azerbaijan and strengthening relations between UTM and universities in Azerbaijan.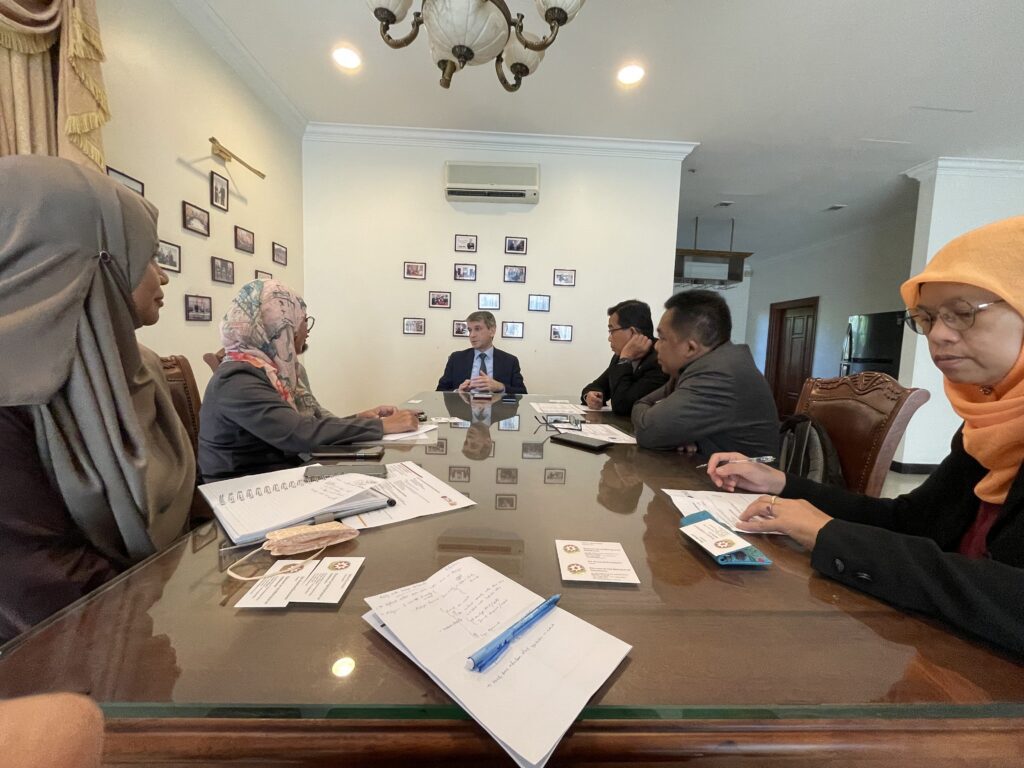 UTM International was also represented by: Associate Director, Global Strategy and Engagement (GSE), Professor Dr. Nor Haniza Sarmin; Associate Director, UTM International Kuala Lumpur, Assoc. Professor Dr. Norhayati Abdullah; Manager, International Relations, GSE, Mr. Ahmad Hilman Borhan; and UTM International Kuala Lumpur, Mr. Mohd Syahriman Abu Bakar.