Inisiatif Jana Kemahiran Siswa Resak (SINAR) is a Kolej Tun Dr. Ismail (KTDI) Student College Committee program that will be carried out throughout 2021 and 2022. The SINAR program includes various skills courses made not only by Universiti Teknologi Malaysia (UTM) students, but also general public.
The courses under SINAR Initiative are expected to help students to remain competent, skilled, and aligned with the needs of current world.
Students can seize the opportunity to improve their skills through various courses that will be provided. These can be their added value and increase their potential for job marketability.
The objective of this Adobe Illustrator Course is to develop first-class minded students. It is crucial to make sure that they are not left behind in terms of skills and personality, train and develop progressive, and also be competent students for the workforce.
This Adobe Illustrator Course was held for 2 days from 4th to 5th March 2022. The invited speaker was Mr. Azizul from UTM.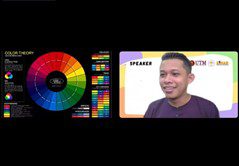 On the first day, the course began with a brief introduction of Mr. Azizul. Then, he started with his slide content delivery for the morning session.
The first thing that Mr. Azizul shared was about color choice (starting with basic color, to shade and tint). After that, he moved on to share about design principles such as proximity and repetition.
For the evening session, Mr. Azizul showed the basics of Adobe Illustrator. Several basics that had been explained by Mr. Azizul were file handling, selection and object handling, and creating text, object and image.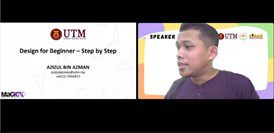 Mr. Azizul also had given a poster designing challenge for the participant to do while hearing the lecture.
He asked the participant to show their poster. Two participants took part in sharing their posters and Mr. Azizul gave some comments for them to improve their design.
The last basics that Mr. Azizul shared was about creating complex objects. In this session, participants were required to create complex objects as their practical session.
By that, the course was done for the first day.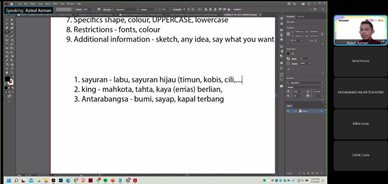 Day 2 was held on 5th March and it started with the emcee welcoming Mr. Azizul. He first continued with the presentation of self introductory poster by the participants.
Mr. Azizul then resumed previous lessons by teaching all basics that can be applied in the Adobe Illustrator like how to do the alignment and use the element for text.
Next was basic detailing such as text warp, text on circular line and text shadowing. Other than that, there was also a mockup session using Photoshop. Mockup sessions were taught using other objects such as t-shirts, mugs and banners.
For this class, Mr. Azizul included another knowledge for ideation before we started to create logos for the clients.
During the evening session, the participants showed their works and Mr. Azizul complemented, evaluated and recommended some suggestions which can help the participants to improve their designs.
Mr. Azizul threw a light on Canva. Canva is a well-known tool for designing. He taught the participants on how to use Canva to create their resume as the template is free and easy to be used.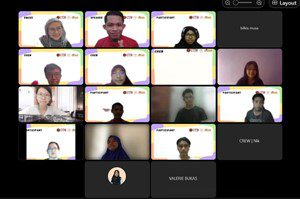 The Adobe Illustrator Courses ended successfully and we were very grateful to have Mr. Azizul as our speaker for this Adobe Illustrator Course session.
We would like to take this opportunity to say thank you to all the participants for supporting our program. We hope to see you again in our next program.
/ Department of Deputy Vice-Chancellor (Student Affairs)