Prepared by: Mastura Shafinaz Zainal Abidin and Zaharah Johari
JOHOR BAHRU, 23 Nov. – 9 teams from Universiti Teknologi Malaysia (UTM) have won awards from several categories in the International Virtual Expo of Innovation Product and System Design 2021 (In-ViDE 2021).
In-ViDE 2021 is an innovation competition, in which, innovation products and systems related to various science and technological fields are exhibited as a solution for the presented problems.
The expo was organized by Universiti Malaysia Perlis, Malaysia Innovation Foundation (YIM) and National Planeterium, with the strategic partners from Sri Ramakrishna Institute of Technology (SRIT) India.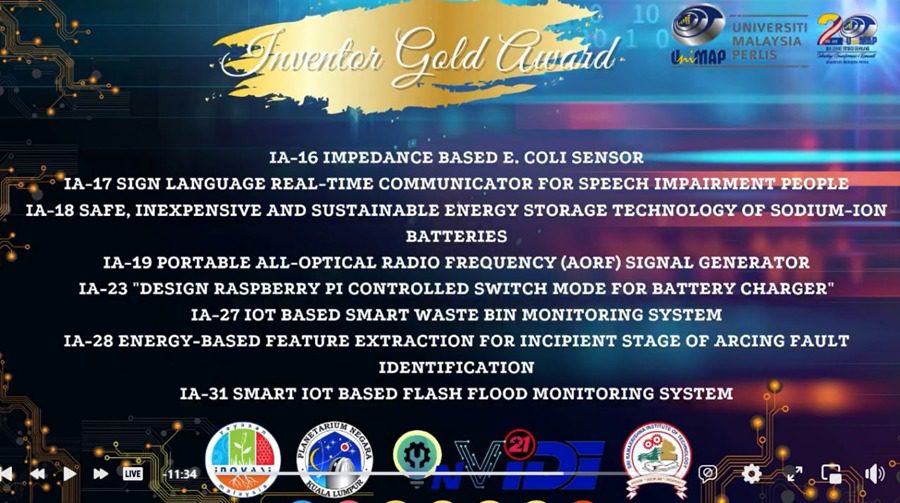 This event received a total of 376 participations from various schools, Institute of Higher Learning (IHL) and open inventors. For each participation level registration (Young Inventor/ Junior Inventor / Inventor), the expo involved 6 categories of innovation products in line with the theme "Revolutionized Innovation: Embracing the New Norm" related, which are:
Electrical/ Electronics/ Multimedia/ Internet Innovation
Mechanical/ Machinery/ Product Design/ Manufacturing Innovation
Biotechnology/ Wellbeing/ Pharmaceutical/ Health Innovation
Food/ Chemical/ Advanced Material/ Composite Innovation
Agricultural/ Environment/ Rural/ Space Innovation
Social Science/ Business/ Creative Design/ New Norm/ Teaching Innovation
This event was fully online and the In-ViDE 2021 Closing & Winner Announcement Ceremony event was premiered via FTKE UniMAP Facebook Page: https://www.facebook.com/ftke.unimap/ on 22 November 2021 (Monday) at 12.00 pm.
Under the participation level of inventor from Universiti Teknologi Malaysia, 5 teams won Gold, 3 teams won Silver and 1 team won Bronze. They are as follows:
| | | |
| --- | --- | --- |
| Result | Category / Product Title | Inventors |
| Gold | A / Impedance Based E. Coli Sensor | Mastura Shafinaz Zainal AbidinTey Siow Yen   Afiqah Mohammad Muzafar Shah Shaharin Fadzli Abd. Rahman    Mohd. Ridzuan Ahmad  Muhammad Asraf Mansor          Mohd. Amri Md. Yunus |
| Gold | E / MAGCELLANT: An Engineered Magnetic Flocculant for Palm Oil Wastewater Treatment | Norzita Ngadi Mohamed Hizam Mohamed NoorFatin Amirah Razmi Nurul Balqis Mohamed  Nurul Saadiah Lani |
| Gold | E / MAGSORB for Efficient Wastewater Treatment during Covid-19 Pandemic | Norzita Ngadi Abu Hassan Nordin |
| Gold | F / Hands On Simulation for Improving Remote Teaching Class Experience for 1st Year Electrical Engineering Student | Mastura Shafinaz Zainal AbidinZaharah Johari Shaharin Fadzli Abd. RahmanNurul Ezaila Alias |
| Gold | F / Mobile-Based Augmented Reality Lecturer Assistant (MARLA) | Nur Haliza Abdul WahabWessam HamidSevia Mahdaliza Idrus Sutan NamehSharifah Hafizah Syed AriffinNorhazirah Sunar Nor Aishah MuhammadRaja Zahilah Raja Mohd Radzi |
| Silver | A / Automatic Fault Diagnosis System for Electric Motors | Labib Sharrar |
| Silver | B / UTM-SHAFT: An Innovative Floating Turbine | Shamsul SaripHazilah Mad Kaidi Idris Md Yamin |
| Silver | B / Smart Tracking System (STS) | Shafinaz Suhaila Binti SabariNur Aliea Aqila Binti Husni Nur Safwati Binti Mohd NorNoor Azam Bin Saari |
| Bronze | A / Multiwavelength Fiber Laser based on Lyot Filter Assisted by Rayleigh Backscattering | Allen Paul David Abdul Hadi Sulaiman     Nelidya Yusoff |