Written by: Assoc. Prof. ChM. Dr. Mohd Bakri Bakar and Assoc. Prof. Dr. Zaiton Abdul Majid
JOHOR BAHRU, 30 Nov. 2021 — A virtual ceremony for the exchange of Letter of Cooperation (LOC) documents between Universiti Teknologi Malaysia (UTM) and DNP Imagingcomm Asia Sdn. Bhd. (DNP) was recently held.
With this signing, UTM and DNP officially acknowledged their collaboration in strengthening efforts in research and knowledge transfer.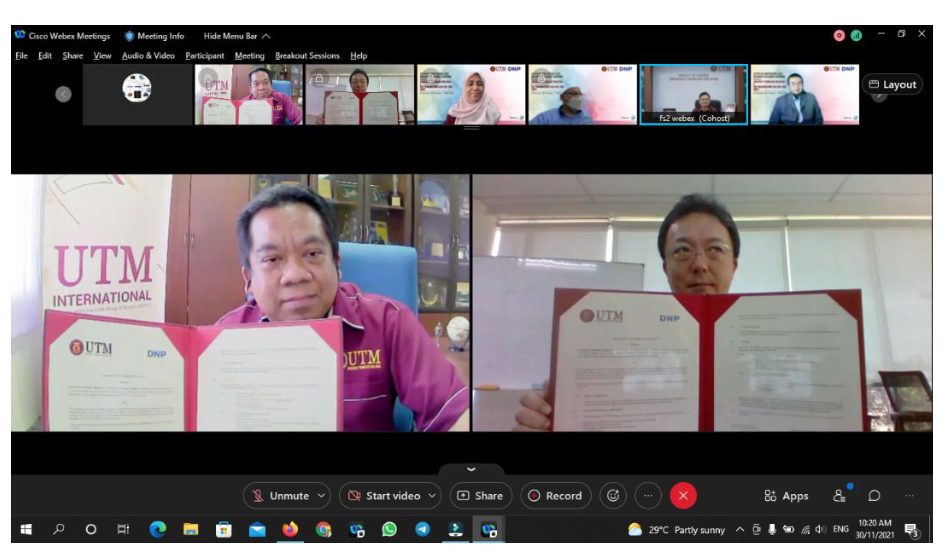 UTM is a leading innovation-driven entrepreneurial research university in engineering, science, and technology, while DNP Imagingcomm Asia, a 100%-owned subsidiary of Dai Nippon Printing Co., Ltd. (DNP) is well-known for its innovation, such as producing Asia's first base of dye sublimation thermal transfer media and barcode thermal ribbon for customers worldwide.
UTM is the first public research university selected by DNP Imagingcomm Asia to establish the collaboration through the Letter of Cooperation (LOC) for a period of five years so as to realize the aspirations of both parties as well as to gain mutual benefits.
The fulfilment of the Letters of Cooperation (LOC) covers the areas of teaching and learning, joint research, seminars, joint publications, exchange of current information, placement of students to undergo research/industry including improved research and innovation through joint-research projects.
Moving forward towards sustainable development, the thermal transfer film produced requires cleaning and deinking process to recycle the PET film. Specifically, Universiti Teknologi Malaysia will first embark on developing process for deinking of thermal transfer ribbons produced by DNP Imagingcomm Asia.
The by-product of the deinking process will be properly characterized to unlock its true potential as value-added commodity such as catalyst, catalyst support and coating for green energy production and environmental remediation.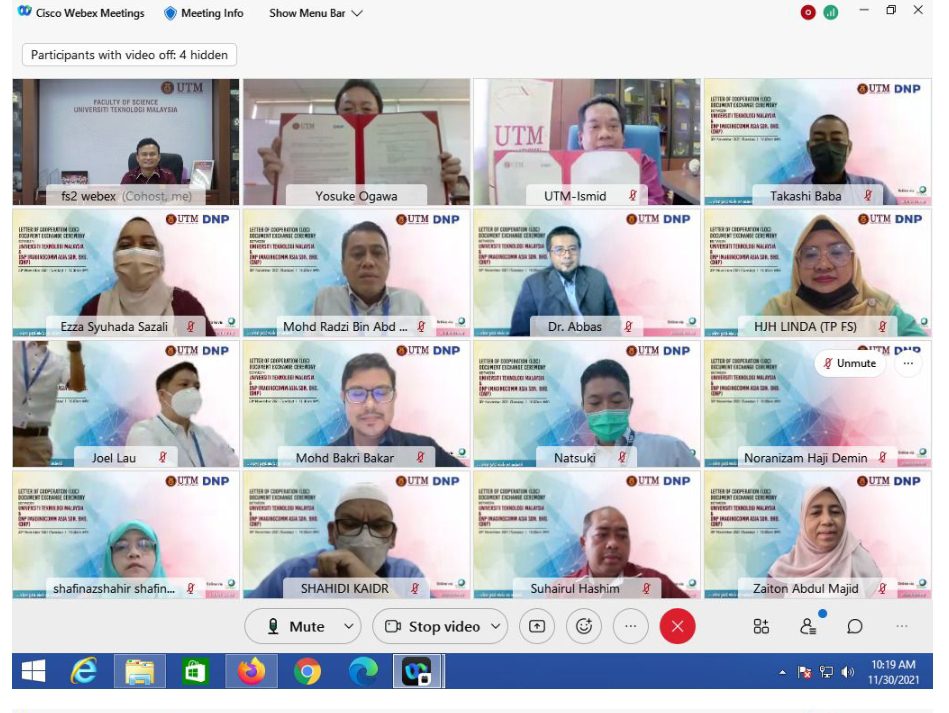 UTM was represented by Assoc. Prof. Dr. Mohd Ismid Md Said, Pro-Vice Chancellor (International) and Mr. Yosuke Ogawa, Managing Director at DNP, represented the company.
The ceremony was witnessed by the Dean, Faculty of Science, Assoc. Prof. Dr. Zaiton Abdul Majid. Also present from DNP were Mr. Natsuki Yoshida (Senior Sales Manager),  Mr. Joel Lau (Senior Sales Manager), Mr. Takashi Baba (Senior Engineering Manager), Mr. Radzi bin Abd. Aziz (Human Resource Manager) and Mr. Shahidi bin Kadir (Plant Manager).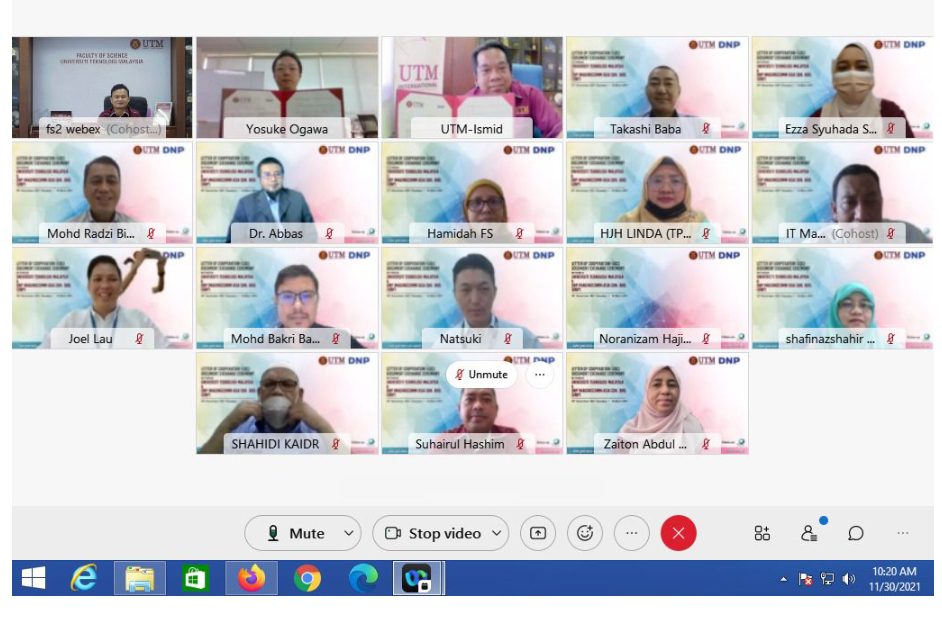 The Faculty of Science,  Management team, Director of CLEAR, UTM, Assoc. Prof. Dr. Mohd. Abbas and academic  staff were also present during the virtual exchange of Letter of Cooperation (LOC) documents.
It is hoped that this collaboration will create an avenue for high-impact synergy and serve as a model for best practises in university-industry collaboration.
ABOUT DNP:
For more information on DNP please visit: https://dnpimagingcomm.asia
ABOUT UTM:
For more information on UTM and Faculty of Science, please visit: www.utm.my & www.science.utm.my
Contact:
Assoc. Prof. Dr. Zaiton Abdul Majid
Dean
Faculty of Science
Universiti Teknologi Malaysia
81310, UTMJB, Johor
Email: zaitonmajid@utm.my