JOHOR BAHRU, 30 Nov. — Persatuan Mahasiswa Sains Komputer (PERSAKA) from School of Computing, Faculty of Engineering, Universiti Teknologi Malaysia (UTM) organized Comp Fair '21 to bring out students' potential in becoming integrated with the six elements of wellness in four days from 23 November 2021 until 26 November 2021.
Comp Fair '21 which was one of the largest and most anticipated annual IT events, was held via various online platforms namely Webex Meetings and Facebook Live.
Different from the previous year, rather than focusing solely on IT components, Comp Fair '21 brings up well-rounded elements focusing on the six elements of wellness such as economical, physical, psychological, intellectual, spiritual and entrepreneurship in order to build holistic individuals.
The program started with the opening ceremony, officiated by the Chair of School of Computing, Prof. Ts. Dr. Wan Mohd Nasir bin Wan Kadir.
It was followed by Financial Literacy Talk with Mrs. Shabana binte Mahmoodul Hasan, who has been awarded the World's Top 50 Most Influential Women in Islamic Finance as the speaker.
The talk covered one of the elements of wellness that is Economical.
It was conducted to give more knowledge to the participants regarding the topic of introduction of finance as well as the background of the economy in Malaysia.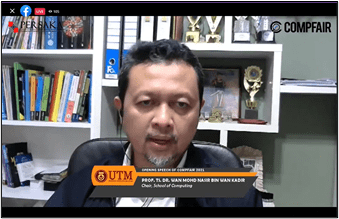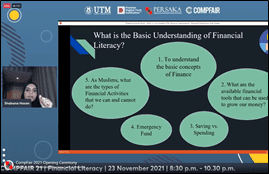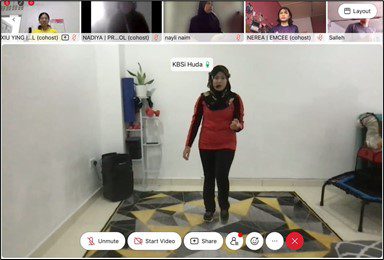 Next, physical element wellness was implemented by integrating Virtual Aerobic activity with KBSi Huda, an official Ministry Of Youth and Sports Aerobics Instructor to lead the aerobic movement.
Through this event, participants were able to relax their minds as workout is one of many ways to improve oneself both mentally and physically.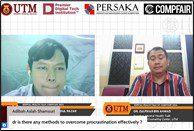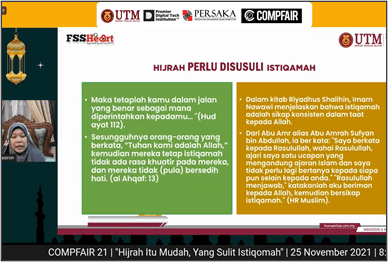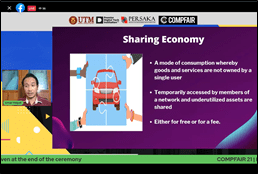 Other than that, talks and webinar were also conducted with the purpose of focusing on the psychological element, spiritual element and entrepreneurship element such as Mental Health Talk that was conducted by Dr. Zulfikar Bin Ahmad from UTM Counselling Centre to educate, support and help students that are dealing with mental health such stress, anxiety and depression to manage it in the best way possible.
"Ceramah Agama" talk was conducted by Assoc Prof Dr. Bushrah binti Basiron who is a lecturer from UTM Johor Bahru campus with the topic of "Hijrah Itu Mudah, Yang Sulit Istiqamah" and Webinar on Entrepreneurship conducted by Dr. Umar Haiyat Abdul Kohar from UTM Centre for Student Innovation and Technology Entrepreneurship (UTM XCITE) to expose the participants on the entrepreneurship ideas as entrepreneurship is one of many important topics, not only in Malaysia but in the whole wide world.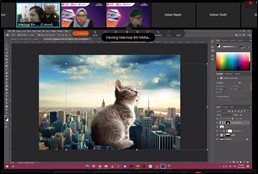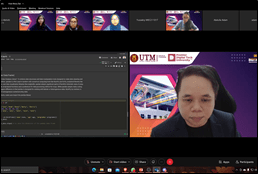 Comp Fair '21 also provided UTM students a learning platform for materials other than their syllabus which are Adobe Photoshop Workshop conducted by Mr. Marzuqi bin Muhammad as an additional creativity skill for students.
Code on Weekend on the other hand, conducted by Ts. Dr. Chan Weng Howe nurture new skills among students as a new programming language to broaden their coding skills.
Both events were held with the aim to cover the topic of the intellectual element.
Lastly, the program came to an end with Associate Chair of School of Computing, Prof. Ts. Dr. Dayang Norhayati binti Abang Jawawi officiated the closing ceremony.
In conclusion, with the success of Comp Fair '21 that attracted more than 400 participants, it is hoped that PERSAKA from UTM School of Computing can continue to further help in providing the necessary platform to make UTM students as integrated and universal individuals.