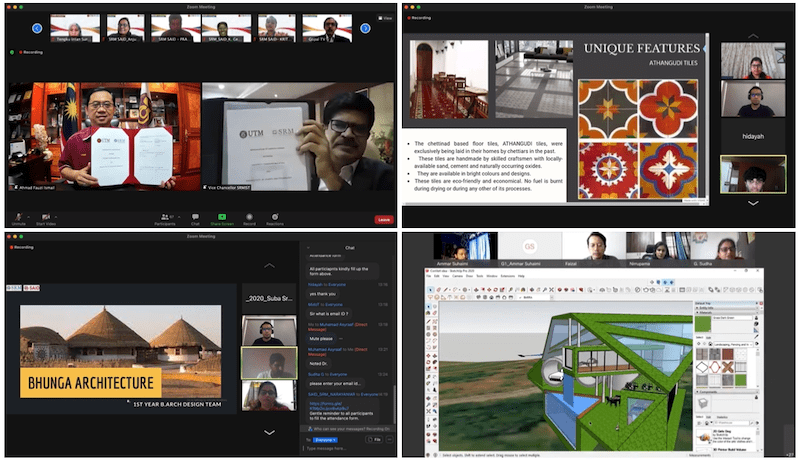 School of Architecture and Interior Design (SAID) of SRM Institute of Science and Technology (SRMIST), India and Faculty of Architecture and Surveying (FABU), Universiti Teknologi Malaysia (UTM) had undertaken a student-faculty collaboration under a mobility programme. Interest and an initial meeting in October 2020 had led to a series of events that benefited the architecture programme and course in 2020/2021.
One of the joint events was the SRMIST x UTM 1st Year Collaborative Design Studio 2021, organised by the 1st Year Studios from the two universities. Coordinated by Dr. Aiman Mohd Rashid from UTM's Architecture Programme and Prof. Geetha K from SAID, the event had done a series of sessions in the design studios that included case study presentations, input lectures and interim design reviews online. Prior to the start of the semester, both universities agreed to undertake a similar project within the design studio course, where students would design a retreat house in different locations and at the same time consider the local conditions and cultural requirements.
The chronology of the events that took place during the 2-2020/2021 semester can be referred below. The culmination was the Memorandum of Understanding (MoU) event between SRMIST and UTM on July 6, 2021.
October 2020
First Engagement between SRMIST and UTM.
20 May 2021
Case Study Presentation of Malaysia Architecture presented by 1st Year UTM students. Talks by UTM lecturers.
24 May 2021
Case Study Presentation of India Architecture presented by 1st Year SRMIST students. Talks by SRMIST lecturers.
10 Jun 2021
UTM 1st Year Interim Review. SRMIST lecturers as guests reviewers.
6 July 2021
MoU between SRMIST dan UTM
12 July 2021
SRMIST 1st Year Interim Reviews. UTM lecturers & postgraduate students as guests reviewers.
13 August 2021
Concluding Semester Event
SRMIST UTM BArch Collaborative Design 2021.
To celebrate the success of SRMIST x UTM 1st Year Collaborative Design Studio and to end the semester Design Studio, the 1st Year Studios of both universities decided to organise the Semester Concluding Event. The guests of honour at the event were Mr. Kartar Singh, Director of International Relations of SRMIST and Sr. Dr. Zuhaili Mohamad Ramly, the Assistant Dean of Global & External Engagement of FABU, UTM. Other participants were Dr. P. Satheesh Kumar, the Dean of SAID of SRMIST, Professor C. Pradeepa, the Head of Department of Architecture, SRMIST, Professor K. Geetha Ramesh, the Coordinator of Collaboration of SRMIST, and Assoc. Prof. Dr. Alice Sabrina Ismail, the Director of UTM Programme in Architecture.
This event that held on 13 August 2021, was moderated by Dharshini Gopinath and M Madhubala, students of SRMIST and Amal Husna Muhammad Fauzi, UTM 1st Year Student. The event recognised the contribution and participation of students and faculty in these collaborative activities.
The virtual collaboration had encountered shortcomings and limitations such as different time zones, distances, and others. These challenges will spur future collaborations that will bring both universities closer together. We would like to congratulate everyone who had involved in this collaboration particularly the students from both universities for their enthusiasm and undivided cooperation, as without them, this collaboration might become meaningless.