The Last Straw or also known as TLS is an campaign organized by the Student Residential College Committee (JKM) for 2020/2021 session. This campaign is to encourage students to conserve and protect our nature for the future generations. This program consists of online and physical activities related to nature and was organised with the hope of raising students' awareness on their daily plastic usage . This program started on 14th May 2021 with competitions namely  Photography contest, Poster Contest and Drawing Contest. "Nature" was the theme for all the contest successfully attracted many student attending the contest . The competitions were then closed on 12th June 2021.
The goal of this program was to change students' behaviour in adopting more sustainable living practices. This program also focused on exposing and reducing the stigma associated with clean environment. In addition, the campaign was to address the litter problems that happens often on campus. This campaign was aimed at helping the students to get ideas on how they can develop a clean environment. On 19th January 2021, a forum entitled "Save Our Sealife" was held on Kolej Tun Dr Ismail Facebook Live. This program was officiated by Lt Kol PM Dr. Mohd Noor Azli Bin Hj. Ali Khan as the Principal of Kolej Tun Dr Ismail, with astonishing panel comprising Prof. Madya Ir Dr. Shamsul bin Sarip from UTM Campus Sustainability Kuala Lumpur, Dr Sharan Sambhi, a representative from Malaysian Nature Society Johore (MNSJ) and famously known Encik Muhammad Arif Haikal Bin Mohamad Hanafi from ML Studios Sdn. Bhd. This forum brings much information about sea life, the threat to marine life and the importance of preserving marine life.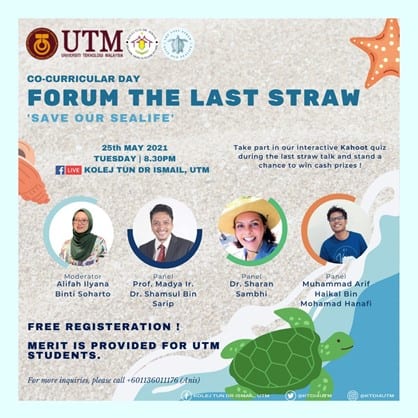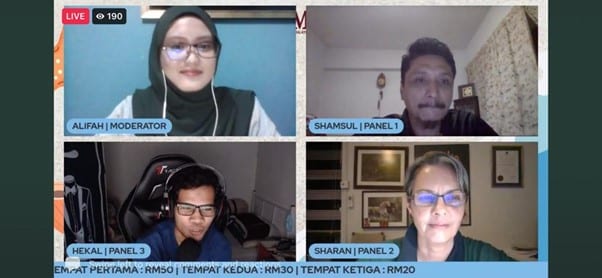 The most interesting part of this program was when the panel interacted with the participants and all participants gave good responses to the panel. This was where the participants can enjoy and focus until the end of this forum. The quiz session then continued right after the forum where participants got a chance to win rewards.