Disaster Preparedness and Prevention Center (DPPC), Malaysia-Japan International Institute of Technology (MJIIT), Universiti Teknologi Malaysia (UTM) Kuala Lumpur had taken a significant step by co-designing and co-implementing the Community-based Disaster Risk Reduction (CBDRR) Program 2021 in Pulau Redang, Terengganu from 30 March until 1 April 2021.
CBDRR 2021 was jointly organized by the National Disaster Management Agency (NADMA), Malaysia Civil Defence Force (APM), Prime Minister's Department, Maritime Search and Rescue & Disaster Relief Division, Malaysian Maritime Enforcement Agency (APMM), Ministry of Home Affair Department of Social Welfare (JKM) Malaysia, National Disaster Management Association (NADIM), Malaysian Amateur Radio Transmitters Society (MARTS), United Nations Humanitarian Response Depot
(UNHRD), and World Food Programme (WFP).
The CBDRR 2021 program was a similar community-based program in Malaysia implemented in the maritime and archipelago environment aimed at empowering vulnerable communities directly affected by the monsoon season, climate change, extreme weather, and even exacerbated by the health crisis and the COVID-19 pandemic.
The CBDRR 2021 program serves as a benchmark and catalyst for the implementation of higher impact programs covering selected areas in the 614,000 sq km maritime zone, including ensuring the safety of nearly 60% of Malaysia's population living along 4,490 km of coastal zones and 561 sovereignty islands in Malaysia. The program was relevant especially in times of health crisis, the threat of the COVID-19 pandemic which requires better risk mitigation strategies.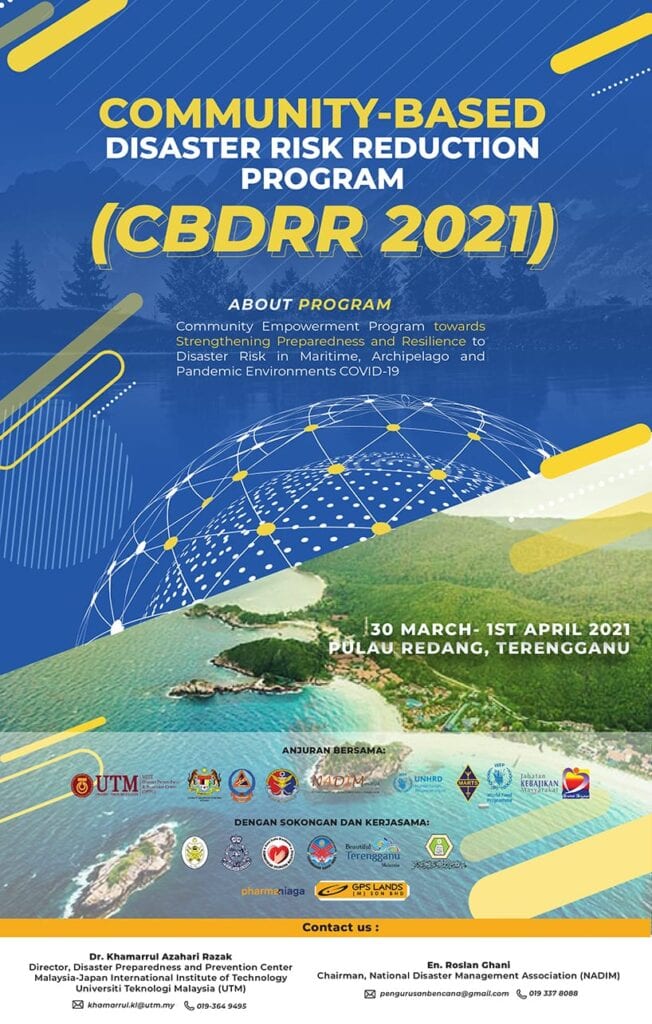 Day 1 (30 March 2021):-
The first day of the program started off with a registration session for participants consisting of JPKK, agencies, community representatives, secretariat and villagers, and followed by a briefing from Mr. Mohd Faizal Abd Hamid from National Disaster Management Agency (NADMA) Malaysia on the COVID-19 Eradication Agent Community Empowerment Campaign Implementation Program (ABC-19).
The agenda of the program opening ceremony began with a welcome speech by the program director, Dr. Khamarrul Azahari Razak from DPPC and opening remarks by Kuala Nerus District Officer cum Chairman of the District Disaster Management Committee, YBrs. Tuan Haji Ariffin Abdullah.
The ceremony was then continued with the recognition of "Local Champion Pulau Redang", Branding "Program Jenguk Pulau" and Gimmick of Handing Over the Emergency Communication System Pulau Redang. Tuan Haji Ariffin was accompanied by Dr. Khamarrul and the secretariat to visit the exhibition corners provided by government agencies including search and rescue technology, equipment, and relief items at temporary evacuation centers (PPS).
The program had included the CBDRR 2021 Forum chaired by Dr. Khamarrul and Mr. Roslan Ab Ghani with a series of sharing from a panel of experts on the mandate and role of agencies and organizations, issues arising on the COVID-19 pandemic and disasters driven by climate change and seismotectonic activity, as well as some advice, solutions and commitments various parties in reducing the risk of disasters in the maritime and archipelago environment.
An Island Disaster Information Sharing Program was later on chaired by Datin Azura Ibrahim from United Nations Humanitarian Response Depot (UNHRD) and Mr. Norazam Ab. Samah from MERCY Malaysia, whereby community/agency representatives were divided into five groups from various sectors and presented their findings in regards to island disaster information such as floods, Pabuk storms and COVID-19. The afternoon session continued with the Compassionate Money Handover Ceremony by the District Office and APM which was held at the Redang Island Community Hall.
Day 2 (31 March 2021):-
The second day of the program began with the Jenguk Pulau Program held at the Community Hall. The program began with the registration of participants followed by a reflection/familiarization session between the participants of the program led by Mr. Roslan. Before the participants moved according to their respective groups and zones, a briefing was given by Mr. Norazam on what needs to be done during the island tour activities.
Upon completion of the five groups returning from their respective zones, the participants made a presentation on the results of the survey areas. MARTS telecommunication radio system was also applied during the program where each group from different zones which far from each other was encouraged to use it in the event of a disaster.
Activities continued with the Community Emergency Action Plan Development Program led by Mr. Adzhar Mujab from NADMA Malaysia. Participants were divided into four groups according to the types of disaster that occurred in Pulau Redang, namely thousands of typhoons, tsunamis, floods and COVID 19.
Each group presented an action plan that needs to be done in preparation for disasters in Pulau Redang (emergency levels, evacuation centers, logistics, communications, warnings, etc). The afternoon session continued with the Emergency Communication Radio Demonstration Program led by Mr. Zanirul, whereby participants were given the training to use communication radio under the supervision of the MARTS team.
The last night of the CBDRR 2021 program was filled with Community Engagement Program, SME Business Continuity Plan Evaluation/Development Session, and Community Banquet with the Secretariat. The session began with a briefing on emergency treatment by Dr. Rashidi, entrepreneurial development especially after the disaster by Mr. Fairuz, and experience in engaging with communities in other areas, in Malaysia and other countries by Datin Azura. There was also some tips to women in Redang Island to develop their enterprises.
The program ended with a speech of appreciation by Haji Mat Adek Mohd Amin, Deputy Chairman of JPKK, Mr. Maarop Ismail, Village Head, Mr. Amran Mat, JPKK Secretary and Dr. Khamarrul as the program director.
Day 3 (1 April 2021):-
On the final day of CBDRR 2021, the Closing Program with the Kuala Nerus Village Security Development Committee (JPKK) was held where JPKK members and the program secretariat sat together to evaluate and reflect on the CBDRR 2021 program. In this closed meeting, the members had discussed the proposals of CBDRR Pulau Redang 2030 and ended with the presentation of certificates of participation and recognition.
CBDRR program has given so much knowledge and experience considering the COVID-19 pandemic has not fully recovered. Pulau Redang receives threats of typhoons, floods, tidal phenomena, coastal erosion, landslides, tsunamis including oil spills, threats to neighbouring fishermen as well as the effects of Northeast Monsoon and disruption of business continuity from tourism activities due to Movement Control Order (MCO).
Even our footprints had left in Pulau Redang, we will keep it in our hearts and benefiting all the experience and lesson we had learned. Thank you to all SME, secretariats and parties that made the program possible and successful.