Given Johor Darul Takzim Football club (JDT) high reputation in Asia as well as nationwide, coupled with UTM worldwide high ranking, no doubt that collaborations between these two organisations would be phenomenal. Thus, School of Education, Faculty of Social Science and Humanities (SOE, FSSH) is taking this opportunity in bridging the two established parties into impactful project by breaking the ice and paving the pathway.
Meeting has been set on Monday 7thSept 2020 to mark the collaboration between JDT Academy and FSSH UTM. The meeting was held at  Seminar Room 1,  D05 FSSH. FSSH was led by the Dean,  Professor Zaidatun Tasir, assisted by Chair of SOE, Professor Fatin Aliah Phang Abdullah, Dr Lily Suriani Mohd Arif (Assistant Dean – Continuing & Transnational Education), the whole team of Sports Science lecturers as well as representatives from School of Biomedical Engineering and Health Sciences (SKBSK)  UTM. Also present on behalf of UTM was the Director of UTMSpace, Professor Othman Che Puan, as a key person in making this connection a reality. JDT on the other hand, was represented by Captain Mohd Anizam Jamian as an Honorary Secretary of JDT who is a UTM alumni, Coach K. Sukumaran as JDT Development Manager and a well-known figure in Malaysian football scene, Mr Alistair Edwards. Mr Edwards is deeply involved in JDT football development  as a technical director.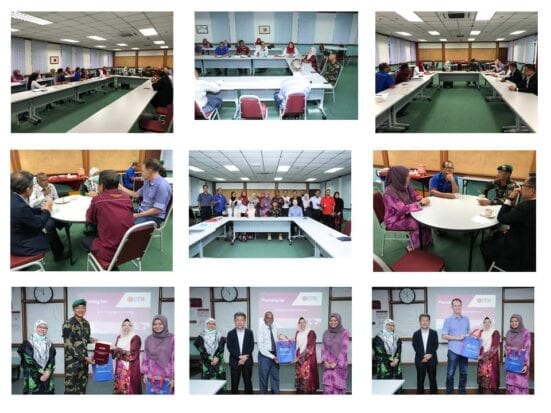 A consensus was reached where both parties agreed to work together in crafting courses to develop future 'thinking athletes' where brains and muscles work to the maximum. SOE UTM is proposing an academic program to cater those completing SPM with minimal requirements while other measures are also planned for those not meeting the criteria. Eventually, no one would be left behind as the accumulated credits earned in this programme can later be use for credit exemption in the diploma program.
The JDT Academy will recruit and select the potential candidates for this program. Experts from JDT Academy especially related to art, skills and knowledge on soccer will also share their expertise in this program while knowledge on specific areas related to the program will be catered by the lecturers from UTM. Studying adjacent to the training ground is a plus point as this can avoid the candidates from neglecting their education and at the same time polishing their football skills. Graduates from this program will later choose their own academic path and interest while pursuing their football with any club or play for the country.
Both sides seem very eager to start the ball rolling. Series of meetings were planned to accelerate the process which is expected to start next year. Taking the Covid-19 Pandemic into consideration which might affect the national examination schedules, proactive actions were taken where FSSH, SKBSK and UTMSPACE working hand-in-hand in developing a customized support program. The program aims to prepare the potential students and perhaps some JDT Academy staff who are hunger for knowledge for a kick-start before the national examination takes place or before the results are officially announced.
The meeting ended around noon where all individuals in the meeting left the seminar room  smiling indicating the satisfaction of the meeting outcomes and hoping to see the future Malaysian soccer players flying high  not only with the muscles but also with brain. Welcome "thinking athletes".
Written by: Asha Hasnimy Mohd Hashim, Zainal Abidin Zainuddin, Halijah Ibrahim & Diyana Zulaika Abdul Ghani
/ Faculty of Electrical Engineering
/ Faculty of Social Sciences and Humanities
/ School of Professional & Continuing Education (SPACE)