The first virtual conference in IGCESH Conference Series was successfully conducted on 18th and 19th August 2020. A total of 129 researchers from 11 countries participated virtually in the 8th International Graduate Conference on Engineering, Science, and Humanities (IGCESH2020) organized by the Postgraduate Student Society (PGSS UTM) and School of Graduate Studies (SPS UTM).
With 'IR 4.0 Towards Sustainable Development Goals: Trends and Challenges' as its main theme, IGCESH 2020 serves as a platform to generate new ideas in related fields, notably related to the objectives of sustainable development. Most importantly, to connect researchers all over the world from Nigeria, China, Pakistan, Saudi Arabia, Iran, and Algeria and their professional insights.
This is IGCESH's eighth but first virtual conference of the whole series. The outbreak of Covid-19 not only offering a new opportunity for us to conduct virtual conference but also developing leadership skills in students to adapt to the new normal. With the advanced technology and digital tools such as Cisco Webex and Streamyard, IGCESH2020 managed to broadcast its special events on Facebook Page.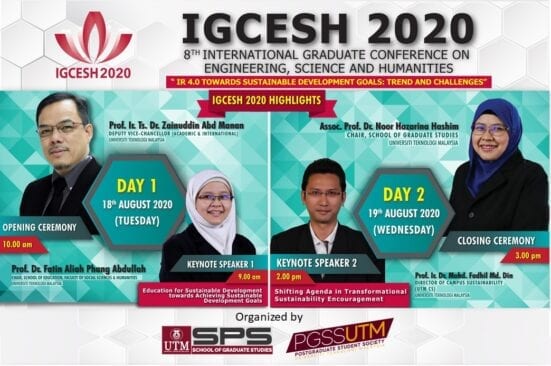 The Opening Ceremony on the first day began with welcoming remarks by Dr. Norah Md Noor, General Chair of ICGESH2020, and the conference was officiated by the Deputy Vice-Chancellor (Academic and International), Prof. Ir. Ts. Dr. Zainuddin Abd Manan. In his remarks, the Deputy Vice-Chancellor said virtual conference responded resiliently to the COVID19 outbreak.
"IGCESH has been undeterred and has chosen to endure the challenge of the pandemic by facing it head-on during the midst of the world's biggest crisis in our living memory. IGCESH is simply a testament to our resilience in the face of a global crisis." he said.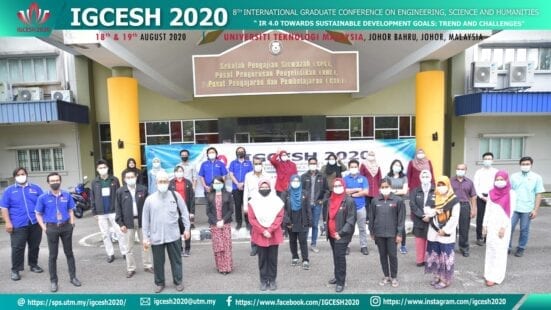 The event featured two (2) keynote speeches and over 120 full paper presentations under three (3) main themes that covered key topics and issues related to the current state, challenges, and future directions of sustainable development goals. Keynote speakers included Prof. Dr. Fatin Aliah Phang Abdullah, who spoke on 'Education for Sustainable Development towards Achieving Sustainable Development Goals' and the Director of UTM Campus Sustainability, Prof. Ir. Dr. Mohd Fadhil bin Md. Din who delivered a talk on 'Shifting Agenda in Transformational Sustainability Encouragement'. Closing remarks by Associate Prof. Dr. Noor Hazarina Hashim, the Chair of SPS, and Muhammad Imran Ismail, Chairperson of IGCESH2020.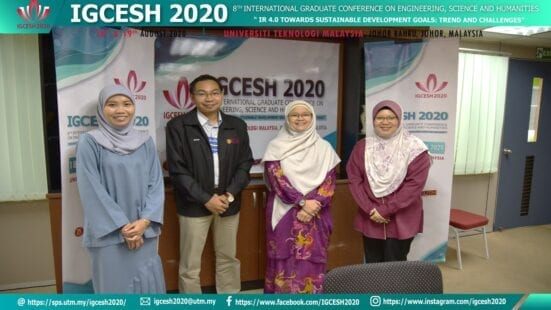 The conference series has grown to become an important international platform for researchers and postgraduate students to engage in knowledge sharing and dissemination, research networking, and collaboration. Strictly reviewed and selected papers would be published in the high impact factor journal. IGCESH2020 committee hopes that we can continue to flourish in the future to benefit the society and world.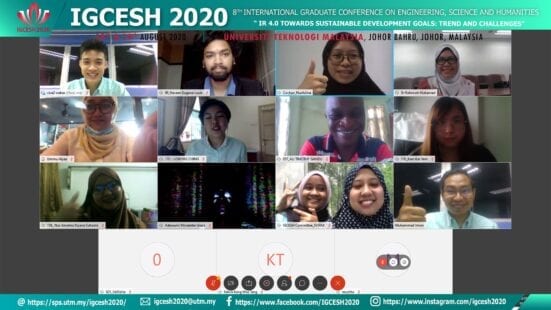 Prepared by:
Muhammad Imran Ismail & Liew Wen Ching