おはようございます Ohayougozaimasu, Assalamualaikum! MJIIT had proudly broadcasted a live video on 11th June 2020, hosted by Dr.Rahayu Tasnim and with a honorable guest, Major Dr. Prebagaran Jeyaraman (R). Major Dr. Prebagaran Jeyaraman (R) is currently leading the SMC Trainers Malaysia, an organisation dedicated to democratise learning opportunities for everyone to realise their potential and UTM's very own alumnus. Dr. Praba is passionate about facilitating learning with fun and excitement. The said 1 hour long video was filled with lots of awe-inspiring information on self branding oneself to become a world professional trainer. This sharing was initiated to guide UTM staff, students and public viewers who are interested in contributing to the local arena of professional training industry.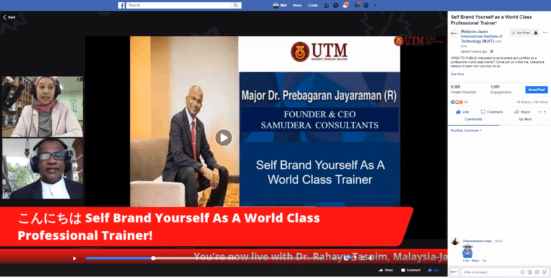 As a kick start of the video. Dr Rahayu elucidated the origins of self branding and world class. As mentioned, 3 self branding needs were introduced and the 3rd self branding needs (personal brand) was the focus in the discussion with Dr.Praba. The live video was an exchange of words and experiences by Dr.Praba on learning lessons from failure, how he has improved and set better strategies.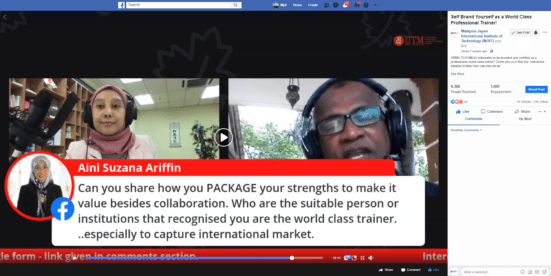 When reaching to the end of the session. Dr.Rahayu opened a Q&A session with Dr.Praba, reading the questions from the viewers to earn Dr. Praba's personal experiences and expertise on the subject matter. It was a fruitful session from Dr.Rahayu and Major Dr. Prebagaran Jeyaraman (R) on the topic of Self Brand Yourself to Become A world Professional Trainer, with the hope that the viewers have acquired the necessary guidance and information on transforming oneself to become a world class professional trainer.
To view the live session, you can go to MJIIT official Facebook page or click on the link attached in this post.
https://www.facebook.com/mjiitutm/videos/2930254573678210/