BUKIT CAGAR, Johor Bahru – A group of students from Graduate Success Attributes (UHAK), Universiti Teknologi Malaysia (UTM) had successfully organised a program called "FEEDING THE NEEDY" on 18th May 2020.
Due to the COVID-19 pandemic happening this year, the project is quite different from previous years as the work was run from home. Even though it was a challenge for all of them, they managed to handle the program well and made it successful.
The aim of the program is to collect money through a crowdfunding method which later will be donated for good use to help the unfortunate people. It is also driven by the belief that every act during Ramadhan month will be rewarded by God multiple times more than other months which is a great opportunity for Muslims to help others.
Following that, the students who are from UHAK1012 Section 16 (19/20), have raised more than one thousand MYR fund for orphans at Rumah Anak Yatim Bukit Cagar, Johor as financial support to maintain the orphanage's operation.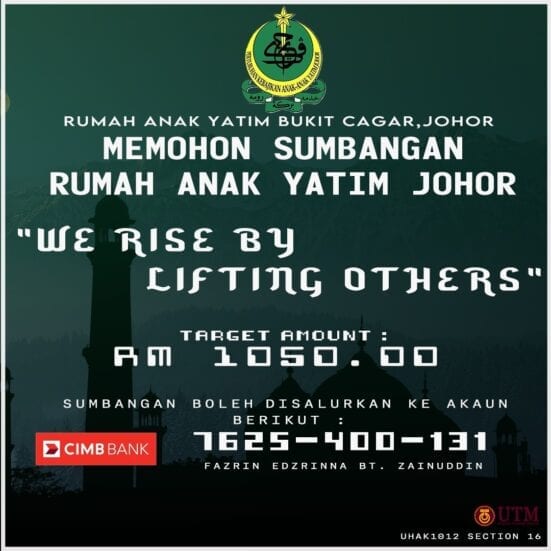 The amount raised was more than what they had targeted and it was a pretty good achievement for them by only using the crowdfunding method without any other way or sponsorship.
"We rise by lifting others." – Robert Ingersoll's famous quote was chosen as the 'heart-toucher' element in the program.  It means that we selflessly put the needs of others before our own. As we stand up for the dreams, goals, efforts, and loving acts of others, we eventually make a better place for others in this self-centered world.
Indirectly, others will try to help us with our needs as they begin to notice our actions. At this point, faith in humanity will restore as we manifest good values like kindness, encouragement, empathy, and above all love.
As the outbreak of the coronavirus disease continues in Malaysia, the students used 100% online platforms to run the project. With the aid of the widespread availability which is the online platforms, the target amount was reached within only a week after the project was launched.
Nothing left to say, the group wanted to thank the involved individuals or groups for all donations and supports given. It is hoped that this kind of project will encourage others to stand shoulder to shoulder and always lead a hand for those who are in need. "The gift of kindness you have given me and the courage I have given you will remain with us, and that will forever bind us together."- Yami Yugi
Prepared by: Aouache Nassim