On September 24th, Dr Miyaoka from Waseda University Tokyo, Mr Tsuchino from Daikin Japan and technical staff from Daikin Malaysia were present for the installation of the Neo Cute heat pump, first of its kind in Malaysia. Supplying domestic hot water, the system was finally in operation on September 27th. Real-time data collected by all the sensors are read directly by the team in Waseda University and Daikin Japan. The UTM researchers may also extract the data collected from the housing unit. Installation and associated costs in maintaining the heat pump unit is financed by Prof Dr Normah Mohd Ghazali. Two technical staff from the Thermodynamics Laboratory of the School of Mechanical Engineering, Mr Abdul Halim Abd Rahman and Mr Rossli Ismail are  also in the UTM team,  assisting in the preparation of the site to receive the Neo-Cute unit from Japan. Data acquisition will continue for 6 months.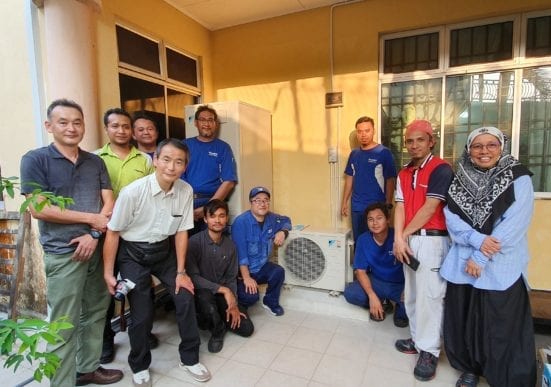 A similar unit was installed at the University of Indonesia last April whilst a third one will be installed in the University of Philippines later this year.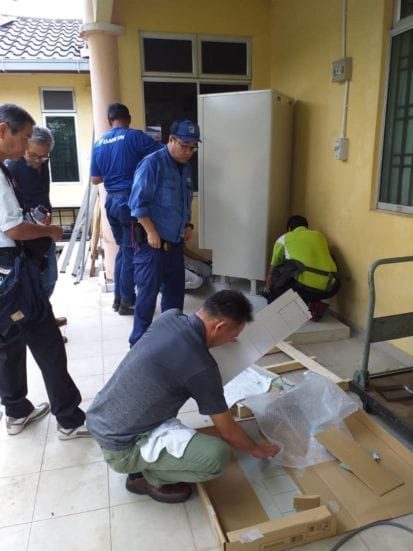 The gift in kind was a result of an MoA between UTM and Waseda University Tokyo, signed earlier this year. Besides Prof Dr Normah and the two technical staff, the UTM team of researchers consists of Dr Ummikalson Abidin, Dr Maziah Mohamad, Associate Prof. Dr Haslinda and Associate Prof Dr Nazri Kamsah.