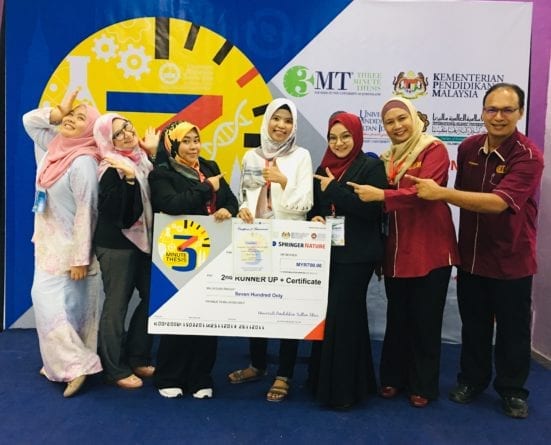 UPSI Tanjung Malim, 25 June 2019- Through her research entitled 'Photocatalyst – Future Proofing Water Treatment', Eleen Dayana Mohamed Isa, a PhD student from the Malaysia Japanese Institute of Technology (MJIIT), UTM Kuala Lumpur campus brought back RM700 after being announced as the second runner up for the Science & Technology category. Our students Syarifah Nazirah Wan Ikhsan and Sofiazianti Saleh from UTM Johor Bahru campus participated in the semi-final but only Syarifah Nazirah Wan Ikhsan was selected to be in the final round.
Developed by the University of Queensland, 3MT® is a research communication competition that challenges PhD students to present a compelling oration on their thesis and its significance in just three minutes to a non-specialist audience. It is indeed a great venue for postgraduates to develop their presentation and research communication skills.
This year, the 3MT® national level was hosted by Universiti Pendidikan Sultan Idris, Tanjung Malim and participated by 21 universities. 58 contestants from various disciplines took part in this prestigious competition and it has 3 categories: Science and Technology, Social Science and Engineering. Pamillia A/P Lourdunathan and Wan Fatein Nabilla Wan Omar, both from the International Islamic University Malaysia bagged the two grand prizes and will be representing Malaysia at the Asia Pacific 3MT competition at the University of Queensland, Australia on 4th October 2019.