PUTRAJAYA, 27 Jun – Penerbit UTM Press, Universiti Teknologi Malaysia (UTM) berjaya merangkul tiga buah anugerah dalam Majlis Anugerah MAPIM-KPM 2018 anjuran Kementerian Pendidikan Malaysia di bawah Majlis Penerbitan Ilmiah Malaysia (MAPIM) yang berlangsung di Marriott Hotel, Putrajaya. Anugerah tahunan berprestij tertinggi peringkat kebangsaan ini bertujuan mengiktiraf hasil karya ilmiah, penulis, editor dan pereka buku dalam kalangan penerbit-penerbit ilmiah di Malaysia.
Buku berjudul Construction Noise: Issues, Measurements and Predictions, karya Prof. Madya Dr. Zaiton Haron, Dr. Khairulzan Yahya & Dr. Nadirah Darus dari Sekolah Kejuruteraan Awam, Fakulti Kejuruteraan menerima Anugerah Penghargaan bagi kategori Buku Ilmiah Terbaik (Sains Teknologi dan Perubatan) yang membawa pulang hadiah berupa wang, plak dan sijil.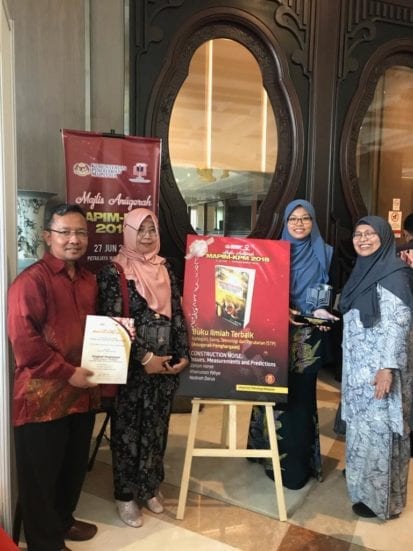 Hasil nukilan keempat Karyawan Tamu UTM Yang Berhormat Dato' Haji Abdul Rahim bin Ramli, Yang Dipertua Jumaah Majlis Diraja Johor berjudul JDT – Johor Darul Ta'zim: An Abode of Dignity memperoleh Sijil Penghargaan bagi kategori Buku Ilmiah Umum Terbaik.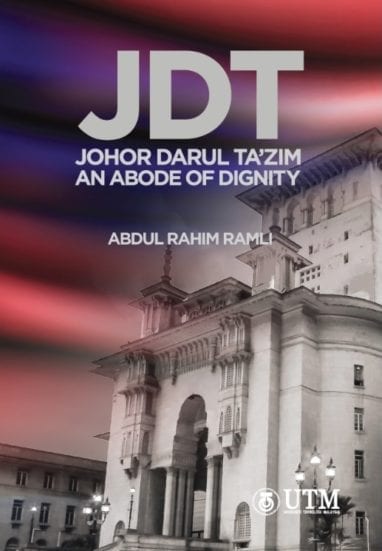 Sementara itu, makalah bertajuk Representation of National Identity in Malaysian State Mosque Built Form as a Socio Cultural Product yang diterbitkan dalam International Journal of Built Environment and Sustainability (IJBES) hasil penyelidikan Dr. Alice Sabrina Ismail, Pensyarah di Fakulti Alam Bina dan Ukur telah menerima Sijil Penghargaan bagi kategori  Anugerah Makalah Jurnal Terbaik (Kemanusiaan dan Sains Sosial).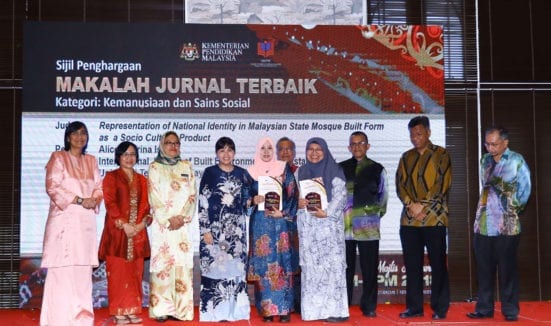 Majlis penganugerahan tahunan ini telah disempurnakan oleh Timbalan Menteri Pendidikan Malaysia, YB Teo Nie Ching,  yang turut sama dihadiri oleh Ketua Pengarah Pendidikan Tinggi, YBhg. Datin Paduka Ir. Dr. Siti Hamisah binti Tapsir.
Sebelum ini, Penerbit UTM Press juga telah berjaya menggondol tiga buah anugerah dalam Anugerah Buku Negara 2019 yang berlangsung di Pusat Dagangan Dunia Putra (PWTC), Kuala Lumpur bersempena Pesta Buku Antarabangsa Kuala Lumpur (KLIBF) 2019.
Tahniah UTM!