UTM Faculty of Science student announced first runner-up in National Material Lecture Competition 2019 Finals
by Astuty Amrin
Melaka, April 30, 2019: For the second consecutive years, UTM is incredibly proud of the student success and tradition of excellence in the National Material Lecture Competition 2019 (MLC) held on 30th April at Universiti Teknikal Malaysia Melaka (UTeM). Tan Yong Chee, a PhD student from Faculty of Science walked away with a cash prize of RM2000 after being announced as the first runner-up in the MLC 2019. Supervised by Professor Dr. Abdul Rahim Mohd. Yusoff, Mr. Tan's research on the fabrication of nanofiber for skin tissue engineering has been fully sponsored by UTM under Zamalah scholarship programme.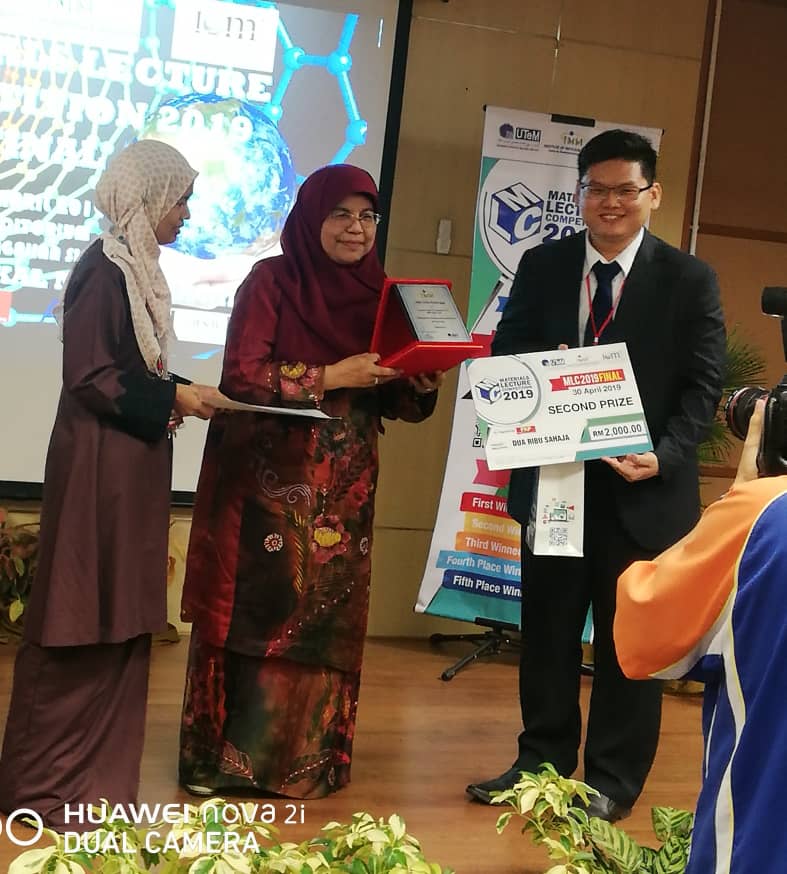 Photo caption: Professor Dr. Esah Hamzah, representing the President of IMM give away a cheque of RM2000 and a plaque to Mr. Tan Yong Chee.
Jointly organised by Universiti Teknikal Malaysia Melaka (UTeM), Institute of Materials Malaysia (IMM) and Institute of Materials, Minerals, and Mining UK (IOM3), the national competition was officiated by Datuk Professor Dr. Razali Muhamad, the Deputy Vice Chancellor (Academic & International) of UTeM.
In this national competition, the participants delivered a 15-minutes presentation on a topic related to materials or minerals science and engineering. Contesting with the other four finalists, Mr. Tan showcased his competence to enthusiastically present the significance of his research and to tactfully handle the questions from the judges.
Photo caption: Standing with Mr. Tan Yong Chee (2 from left) are the top-five finalists from Universiti Malaya, Universiti Putra Malaysia, Universiti Malaysia Kelantan and Universiti Malaysia Sabah.
Present during the nail-biting finale were Assoc. Prof. Dr. Astuty Amrin, the Assoc. Chair of School of Graduate Studies, Dr. Nor Akmal Fadil and Dr. Wan Fahmin Faiz Wan Ali as MLC 2019 university representatives to guide, encourage and support UTM finalist. UTM applauds the initiative of IMM to organize MLC as an annual event that benefits students in stimulating creativity and honing communication skills. The university calls upon UTM students to keep up the tradition of excellence in MLC 2020 and in the coming years.