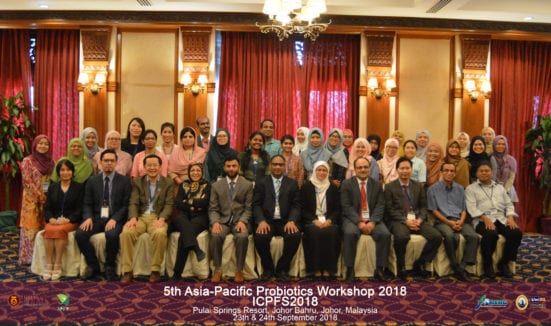 JOHOR BAHRU, 25 Sept. – Universiti Teknologi Malaysia (UTM) and Asia Pacific Institute of Food Professionals (APIFP) continue their engagement through the involvement in the Fifth International Conference on Probiotics and Food Sustainability 2018 (ICPFS2018).
UTM has won five out of eight student awards during the conference that was held from 23 to 24 September 2018 at Pulai Springs Resort, Johor.
The awards were given for poster presentation and oral presentation for each track according to the theme. The winners were Srijita Sireswar from Kalinga Institute of Industrial Technology, India and Liew Wen Ching from UTM for Track 1, Noor Hashimah Hashim Lim and Nor Azizah Mohammad from UTM for Track 2, and Noor Fadzilah Abu Bakar from UTM with Ms. Priscilla Anitha (SRM Institute of Science and Technology, India) for Track 3, while the Best Poster Presentation awards went to Noer Hartini Dolhaji from UTM and Fatin Aina Zulkhairi Amin from UPM.
The conference is the continuation of two Food Safety and Security Workshops organised by Food and Biomaterial Engineering Research Group (FoBERG) from UTM in collaboration with APIFP, namely in 2015 and 2016.
It was officiated by the Dean of Faculty of Engineering, Prof. Dato' Ir. Dr. Mohammed Rafiq bin Dato' Abdul Kadir during the conference dinner on the evening of 23 Sept, accompanied by the Chair of School of Chemical & Energy Engineering, Prof. Dr. Mohd. Ghazali bin Mohd. Nawawi.
This year's conference aimed at identifying research opportunities and probiotics development in Malaysia as well as the Asia Pacific region, with the theme 'Probiotics' in line with the development of probiotics as a scientifically proven food and nutritional supplement to improve health and reduce the symptoms of certain diseases.
The potential of probiotics as a low-cost source of food and nutrition should be developed in parallel with the goals of UNESCO's sustainable development and the national key economic areas (NKEAs).
Therefore, this conference is expected to foster collaboration between the academia, industry and society.
During the conference, a total of 68 participants including the invited speakers, keynote speakers and participants from international and local universities took part in both pre-conference workshop and conference, comprising academicians from Vietnam, Bangladesh, India, Philippines, Australia, Iran, China, Pakistan, Thailand and Indonesia who gathered for this event.
This conference consisted of a pre-conference workshop on 23 Sept (the 5th Asia-Pacific Probiotics Workshop 2018) and the main conference on 24 Sept. This two-day event was specifically aimed at addressing issues and current research in food, with the workshop dedicated to probiotics research and conference divided into three main themes: (1) Innovative Food Products and Functional Foods, (2) Food Safety, Sustainability and Nutritional Security and (3) Emerging Technologies. A total of 17 invited speakers, 25 oral presentations and 4 poster presentations were presented successfully during the conference.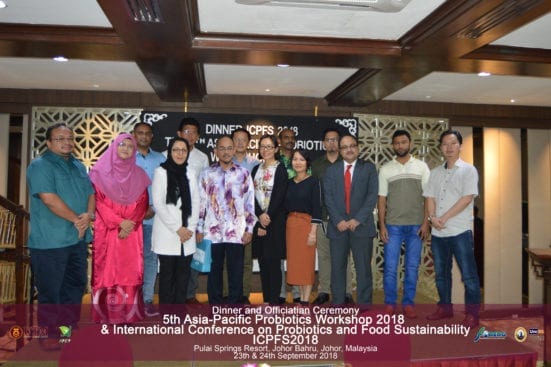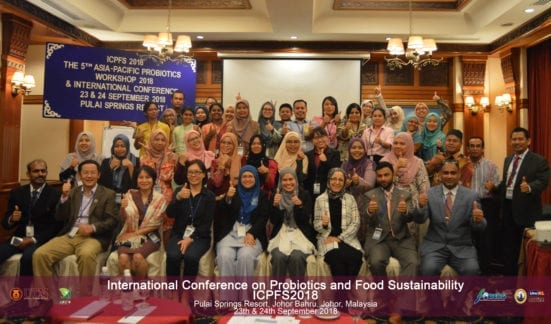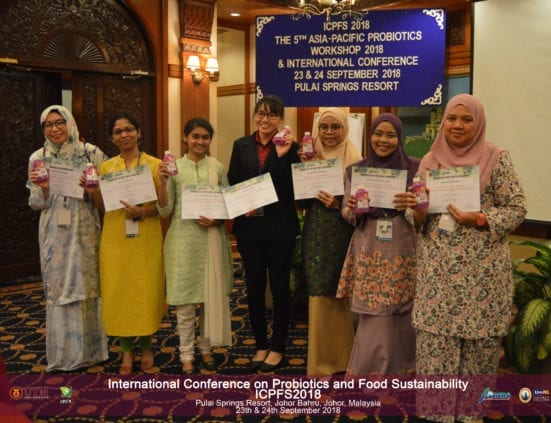 / Faculty of Chemical & Energy Engineering