Universiti Teknologi Malaysia (UTM) is proud to highlight that our engineering postgraduate student, Ms. Cassendra Bong Phun Chien, emerged as the first runner-up for engineering category at the National Three Minute Thesis (3MT) competition held in Universiti Teknologi Petronas on 27 June 2018. Coached by Dr. Jaysuman bin Pusppnathan (FBME), Ms. Cassendra together with Mr. Lim Boon Keong (Social Science category) and Ms. Elsa Sapphira Victor (Science and Technology category) represented UTM to compete with the other 61 contestants from 22 Malaysian Public and Private universities. Participants were assessed on their ability to present a compelling oration on their thesis topic and its significance in just three minutes.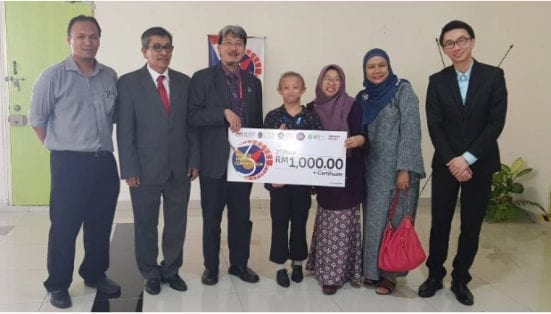 Originating at the University of Queensland Australia in 2008, the 3MT competition has now become an annual communication competition embraced by more than 200 universities worldwide. The national 3MT competition has been organized by the Malaysia Deans of Graduate Studies Council (MYDEGS) since the year 2014. The MYDEGS has been chaired by Prof. Dr. Zaidatun Tasir, the Dean of UTM School of Graduate Studies since 2016. In the past, the national 3MT competition had first been initiated by UTM 2014, subsequently hosted by UTM and UMP in 2015, UUM and USM in 2016 and USM and UTP in 2017.
This year, Universiti Teknologi Petronas and Universiti Pendidikan Sultan Idris jointly hosted the national event that serves as a platform for the PhD students to hone their communication skills and develop their capacity to effectively explain research in language appropriate to non-specialist audience. Prof. Dr. Mohamed Ibrahim Abdul Mutalib, the Vice Chancellor of Universiti Teknologi Petronas and Prof. Dr. Mohd. Sahandari Gani bin Hamzah, the Deputy Vice Chancellor (Academic & International) of Universiti Pendidikan Sultan Idris were present during the national event for the opening and closing remarks.  The event ended with an announcement of two best contestants, Ms. Yasmin Mustapha Kamil and Mr. Alzamani Mohammad Idrose from Universiti Putra Malaysia and Universiti Teknologi Mara respectively who will represent Malaysia at the Asia-Pacific 3MT 2018 in Brisbane on 27th September.