JOHOR BAHRU, 28 May 2017 – Head Department of Educational Foundations and Social Science, Faculty of Education, Universiti Teknologi Malaysia (UTM), Dr Mahani Mokhtar was invited to deliver a keynote at the "Language Learning and Teaching Today 2017" conference organised by the Faculty of Foreign Languages, Ho Chi Minh City University of Technology and Education.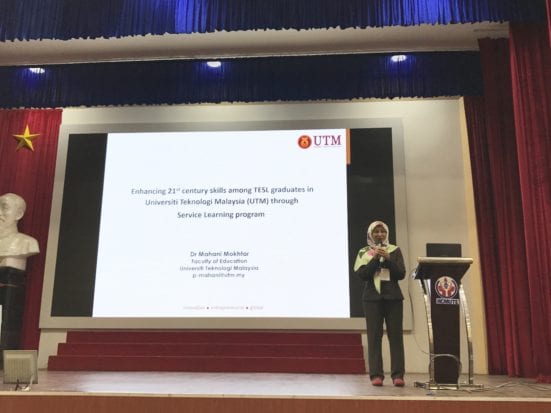 The conference was held on 23 May 2017 and it was one of the events to commemorate the university's 10th anniversary celebration.
This annual conference is aimed at exploring crucial issues of teaching and learning English language for the sustainable development of the community in the 21st century.
The conference particularly featured talks and discussions on service teaching approach, teaching practices of academic English, promotions of intercultural communicative competence, and teaching techniques of English for Specific Purposes in the context of higher education.
Three other invited speakers were academicians from other universities in Vietnam who presented their most significant research related to the themes of the conference. The title of Dr Mahani's presentation was "Enhancing 21st century skills among TESL graduates in Universiti Teknologi Malaysia (UTM) through Service Learning program".
As one of the facilitators for UTM NALI Service Learning approach in UTM, the presentation gave the opportunity for Dr Mahani to share insights on how Service Learning is implemented at Faculty of Education and the advantages of it in terms of developing and nurturing 21st century skills among TESL students.
After the presentation, Dr Mahani received positive feedback from conference participants who wanted to know more about how Service Learning is adopted as a teaching and learning approach at universities since it is a new concept in Vietnam. Ultimately, the presentation was a further initiative in promoting NALI outside UTM and Malaysia.