JOHOR BAHRU, 11 April 2017 – DURP Student's Sharing Session The first monthly seminar for the second semester 2016/2017 of the Department of Urban and Regional Planning (DURP) was held recently at Seminar Room B03, Faculty of Built Environment (FAB).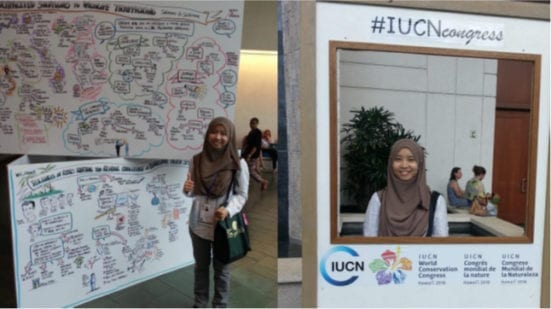 The seminar was accomplished in two parts. The first half featured, Nadzirah Hosen, a postgraduate student who attended the International Union for Conservation of Nature (IUCN) World Conservation Congress (WCC) in Honolulu, Hawaii from 1 – 10 September 2016.
Nadzirah's attendance at the Congress was funded by IUCN's WCPA (The World Commission on Protected Areas) Young Professionals Fund. The Congress provided her the opportunity to meet, interact and share knowledge and ideas with current and future champions in world conservation.
At the WCPA Members Assembly and Young Professionals Introduction (YPI) session, a highlight of the WCC Opening Ceremony, Nadzirah had to introduce herself, UTM and Malaysia to the Congress delegates.
The Congress featured a workshop, exhibition, knowledge café, poster presentation and pavilion activities. Amongst the places visited whilst in Honolulu are Waikiki Beach, U.S Army Museum of Hawaii, and Armed Forces Recreation Center.
Nadzirah concluded the sharing session by highlighting the benefits of attending WCC which were the networking opportunities, the face to face with experts, the awareness of new trends, the "energy" of like-minded individuals, the expansion of resources, the "breaking out" of the comfort zone and last but not least, having fun.
The second half saw Ellida binti Samsudin, a fourth year, Bachelor of Urban and Regional Planning student from the DURP, Universiti Teknologi Malaysia (UTM), share her experience away from home and UTM.
She was on the exchange students program under the ASEAN International Mobility for Students (AIMS) 2016 programme at Tokyo Metropolitan University (TMU), Japan. The programme was sponsored by The Ministry of Higher Education, Malaysia.
Ellida highlighted the procedure and request for credit transfer, securing funds for her living expenses and other needs that she had to undertake prior to her departure for TMU.
The one semester (1st September – 30th January 2017) stint away from UTM exposed her to a different academic setting and environment, intriguing and fascinating places visited during the academic field trips, for example, Totoro Forest, Ota Open Factory, Kyoto, Osaka, Tokyo City, Odaiba, Shunjuku, Shibuya, Chiba, Akihabara, Fukushima, Enoshima-Kamakura and Yokohama City, the interesting culture, for example, Tokyo Grand Tea Ceremony 2016, Asakusa Geisha Show and kimono experience, the unique food and the cold wintry weather.
Ellida described the Japanese people as very kind, helpful and respectful. Given all the hard work prior to her departure, the enriching and unforgettable experience, to Ellida, is no match at all, it was worth it. The seminar ended at 12.45 pm.