JOHOR BAHRU, 28 March 2017, Solvere group of Universiti Teknologi Malaysia (UTM) has been announced as Malaysia Microsoft Imagine Cup 2017 National Winner.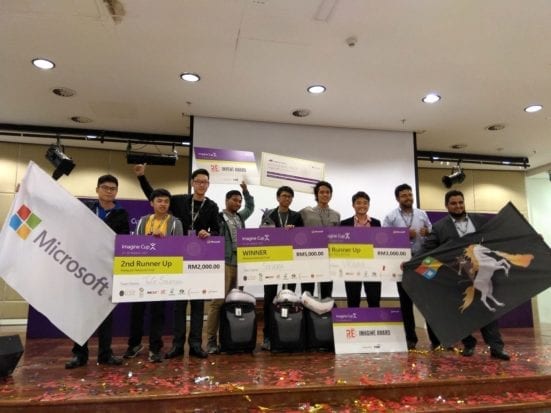 The team also won the "RE:INVENT" awards and will be representing Malaysia in the Imagine Cup Asia Pacific Regional Finals on 23-27 April 2017 in Manila, Philippines.
They will be fully sponsored by Microsoft Malaysia and will be competing against 10 teams from all over the Asia Pacific region to win the top four places to be able to compete in Seattle , USA.
The Microsoft Imagine Cup is the world's premier student technology showcase, held first at the regional level before proceeding to the final event. Participating teams are asked to integrate the Microsoft Cloud Service platform, Microsoft Azure, in their inventions.
Solvere has developed a SmadBot (Smart Advertising Robot), capable of moving around in places of attraction like shopping malls, restaurant, airports and exhibitions based on waypoint navigation. One of the unique features of this robot is that it can know a person's details by scanning their face to predict age, gender and emotion and then show relevant advertisements personalised specifically for the person who is standing in front of it. This method of targeted advertising also publishes the data to the cloud so that advertisers can perform analytics on their data and make decisions from it.
Solvere comprises Nik Ahmad Faisal Bin Mohd Kamarolzaman, Muhammad Syukri bin Mohamad Sainal, and Zul Fahmi Khamiti, fourth year Mechatronics Engineering students from the Faculty of Electrical Engineering, UTM.
The team is supervised by Dr Yeong Che Fai, who also supervised another student team last year who developed the Innovaboard that that won the Overall Winner of the competition (http://www.utm.my/students/2016/04/17/utm-won-microsoft-imagine-cup-malaysia-2016/)
Another UTM team, VRgini won 1st Runner-up by building an app that disrupts the Real Estate market by using virtual reality for property marketing and showcasing. The team comprised of Abdul Wahab, a fourth year Petroleum Engineering student, Mohammed Ahmed Saeed Al-Alas, a fourth year Mechanical engineering student, and Young Bang Xiang, a fourth year Electrical and Electronics engineering student.
Meanwhile another UTM team, TnG Solution won second runner up with their project EDAR, an augmented reality educational app that educates people on using any devices and instruments across medical and other industries. The team comprised of team leader Lim Ji Chen, Chin Linn Kern, and Teh Zhi Huei, all third year Electronics Engineering students, supervised by Dr Eileen Su Lee Ming.