KUALA LUMPUR, 17 Februari 2017 – Universiti Teknologi Malaysia (UTM) meraih satu Best Award, tiga  pingat emas, dan empat pingat perak di Expo Teknologi Malaysia (MTE 2017) di Pusat Dagangan Dunia Putra (PWTC).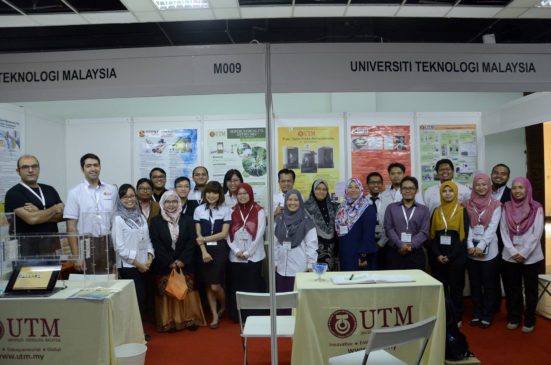 Profesor Dr. Noriah Bidin dari Fakulti Sains menerima anugerah Best Award dan pingat emas menerusi penyelidikan "Fibre Optic Refractometer", manakala dua lagi pingat emas dimenangi oleh Dr. Wira Jazair Yahya dari Malaysia Japan International Institute of Technology (MJIIT) dan Prof. Madya Dr. Mohd Hafiz Dzarfan Othman dari Fakulti Kejuruteraan Tenaga (FKT).
Dr Wira Jazair menghasilkan penyelidikan"Real Time Non-Surfactant Fuel Supply S ystem (RTES) for Diesel Powered Road Transport" dan Madya Dr. Mohd Hafiz Dzarfan "K-Membrane: Smart Membrane For Oily Wastewater Treatment".
Pingat perak dimenangi oleh  Dr. Mohd Haizal Jamaludidn dari Fakulti Kejuruteraan Elektrik (FKE), Dr. Sophia C. Alih dari Fakulti Kejuruteraan Awam (FKA) dan Prof. Madya Dr. Mohd Azizi Che Yunus dan  Dr. Goh Pei Sean masing-masing dari FKT.
Pada MTE 2017, UTM menghantar sebanyak tujuh penyertaan bagi mengambil bahagian dalam kategori Biotechnology and Life Science, Foodstuff – Drinks – Cosmetics – Paramedical – Health, Building – Architecture – Civil Engineering Construction – Materials – Woodwork.
MTE pertama kali dianjurkan pada tahun 2001 merupakan pameran penyelidikan dan  pembangunan yang berasaskan teknologi anjuran Malaysian Association Research Scientist (MARS).
Sementara itu, Timbalan Naib Canselor (Penyelidikan dan Inovasi) Prof Dr Ahmad Fauzi Ismail dipilih sebagai penerima Outstanding Award.
Berikut adalah senarai penuh keputusan Penyelidik UTM:
| | | | | |
| --- | --- | --- | --- | --- |
| Bil. | Ciptaan | Penyelidik | Fakulti | Anugerah |
| 1 | FIBER OPTIC REFRACTOMETER | Prof. Dr. Noriah bt. Bidin | Faculty of Science | Best Award & Gold |
| 2 | REAL-TIME NON-SURFACTANT EMULSION FUEL SUPPLY SYSTEM (RTES) FOR DIESEL POWERED ROAD TRANSPORT | Dr. Wira Jazair bin Yahya | Malaysia Japan International Institute of Technology | Gold |
| 3 | K-MEMBRANE: SMART MEMBRANE FOR OILY WASTEWATER TREATMENT | Prof. Madya Dr. Mohd Hafiz Dzarfan bin Othman | Faculty of Chemical & Energy Engineering | Silver |
| 4 | SUPERCRITICAL CO2 ORTHO-SRE HEALTH SUPPLEMENT | Prof. Madya Dr. Mohd Azizi bin Che Yunus | Faculty of Chemical & Energy Engineering | Silver |
| 5 | NANO-ENABLED MEMBRANE FOR CARBON DIOXIDE CAPTURE | Dr. Goh Pei Sean | Faculty of Chemical & Energy Engineering | Silver |
| 6 | AN L-SHAPED DUAL-BAND MIMO RECTANGULAR DIELECTRIC RESONATOR ANTENNA FOR LTE APPLICATIONS | Dr. Mohd Haizal b. Jamaluddin | Faculty of Electrical Engineering | Silver |
| 7 | EASE CONNECTOR FOR IBS | Dr. Sophia C. Alih | Faculty of Civil Engineering | Silver |